Archived News
New Haywood animal shelter opens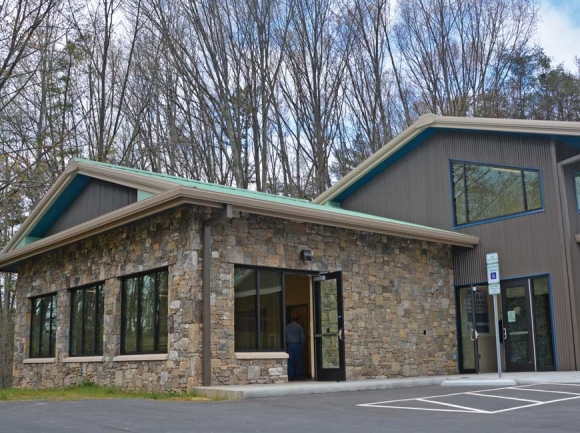 After years of planning and debate, a ribbon-cutting was held at Haywood County's new animal shelter April 25. Cory Vaillancourt photo
When local veterinarian Dr. Kristen Hammett appeared before the Haywood County Board of Commissioners on the morning of Sept. 7, 2016, she said she'd just come from euthanizing two animals at the county's dilapidated shelter, which was at the time 30 percent over capacity, reeked of animal waste and produced a "deafening" roar.
Those days are over as of April 25, when commissioners joined Hammett in cutting the ribbon on the new Haywood County Animal Shelter, located in a newly-constructed building on Jones Cove Road.
"We are settling into our new normal," said Doyle Teague, county animal services director. "The reduced noise level has already made a noticeable difference in the animals' stress levels. We are excited to see how having adequate air exchanges and the ability to properly sanitize bedding, bowls and equipment will benefit the overall health of our animals."
Although most people in the community were in support of a new shelter, many weren't happy with the initial price tag of around $3.5 million — it was a campaign issue in 2016, and remains so today.
A local nonprofit called Friends of the Haywood County Animal Shelter has been fundraising for the project, pledging $1 million toward equipping the shelter; to date, they've given the county more than $800,000, some of which will be used to reduce the balance on the project loan.
Commissioners Kevin Ensley and Bill Upton voted in favor of the shelter Sept. 7, but found themselves locked in a tie with commissioners Mike Sorrells and Kirk Kirkpatrick, who opposed it. Then-chair Mark Swanger broke the tie in favor of the shelter.
Swanger was replaced as chair last year by Kirkpatrick, and Upton isn't seeking re-election this term. Kirkpatrick and Sorrells are, however, and will compete against another Democrat and three Republicans as determined by the May 8 Primary Election for three seats on commission later this year.