Archived News
#MeToo: Shedding the stigma around sexual assault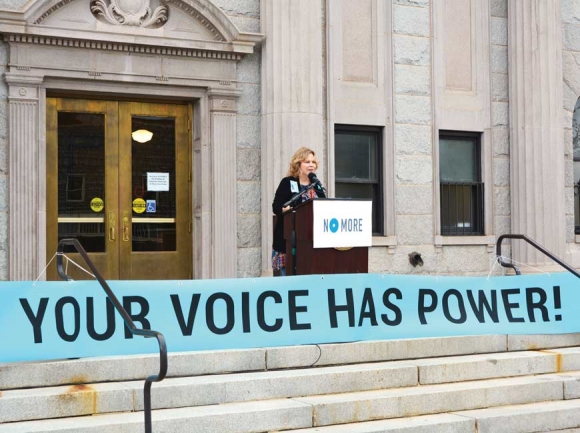 Haywood County Domestic Violence Task Force Member Buffy Queen addresses a rally April 25 outside the Haywood County Historic Courthouse. Cory Vaillancourt photo
Five years ago, Haywood County resident Janelle Smith was working late when a much older male colleague she'd thought of as a friend and mentor cornered her and attempted to sexually assault her. Although she fought him off, the incident left her feeling physically violated, emotionally upset and, she said, ashamed.
She left her job not long after, didn't report the assault to her company or the authorities, and has told very few people what had taken place that night.
Her story is typical of such victims in almost every way.
An American is sexually assaulted every 98 seconds, according to the Rape, Abuse & Incest National Network (RAINN).
Statistics from the National Sexual Violence and Resource center show that one in every five women will be sexually assaulted in college, as will one in every 16 men.
More than 60 percent of those assaults will never be reported to authorities, and just six of every thousand perpetrators end up in jail.
That may be changing, however, with the April 22 conviction of entertainer Bill Cosby and the unsettling allegations surrounding Hollywood producer Harvey Weinstein.
Me Too began 12 years ago as a sexual violence activist group started by Tarana Burke, but two weeks after the New York Times broke the Weinstein scandal in print, actress Alyssa Milano took to Twitter to encourage the use of a hashtag that would end up leading to the birth of the #MeToo movement.
"If you've been sexually harassed or assaulted write 'me too' as a reply to this tweet," Milano tweeted Oct. 15. The hashtag was used 200,000 times that day alone and more than half a million times by the next day.
"Millions of women posted," said Buffy Queen, a facilitator for the Haywood Domestic Violence/Sexual Assault Task Force. "It was a safe way to say, 'Yes, this happened to me,' whether it was sexual harassment or assault or rape. They didn't have to go into detail, they just had to say, 'I'm standing up. I'm saying silence is deadly and we're not going to be silent any more.'"
To be sure, the stigma of identifying oneself as a victim played and continues to play a role in the reporting of sexual violence, but as the #MeToo movement grew stronger, it simultaneously eroded that stigma, encouraging countless other victims to seek help.
In Western North Carolina, Queen and her volunteers are often among the first to hear stories from people like Janelle Smith.
Queen is also a community educator for REACH of Haywood, a local crisis intervention agency that additionally serves victims of elder abuse and teen dating violence.
"We help individuals and their children to have a life free of violence, so everything we do goes to that," she said. "Our issues are peace in the home and in relationships and that's what we try to supply."
Founded in 1982, REACH provides to victims an array of services including a 24-hour crisis line, counseling, legal assistance, referrals, support groups, training, utility and housing deposit assistance, emergency clothing, food, medicine and toiletries and, since 1989, emergency housing for those fleeing abuse with only the clothes on their backs.
Services are provided free of charge, but they're not free — the organization's small annual budget comes from donors, grants, local governments, and the United Way.
Like its Waynesville neighbor The Open Door, REACH supplements its budget through the operations of its own resale store, called Within Reach. As an added benefit, when victims need things like clothing, children's toys, or even dishware, all that and much more are close at hand.
Local stats
From July 1, 2016 through June 30, 2017, more than 9,500 people in the state sought the services of agencies like REACH — about one in every thousand North Carolinians. More than 250,000 volunteer hours were spent serving them.
That's according to a statistical brief prepared by the N.C. Council for Women and Youth Involvement for the N.C. Department of Administration, which not only acts as the state's "business manager" but also provides various advocacy programs.
Of course, those numbers don't count the unheard thousands who haven't sought out services and continue to carry on in silence. What's more, the data doesn't account for those who have sought out similar services — like attorneys, or psychologists, or a friend's spare bedroom — privately, on their own dime.
SEE ALSO: Women's municipal government group reorganizes
Regardless, the report provides a glimpse that's startling in its omissions but robust in its reporting, as demographic information across the state, and indeed the nation, is substantially uniform.
Although people of all genders can be victims, on average 85 percent of them in North Carolina are female, and a full third of them are minors under the age of 17. Relatives commit 32 percent of offenses, followed closely by acquaintances, followed distantly by romantic partners.
In the end, the chance that the victim was assaulted by a total stranger was less than 2 percent.
Over that same time period in Haywood County, 145 people sought services related to sexual violence — one in every 416 residents. About 85 percent were female, 85 percent were white and 30 percent were under the age of 17. Total strangers committed 1.38 percent of offenses.
"I believe our numbers are going up and I don't think it's because there's more violence in the home or in the relationship, I think it's because people know there are more services out there," Queen said. "That's actually a good thing, because we know we're helping people."
Despite a change in reporting standards, Queen's observations bear simple truths — the numbers are going up, likely as the result of the public education component of REACH's mission; Queen said that in particular, a safe dating program she presents to middle school students is a good way to stop sexual violence before it starts.
That same focus on education and prevention led REACH and the Domestic Violence Task Force to hold a rally on the grounds of the Haywood County Historic Courthouse April 25, an auspicious day in an auspicious month.
Waynesville Alderman Julia Boyd Freeman also serves as Executive Director of REACH of Haywood County. Cory Vaillancourt photo
"April is recognized nationally as sexual assault awareness month," said Julia Boyd Freeman, a Town of Waynesville alderman who is also the executive director of REACH. "So we are here in celebration to support victims of sexual assault, sexual harassment and sexual violence."
April 25 is recognized internationally as "Denim Day," which originated after the Italian Supreme Court said in 1998 that a rape victim must have somehow been cooperative with her attacker because her "very, very tight" jeans would have been too difficult to remove against her will.
The next day, many in the Italian Parliament wore denim, mocking the justices' assertions that jeans were an alibi for rape.
"It's a worldwide issue, because it certainly isn't restricted to the United States," said Queen. "It is a matter of someone saying that they have rights over someone else, and in this case it's gender rights, so one gender is saying 'I have the right to own, or hurt or use someone from the other gender.'"
Given the victim statistics, the role of men in the problem — as well as the solution — cannot be overlooked. Queen said she was especially heartened by the presence of what she called "men of goodwill" at the rally, which drew more than 70 people.
Anyone can be an ally or advocate for victims of sexual violence, but perhaps most important are the institutional allies like those from the Canton Police Department, the Haywood County Sheriff's Office and the District Attorney's office.
All of them sent representatives to speak at the REACH rally, which Queen said was an important step in shedding the stigma that prevented and continues to prevent people like Janelle from reporting sexual violence.
"In Haywood County, we've had nothing like this as far as the rally," Queen said. "We said 'It's time. Let's get together.'"
Editor's note: The name Janelle Smith was made up to protect the victim's identity.
Get help
There are domestic violence service providers assisting residents in all 100 North Carolina counties. If you or someone you know needs assistance from one of them, visit www.nccadv.org. In The Smoky Mountain News' Western North Carolina coverage area, three agencies serve four counties.
HAYWOOD COUNTY
REACH of Haywood County
• Waynesville
• Office: 828.456.7898
• Crisis: 828.456.7898
• Fax: 828.452.0960
• Website: reachofhaywood.org
JACKSON COUNTY
Jackson County is served by REACH of Haywood County or REACH of Macon County.
MACON COUNTY
REACH of Macon County
• Franklin
• Office: 828.369.5544
• Crisis: 828.369.9116
• Fax: 828.524.4535
SWAIN COUNTY
Swain/Qualla SAFE
• Bryson City
• Office: 828.488.9038
• Crisis: 828.488.6809
• Fax: 828.488.1620