Archived News
Women's municipal government group reorganizes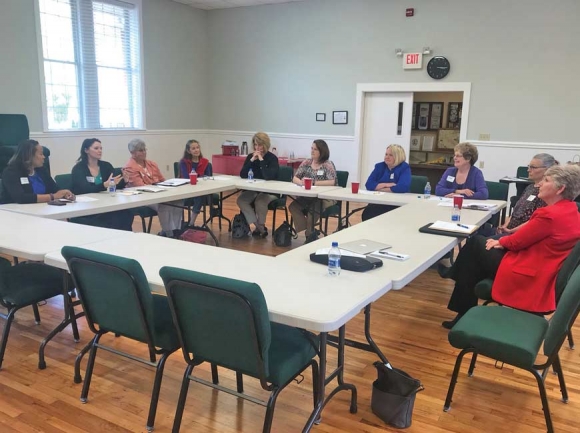 Women in municipal government meet to discuss current issues at Maggie Valley Town Hall last Saturday. Jessi Stone photo
Representatives from the revamped North Carolina Women in Municipal Government visited Maggie Valley last weekend to recruit women from the towns of Western North Carolina.
Not only is the group looking for new members but it's also seeking feedback from women in government regarding their experience in local government and what the group can provide to better meet their needs.
Liz Johnson, currently serving her fifth term on the Morrisville City Council, said the group had been active once before but fizzled out over the years until she and Martha Sue Hall on the Albemarle City Council decided about five years ago that it needed to be revitalized. Since Johnson took over as president in September, she's been working to get more women across the state involved.
"My goals for these next two years is to make this group really relevant to women across the state, so I'm meeting with folks to answer that question," she said to a group in Maggie Valley last Saturday. "There's great value in us coming together and listening to one another. I'm here to listen and figure out what we need moving forward."
Johnson said she was appreciative of Maggie Valley Alderman Janet Banks for stepping up to be involved in the group and help get the word out in the western towns. Banks now serves as the leader of District 11 and 12 in the state.
In addition to Banks, Maggie Valley Mayor Saralyn Price, Maggie Valley Clerk Vickie Best, Waynesville Assistant Town Manager Amie Owens, Clyde Alderman Diane Fore, Clyde Town Administrator Joy Garland, Canton Alderwomen Gail Mull and Kristina Smith and Durham City Councilwoman Dedreana Freeman were at the meeting.
Freeman, who serves as the first vice president of the group, said she was happy to travel to Maggie Valley to meet female leaders on the other side of the state and hear what their experiences are like in government.
"As a graduate of a women's college, women's issues is something I lean into — it's the space I feel most comfortable and I enjoy finding ways to push women together, so I look forward to moving Liz's vision forward," she said.
Don't wait to be asked
Johnson said one of her goals is to find a way to encourage women to stay in government, whether it's with an elected position or not. While women still face challenges in municipal government, Johnson thinks more support from other women could help.
"We want to help women stay in office and encourage them to go into higher office. We still don't have enough women in higher government to have a voice in the decisions made in North Carolina," Johnson said. "We need to support each other moving forward and be more actively involved in the League."
Johnson said studies have shown that men don't often need reassurance from others before deciding to run for office, but women often have to be asked several times before taking the leap. She would like to see more female elected officials serve on the League of Municipalities Board of Directors or its committees so western counties can have more of a voice in statewide issues.
"I think women are not as involved because we're not asked. We wait to be asked to be involved," she said. "I fall victim to that as well. I never thought to apply to serve on the League board until someone asked."
Fore said that is what happened to her — even though she'd served on the town's planning board for 14 years, she hadn't thought she was qualified to run for the Board of Aldermen until Garland asked her to consider it. Now that she's on the board and still teaches school with other women, she said it's sparked an interest in other women who perhaps never thought they could do it.
Smith said she was fortunate to have Mull already on the Canton board to turn to for advice when she decided to run. She said Mull convinced her she was just as qualified as anyone else to run and it didn't matter if she was a woman or a young mom with a full-time job. She added that voters cared more about where she was from than whether she was male or female.
"I found the perception in my mind was different than others' perception," she said.
Johnson said in addition to elected positions in town government, she wants women to be aware of the many opportunities to serve on statewide committees where the governor appoints positions, including communities colleges.
Meeting on issues
Garland, who has served as Clyde's town administrator for 14 years, suggested having a quarterly get together at different locations throughout the year so that the group can discuss issues more than once a year at the League conference.
"There's usually a hot topic issue going on so maybe having a special speaker to address that issue would be helpful," Garland said.
A few suggested ideas for topics included how to effectively work and communicate with men and how to be heard when working with a majority male board.
Banks said she would like to see women in municipal government overcome the idea that only one or two women can serve on the same board at the same time. Men have been the majority on government boards for a long time, Banks said. So why does the idea of a female majority still seem appalling to some, she asked?
"There seems to be a limit to the number of women who can be elected to a town council at one time," she said. "It puzzles me. I'd like to see us growing our membership by electing more women. Why can't we get a majority on the board?"
Smith pointed out that she didn't want to get into a "we're better than them" conversation — for her it's more about bringing women's unique skills and contributions to the table.
While she doesn't claim that women are better than men, Freeman said women need to overemphasize the importance of their role in local government because there's been a deficit for so long and there continues to be a deficit.
"The bias is still there and we all deal with it, so it's important how we deal with it — to call it out," she said. "They may feel like we're pushing back men, but we have to because of society. I'm on a board with a woman majority and majority people of color, so I'm fortunate, but when you look at the state house and senate there's not many women — there's a reason for that."
Johnson agreed women aren't necessarily better leaders — just different leaders. The fact remains that women make up 50 percent of registered voters yet only make up about 24 percent of state legislators in the country.
"We all have our strengths, but if we had more women in government I don't think we'd fight as many wars," she said. "We like to work together to solve things. There's great strength in that."