Archived Reading Room
Mystery novel delves into the opioid crisis
Wednesday, April 25, 2018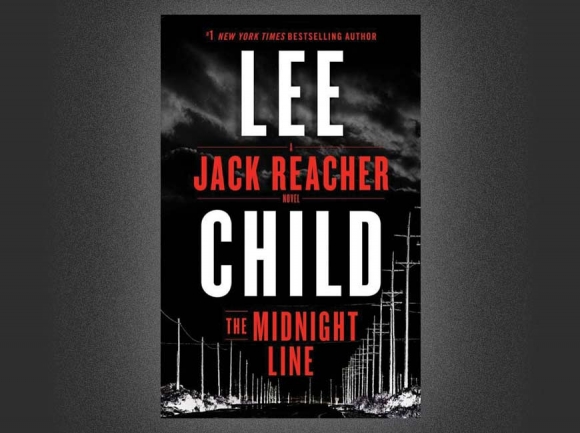 In Elizabethan England, the vast majority of the population drank alcohol rather than unclean water, consuming up to a gallon of ale, beer, and wine every day. In his biography on Shakespeare, Anthony Burgess gives a compelling, humorous account of how so many of London's population must have been tipsy by noon.
Twenty-first century America has taken a different path. We have clean water, but in addition to alcohol and illegal drugs, abuse of prescription medications is now rampant.
According to a National Survey on Drug Use, nearly half of all Americans over the age of 12 take prescription pain relievers, tranquilizers, sedatives or stimulants. Of those 119 million people, about 19 million obtain these drugs illegally. Various federal and state agencies have declared an opioid crisis, citing as proof the death rates from these drugs — 64,000 Americans in 2016 — and the ever-increasing use, both legal and illegal, of these pharmaceuticals.
In Lee Child's The Midnight Line (Delacorte Press, 2017, 368 pages), Jack Reacher, an ex-Army officer who travels the country and who literally owns no property other than a toothbrush and the clothes on his back, once again finds himself in a war against the bad guys, this time with the manufacturers and suppliers of opioids. As in most of Child's other Reacher novels, Reacher finds himself dropped into situations he hadn't deliberately sought out, dealing with strangers, good and evil, drawn into their conflict by his sense of justice and his empathy for the weak and the innocent. Reacher would never describe himself that way — he avoids words like honor, duty, and integrity — but he is a man who lives by such principles.
The novel opens when Reacher, traveling through South Dakota, passes a pawn shop window and sees a class ring, West Point 2005 with the initials S.R.S. Reacher, a West Pointer himself, finds it unbelievable that anyone who had endured the trials of that institution would pawn or sell this symbol of achievement. He buys the ring, which judging by its size clearly belongs to a woman, questions the owner of the pawnshop as to the identity of the seller, and gets a lead on a certain Jimmy Rat.
Then, in the words of another great detective, the game is afoot.
Rat, a small-time punk, is a member of a motorcycle gang, which is unfortunate for him and the bikers with him. Reacher, an expert in martial arts, takes down the men, twists information out of Jimmy Rat, and finds himself pursuing another name, Arthur Scorpio, owner of a laundromat in Rapid City. When Reacher reaches Rapid City, he scouts out Scorpio's laundromat and realizes by the guards posted outside the doors that Rat has telephoned ahead about his coming. In a nearby diner, while eating breakfast, Reacher meets Detective Gloria Nakamura, who suspects Scorpio of dealing drugs and is keeping him under surveillance.
As Reacher continues his investigation, aided at times by Nakamura, digging deeper into a twisted network of drug users and suppliers, always searching for the owner of the class ring, two others come to his side. Mackenzie, the wealthy twin sister of the ring's owner, turns up, along with a private detective, Bramall, whom Mackenzie has hired to track down her missing sibling. The three of them eventually make a formidable team.
Fans of Jack Reacher will find in The Midnight Line all those qualities that have made best-sellers of Lee Child's novels. Reacher's eccentricities — his love of coffee, his buying cheap clothes whenever he needs a change of clothing, his hitchhiking and traveling by bus, his refusal to carry a cell phone or computer — remain intact.
Child also delivers his customary taut, tough prose. Here, for instance, an unarmed Reacher confronts an assailant pointing a pistol at him:
Reacher said, "Don't point the gun at me."
Stackley said, "Why the hell not?"
"It would be a serious mistake."
"How would it be, man?"
Stackley raised the Colt.
Two-handed.
He pointed it at the center of Reacher's chest.
Like aiming at a barn door.
He said, "How exactly is this a mistake?"
"Wait and see," Reacher said. "Nothing personal."
Stackley's head exploded.
Stackley dies at the hands of an expert shooter who is also an opioid user.
Included in this latest Reacher tale is information about the opioid crisis and what has produced it. We learn a bit of the history of these types of drugs, which both erase pain and bring addiction. Many soldiers wounded in the First World War became slaves to the medications designed to bring relief from agony. Some of the opioid users we meet in The Midnight Line pop pills strictly for pleasure, while others, including soldiers hideously wounded and disfigured in combat in Afghanistan and Iraq, take the pills both to kill their pain and to deal with their horrific scars and wounds.
One part of Child's take on the opioid rings will strike some readers as false. Reacher asks an addict what she would do if she had an endless, free supply of drugs. The woman, admittedly strong and driven, replies that she would first "bathe in the stuff" and would then "tone it down" until she finally kicked the habit. This sounds brave and good, but addiction rarely works that way. "Bathing in the stuff" diminishes the will to end the addiction, eats away at interior fortitude, and erases the will.
That aside, The Midnight Line is a fine novel of suspense. It also stands as one more reminder of the damage even legal drugs are doing to our families, friends, and neighbors.