Archived News
Mission moves forward with for-profit buyout
Wednesday, April 25, 2018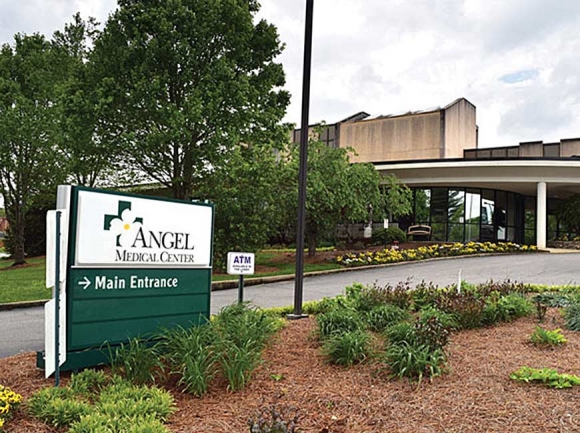 Mission Health CEO Dr. Ron Paulus made a visit to Franklin last week to provide the community with more details about the nonprofit's ongoing negotiations to join the Nashville, Tennessee-based for-profit system HCA Healthcare.
Every year, Mission Health's board goes through a process of evaluating the system's success and asking questions about what Mission's future should look like.
"We ask should we be partnering with someone or keep going on our own. The answer has always been to keep up what we're doing, but this year was different," Paulus said. "Health care is going through a remarkable transformation."
As a nonprofit system serving Western North Carolina, Paulus said Mission's demographic is skewed from the national average when looking at the number of people who are under insured, uninsured or covered by Medicare and Medicaid.
The bottom line, Paulus said, is reimbursement rates on Medicare, Medicaid and private insurers don't keep pace with Mission's actual cost to provide services. Even though Mission is still more efficient than many other comparable nonprofit health systems, Paulus said the loss is not sustainable.
"The average not-for-profit loses 11 cents on the dollar, we lose 4.5 cents on the dollar," he said. "We have no impact on our revenue — the state and federal government and Blue Cross Blue Shield are paying below our cost — so we're focusing on cost reduction. We've cut $260 million over the last four years but it gets harder and harder to make those cuts."
That's why the board voted unanimously in January to explore potential partnerships. While there were several possibilities examined and several interested parties, Paulus said the board narrowed it down to three and then the board chose HCA as its partner — though it was still uncertain what kind of partnership would develop.
The benefits
HCA (Hospital Corporation of America), a for-profit network that includes 177 hospitals and 119 surgery centers in 20 states and the United Kingdom, has more than $42 billion in annual revenue. Compare that to Mission's less than $2 billion a year, which has to be reinvested in the system.
"They (HCA) have the skills and the ability to bring resources we can't," Paulus said. "Because of their size, they pay the lowest price than anyone else on supplies."
While Paulus considers himself and the Mission team experts when it comes to clinical operations, he admits that HCA has expertise he doesn't when it comes to the behind-the-scenes functions of running a health system, including billing, collections and purchasing. He said some of HCA's partnerships only include contracts to operate a hospital's back-office functions.
Also on the clinical side, Paulus said he is familiar with and impressed by HCA's team of physicians in leadership. He said HCA's cancer program is the leading clinical trial site in the country that is accepting the most patients and has produced 75 percent of cancer drugs that have been approved over the last 10 years. When the National Institute of Health wanted to do a study on how to reduce the number of infections associated with placing central IV lines, HCA offered to conduct the whole study. The landmark results, which were published in the New England Journal of Medicine, led to a new standard of care for patients to reduce their chances of infection caused by central IV lines.
The financial benefits of having a for-profit health care model can't be ignored. All of Mission's facilities throughout the region are currently tax-exempt, meaning local governments don't receive any property tax revenue from Mission. However, those properties would be assessed and taxed under HCA's for-profit ownership. That additional tax revenue would mean a lot for small governments.
Harris Regional Hospital in Sylva is valued at $27.2 million and Duke LifePoint pays $115,600 in taxes to Sylva and $100,600 to the county.
A new division
When asked about how the acquisition may impact Mission employees, Paulus said it was fortunate that HCA decided to allow Mission Health to continue operating under the same name as its own division of HCA. Being its own division means that Mission will keep much of its leadership team along with its identity. It's a plus for HCA because it expands their operation into North Carolina for the first time.
"HCA decided we'll be our own division — usually you have to be above $4 billion in revenues to be your own division but they're happy with how our system is run and there will be growth opportunities for them in the region and the state. It's a platform to grow for them."
With HCA coming in to improve the clerical side of the operations, Paulus does anticipate losing some of Mission's office staff, though he said it's too soon to know just how many. He said the good news is HCA employs 220,000 people and currently has 10,000 job openings listed for their back-office operations. HCA allows many of those clerical employees to work from home and process payments from other states.
"So while it's true not everyone will be billing for Mission, it's likely there's a series of opportunities to bill for California or Colorado or any of the other states HCA works in," he said.
As for how much autonomy Mission will still have, Paulus said he doesn't anticipate his job to be much different than it is now. While he currently gets his marching orders from Mission's board of directors, now his orders will come from HCA, especially on where Mission will order its equipment and supplies from now on. Paulus said he sees the change as positive for him.
"Speaking for myself, I'm respectful of and appreciative of our back office but it's not my area of expertise. So if I don't have to manage that and they can get support from the corporation, that's good for me," he said.
A new foundation
Paulus said the most exciting part of the pending purchase of Mission by HCA is the creation of a new health care foundation to support the needs of Western North Carolina.
If and when the sell is complete and Mission's debt is paid off, the funds HCA uses to purchase Mission will go into establishing a foundation. The exact amount is not known at this time but should be available when the purchase is complete. Just as a ballpark, Paulus estimated it could be $400 million, which could make a major difference in WNC's health system.
"HCA doesn't have anything to do with the foundation — they don't get a say on how it's set up or how the money is used," Paulus said, adding that the communities decide how the money will be spent to improve health care for everyone. "If the transaction closes, which we anticipate it will — this foundation will be one of the 50 largest in the U.S. Thirty years from now people will look back and say this is the single most important thing that's happened to North Carolina."
Mission and HCA are currently in the due diligence stage of negotiations, which could take 90 days. Then an agreement will be reached and submitted to the Attorney General for regulatory review before the transaction closes. For updates on the progress, visit www.missionhealthforward.org.