Archived News
Law gives Council chairman authority over chambers
Wednesday, April 25, 2018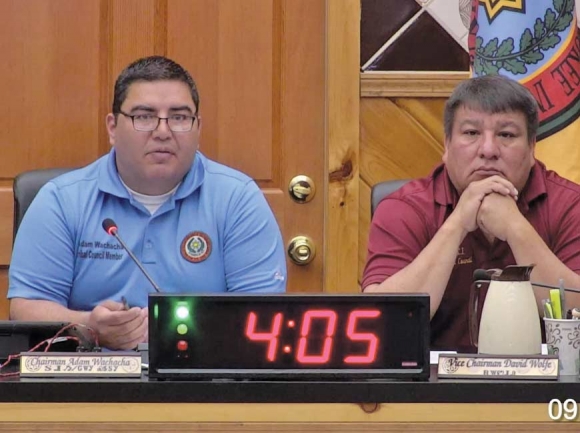 Chairman Adam Wachacha (left), of Snowbird, used a countdown clock to keep track of speaking time limits during an April 3 Budget Council session. The clock was gone by the April 5 Tribal Council session. EBCI image
The Cherokee Tribal Council voted unanimously to formalize rules governing who has final authority over procedures in the council house, but the ordinance elicited criticism from some who feel it doesn't do enough to protect the rights of enrolled members to address their elected officials.
The ordinance, which Principal Chief Richard Sneed signed into law, adds new language to an existing law that defines the council house's purpose as a community center and meeting place, also stating that the principal chief is responsible for its "use, security and maintenance."
As amended during the April 5 Tribal Council meeting, the law now states that the Tribal Council chairman controls "the access to, use and security of council chambers and the lobby area in front of the council chambers" when Tribal Council is meeting. However, the law states, the principal chief and vice chief "shall control access to, and the use and security of, the executive offices located within the council house."
The new language further stipulates that visitors to the council house behave "civilly and with respect."
"Persons addressing Tribal Council or officials and employees within the council house, including within the executive offices, shall conduct themselves in a professional, courteous manner," the legislation reads. "Persons who fail or refuse to so conduct themselves may be asked to leave. Persons who do not leave when asked may be removed by law enforcement upon request of the tribal official in charge of the area where the offending behavior occurred."
Concerns about control
"I just want to make sure that this doesn't keep people from coming to the podium and saying what they want," Councilmember Lisa Taylor, of Painttown, said after the ordinance was presented. "If what they say makes someone mad around this table, are they going to get asked to leave?"
Chairman Adam Wachacha, of Snowbird, assured Taylor that's not the aim of the legislation and that only wildly inappropriate behavior would result in removal.
"We're not shutting the people out. We just want to make sure we have a procedure moving forward," he said. "There were situations where the chair or the chief didn't really understand who had the authority, the way it was written. It's more black-and-white, so it's harder to argue."
The most visible instance of such a disagreement occurred last February, when the Tribal Council sitting at the time voted to begin impeachment proceedings against then-Principal Chief Patrick Lambert.
When the resolution stating Council's intention to draft articles of impeachment was read into the record, the audience responded with a resounding "boooo." Then-Chairman Bill Taylor, of Wolfetown, reacted by directing Officer Fred Penick to clear the chambers, with Lambert giving opposite instructions — the people should stay, he said.
A brief power struggle ensued, with Taylor again directing Penick to clear the chambers, Lambert again telling him not to, and Penick finally stating, "I work for this man" — gesturing toward Lambert — and declining to clear the chambers. Taylor called upon a second police officer to clear them instead, but once again nobody moved. Finally, he called upon Legislative Counsel Carolyn West for an opinion, and when she read the section of Cherokee code that states, "The Principal Chief shall be charged with the responsibility for ensuring proper use, security and maintenance of the Council House," the question was resolved. The people were allowed to stay.
Under the new legislation, that incident might have ended differently, as the section that West read in February has now been amended to state that the Tribal Council Chairman has final say over who is and is not permitted in the chambers during Council meetings.
The five-minute rule
Tribal member Becky Walker expressed sharp criticism of the change during discussion before the vote.
"This doesn't speak anything to our rights as enrolled members, what rights we have when we're here," she said. "That's still never been clear."
Walker in particular took issue with a new policy that Tribal Council has observed since Wachacha was elected to the chairmanship in October. Previously, if a tribal member had a comment to make on the agenda item at hand, that person would raise a hand, the chairman would add him or her to the list of people wishing to speak on the issue, and once at the podium the tribal member would speak until making the desired point.
However, in Wachacha's reading of Cherokee code, each councilmember may speak for only five minutes on each topic, and tribal members may speak only if a councilmember agrees to give away a piece of their own allotted speaking time. This interpretation comes from Section 117-16 of the Cherokee code, which states that each councilmember is limited to five minutes of debate or discussion on each matter but that any councilmember can yield some or all of that time to another councilmember. Council can vote to suspend the time rule for a specific matter under consideration.
The ordinance does not specifically state that audience members are tied to the five-minute rule as well. But it does say that in order to speak audience members must gain recognition from the chairman through a request of their council representative or by presenting a resolution or ordinance.
Wachacha interprets this law to mean that audience members wishing to speak must get one of the councilmembers to donate a portion of their five-minute block.
"It's a timed agenda and we're trying to address the issues of the day," Wachacha said. "For a work session I've never not accepted a hand raised out there and entitled everybody to five minutes per discussion."
Walker said that's an "arbitrary" system.
"If I get somebody's attention and they give me time, that may be only 10 minutes or one minute or 30 seconds, however you arbitrarily decide to give us time," she said.
During the Budget Council meeting that occurred April 3, two days before the Tribal Council meeting, a large digital countdown clock had appeared on the Tribal Council horseshoe between Wachacha and Vice Chairman David Wolfe, of Yellowtown, facing out toward the audience to show individual speakers how much time they had left. However, when Tribal Council convened for its April 5 meeting, the clock had vanished.
The five-minute rule has been a source of contention since Wachacha first began enforcing it. During the February council meeting, Legislative Counsel Carolyn West was asked to explain the legal basis for the five-minute rule and how it fits with an ethics law that states that "tribal officials of the EBCI shall provide enrolled members a time to be heard in a formal setting."
According to West, Tribal Council does not qualify as a "formal setting."
"A formal setting can be the community club meeting. It can be a work session. It can be a lot of different things. Like the public hearing that was held on the alcohol issue. Council sessions are council sessions," she said.
A stricter reign on public comment is necessary, she said, so that Tribal Council can run efficiently and get through its agenda in a timely manner.
Improving the public comment process
During the April meeting, Wachacha told Walker that he's working on improving the process to allow tribal members more opportunity to speak. Going forward, Wachacha said, he wants to ensure that all legislation goes to committee before arriving in Tribal Council, with committees serving as the main avenue for public comment. Further, he said, he wants to move all requests for time — akin to a public comment section of other government bodies' agendas, though requiring advanced planning and approval — to the Wednesday between each month's Tuesday Budget Council meeting and Thursday Tribal Council meeting.
"My intention in moving forward is before stuff hits the floor it goes to committee," Wachacha said. "That's where the discussion can happen with the public."
However, Walker pointed out, that shift hasn't happened yet, so in the meantime Tribal Council should do its best to ensure that enrolled members retain an avenue for public comment. And the Wednesday public comment period won't solve the issue, said Walker — when will Tribal Council receive input on Budget Council items, which would be voted on the day before the Wednesday public comment period?
"We spend a lot of money on Budget Council days. People should have input into that," said Walker. "We're spending a lot of time trying to regulate what happens in here, but you're not spending any time guaranteeing the people that they can take part in that."
Principal Chief Richard Sneed jumped in to say that he shares Walker's frustration that the current process includes no true opportunity for public comment.
"When we deem ordinances read and tabled, why do we do that? What's the point?" he said. "The point is for public comment. And when do we do public comment? The answer is we don't. We don't have a true public comment."
That's something that should be fixed, he said, but the legislation at hand — the ordinance outlining who has control of the council house — is a separate issue.
"This is not to try to silence anybody," he said. "This is simply defining who has authority in this chamber when council is in session. This particular ordinance was written in 1933, it hasn't been amended since, and it doesn't give any clarification as to who has authority when council is in session."
Wolfe moved to pass the ordinance with a second from Councilmember Tom Wahnetah, of Yellowhill, and it passed unanimously. Sneed has signed the legislation into law.