Archived Special Coverage
Learn to paddle at NOC youth camp
Wednesday, April 18, 2018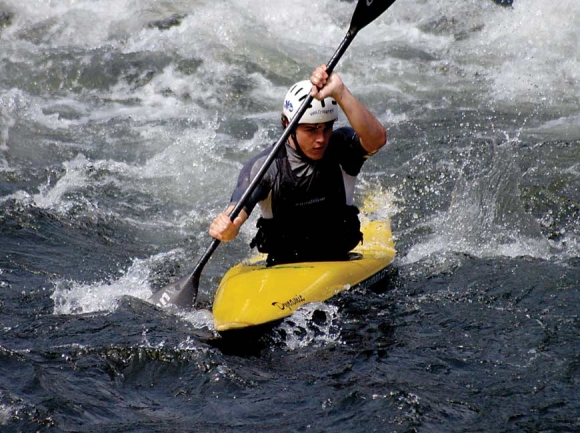 NOC photo
For 15 years Nantahala Outdoor Center instructors have been teaching kids and teens how to maneuver the waters of Western North Carolina during its summer camp programs.
NOC offers a variety of day camps, overnight camps and clinics for ages 9 to 17 and for a range of skill levels in June and July.
"We have a day camp option and we have an all-inclusive option that includes meals and lodging and instructors stay with them from Sunday afternoon through Friday afternoon," said Rachel Dean with NOC's paddling school.
Dean said the NOC camp utilizes the Little Tennessee River, Tuckasegee River and the Nantahala River for instruction. Thursdays are considered a travel day where campers get to decide where they want to go depending on their skill level.
Campers are separated into three groups — novice, intermediate and more experienced paddlers — and will receive top-level whitewater kayaking lessons from NOC's experienced instructors.
Summer camp instructors are certified in search and rescue and wilderness survival and many also hold Master Guide certifications. Each paddling group will have at least three instructors, keeping the student to teacher ratio to 1 to 3 or 1 to 4. Each camp session is capped at 25 kids or teens.
With so many summer camps for parents to choose from, Dean said NOC's kayaking camp might be ideal for your child if they've showed any interest in water sports or if they aren't particularly interested in the typical team sports offered at schools.
"It's neat because it can be viewed as an individual sport but also it's a group sport for us because it brings you closer to this niche community of paddlers," she said. "A lot of times you develop lifelong friends — you're building those relationships and learning the water. Kids who aren't into team sports can thrive because there's a group dynamic but they can progress at their own level."
There's something about being on the different bodies of water and learning and maneuvering your way through them — learning how to quickly react to different situations.
"It's one of only a few sports where not only are you moving but the medium is also moving," Dean said. "You're constantly learning and adapting to your surroundings so there's always room for progression."
There's no deadline to sign up for a summer camp session at NOC — Dean said enrollment will stay open until all the spots are filled. On the last day of camp, parents are always invited to Family Fun Day at NOC to see what their children have learned. Parents with kayaking experience are welcome to paddle with their kids or those without experience can go on a guided rafting trip on the Nantahala.
There are two-day, three-day and five-day camp options that vary in cost from $399 to $1,500.
For more information, call 828.785.4977 or visit www.noc.com/lessons-training/paddling-school/kids-kayaking-camp.