Archived Special Coverage
Camp Watia offers affordable fun for local youth
Wednesday, April 18, 2018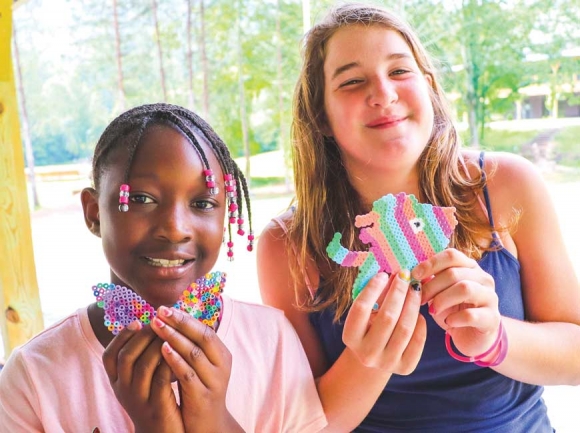 When the weather isn't cooperating, campers still have plenty of options for indoor adventures. Donated photo
A YMCA camp in Swain County specifically caters to youth in Western North Carolina by offering an affordable weeklong outdoor adventure experience.
Summer 2018 will be Camp Watia's third year in operation and already it has made a lasting impression on kids and their families.
"It's going great," said Camp Watia Director Ryan Hove. "We've grown a lot in the last couple of years and enrollment is going incredible this year and we continue to add new activities."
Camp Watia, situated in the western corner of Swain County surrounded by Fontana Lake and Nantahala National Forest, was made possible by a 125-year land lease donation from Ken and Nancy Glass. Ken's childhood experience at a YMCA camp and Nancy's time serving on the YMCA of WNC board of directors inspired them to lease 130 acres to start a camp for local youth.
The result is a world-class outdoor camp where kids can experience every activity the mountains have to offer. Campers can participate in swimming, archery, hiking, games, campfires, canoeing, paddle boarding, theater, horseback riding and more.
"This year we have a new onsite nature center with reptiles and amphibians that's very hands on and we're adding fishing this year," Hove said. "Last year we added a camp garden, rock climbing and biking by using the existing trails and old logging roads in the area."
In addition to all the outdoor activities, Camp Watia boasts new, state-of-the-art facilities and amenities, including a large dining hall, a multi-use indoor recreation room, a 100-foot-long water slide into a watering hole, an open-air pavilion, outdoor amphitheater, basketball court, soccer field and a hammock village to provide a place for relaxation.
"I think outside of activities the kids really love the staff — we've been lucky to have incredible counselors the last few years — and our food has been popular thanks to our great food director," Hove said.
Camp Watia is available for youth ages 7-15. Camp sessions begin June 10 with eight, weeklong sessions offered through the summer. While it's too late to take advantage of the early bird pricing special, there is still limited space available this summer. Families that sign up by April 30 will pay $598 and those who sign up after May 1 will pay $650. Financial assistance is available for those who qualify.
Families are invited to an open house event from 1 to 4 p.m. May 12 at Camp Watia.
For more information, visit www.ymcacampwatia.org or follow Camp Watia on Facebook at www.facebook.com/ymcacampwatia/.
YMCA Camp Watia 2018 sessions
• Session 1: June 10–June 15
• Session 2: June 17–June 22
• Session 3: June 24–June 29
• Session 4: July 1–July 6
• Session 5: July 8–July 13
• Session 6: July 15–July 20
• Session 7: July 22–July 27
• Session 8: July 29–Aug. 3