Archived Outdoors
Wildflower spotting: New book guides search for April blooms
Wednesday, April 18, 2018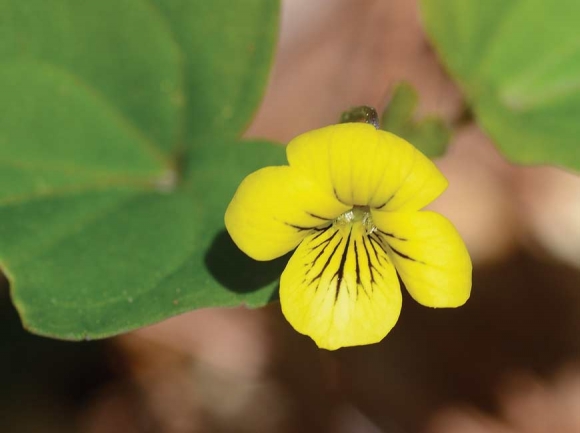 A yellow violet displays and early spring bloom. Holly Kays photo
The combination of a stress-filled week and the dawn of a perfect, sunny and 70-something degree day worked like a drug, a magnetic compulsion to leave the dark indoors in search of a sunlight-swathed trail to melt my anxiety away.
Mid-April is standout wildflower season here in the lower elevations of the mountains, so I grabbed the newly minted trail guide sitting on my desk for guidance on where to go. Wildflower Walks & Hikes: North Carolina Mountains, is the latest title from Swain County-based guidebook author Jim Parham, and with 59 hikes organized by location, habitat and peak season, it wasn't hard to find an outing to match my criteria: low enough elevation to feature April wildflowers, dog-friendly and as close to Waynesville as possible.
That's what brought me to the Pink Beds Trailhead on a Friday afternoon, guidebook in hand, camera around my neck, and excited pup running alongside.
From the dog's perspective, the object of this venture was to run as fast as possible as long as possible, looping in circles if necessary to accommodate her human's slower stride. But my goal was a bit different. I was on a wildflower hunt, and speed was to be avoided if I wanted to catch all the springtime blooms bordering the path.
But I quickly found that wildflower spotting wouldn't be such a tedious task. Nearly immediately after starting the trail, I saw it, my first flower of the day. It was a trout lily, a bright yellow bloom with curved petals, stem rising several inches above the green leaves fueling its growth. Macro lens mounted, I got down on the ground, searching for an angle to capture the flower's complex shape.
As it turned out, I might not have needed to take that first wildflower sighting so seriously. After the first trout lily, I started seeing them all over, the yellow blooms jumping out at me through nearly every turn of the 5.4-mile trail, stunning every time.
The trail wove in and out of meadows featuring dandelions, purple violets and wild strawberry flowers, with yarrow and clover plants growing lush but still holding back their blooms. In the wooded sections, trout lilies and two kinds of yellow violets peppered the view, with stream crossings often adding additional characters to the cast.
A group of Appalachian bluet flowers light up the forest floor. Holly Kays photo
I spotted a smattering of wood anemone, small white flowers with a confetti of white anthers in the center. Nearby a faded spring beauty, white petals streaked with purple, lay in wait, and as I came upon a sunny creekside I spied my first and only trillium flower of the afternoon. Barely bloomed, the red wake robin bud lay against its green leaves, crimson petals just beginning to escape their green case as a group of still-flowerless trillium plants clustered around.
By this time I'd about reached the halfway point of the hike, and I started to wonder if I'd get lucky with a sighting of the rare swamp pink, a tall, hollow-stemmed plant capped with a pink tuft-like flower that's found only in wetland areas. It's the flower that gave Pink Beds its name. The loop trail concludes with a walk through a rare mountain bog, perfect habitat for the elusive swamp pink. According to Parham's book, mid-April is the time to spot one — though he warns his readers against counting on it.
"Consider yourself fortunate should you find a colony in bloom," he writes. "As tall as this lily gets, you'd think they'd be easy to spot. Instead, you tend not to see them and then — oh, there they are."
That admonition in mind, I kept my eyes peeled, grateful for each new gathering of trout lilies and smattering of violets but holding out hope that a close watch would reveal the less common flower.
It was a sincere desire, but one without any accompanying anxiety should the desire prove unfulfilled. On a Friday afternoon, the trail was mostly devoid of people, the sunny spring day increasingly warm on my back and the smell of springtime woods swelling to life increasingly intoxicating. The stress of the week had already begun to fade, and the search for the swamp pink would not replace it.
So I pressed on, and while the swamp pink remained elusive, I found that my list of species sighted was not to remain unchanged.
Before long I encountered a series of short, woody stems holding plumes of tiny brown-purple flowers, each dotted with yellow centers — yellowroot, a low-growing shrub purported to have various medicinal effects. Mountain doghobble, that rough-edged evergreen plant that crowds so many Southern Appalachian understories, sported buds resembling green-plated armor, with a tinge of pink. And a fallen red maple fought on against the calamity that had toppled it, small red flowers spilling from the tips of its twigs.
Walking the boardwalk, it was plain that the warm season hadn't yet kicked into high gear. Some tufts of green shot up from the tangle of dried twigs covering the ground, but most of the color came from the orange of light reflecting off of rocks on the creek bottom, and the blue of the sky. I kept scanning for signs of swamp pink, still hoping to add this photo to my otherwise satisfactory collection, but I started to realize that — despite my best efforts — I'd probably end up leaving without one.
I wouldn't be leaving empty-handed, though. I knew that much. I found a fallen log lying just out of sight of the parking lot, a comfortable spot to sit down with my camera, trail guide and ID book, attempting to pin names to the flowers that I'd found. I tallied up 16 different species, a number that felt good to me.
The hike had never been about numbers, though. It had been about being outside, feeling the shine of a sun that for once was not obscured by rainclouds, and remembering the order of things — that no matter what else has been done or undone in the course of the week, the birds still sing and the flowers still bloom.
Check out the book
Published by Milestone Press, Wildflower Walks & Hikes: North Carolina Mountains, is written by prolific guidebook author Jim Parham, of Swain County.
The full-color book features 59 walks and hikes in Western North Carolina, complete with blow-by-blow driving and walking directions, original trail maps and information about what flowers you might find there. The book also features a photo listing of common wildflowers organized by color and season of bloom, and information on the different habitat types where they're found
$24.95. Find the guide at local bookstores listed at www.milestonepress.com/portfolio-item/wildflower-walks-hikes-nc-mountains.