Archived News
Haywood Commission primary could be first step to GOP majority
Wednesday, April 18, 2018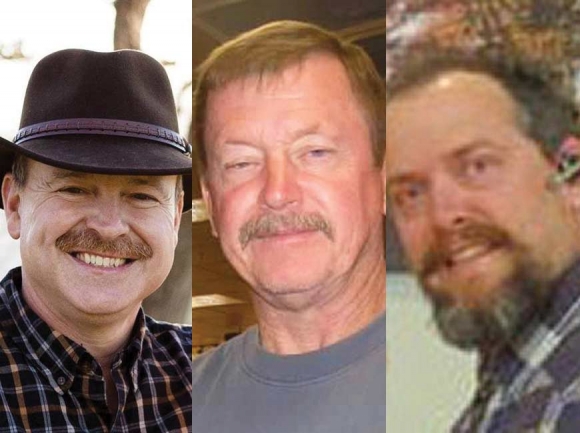 Left to right: Tommy Long, Terry Ramey and Phillip Wight.
Three Democratic seats on the Haywood County Board of Commissioners are up for election this year, but only two of them are being defended by incumbents.
That opportunity has attracted four Republicans to the race — Tommy Long, Mark Pless, Terry Ramey and Phillip Wight.
Three of them will advance to face three Democrats in November, and if the three Republicans can take even one of those seats, they'll become the majority on the five-member board.
The long shot?
Sixth-generation Bethel native Tommy Long considers himself a political outsider.
"I'm not going to have a ring in my nose and be led around by special interests one way or the other," Long said. "I'm going to do what's right."
Long studied electronics engineering technology and has worked in the field for more than 30 years, and is currently at Evergreen Paper in Canton.
"I have never been to any precinct meetings or anything of that nature," Long said. "I don't know how that will stand with folks, but I am who I am. I just saw a chance to make a difference in the county and thought it was time to step up."
He said he's running on fiscal conservativism and fiscal responsibility.
"I see opportunities like this county has never seen before for some economic development," he said, adding that he's optimistic about the future of the agreement reached by the county with the Asheville Area Chamber of Commerce last fall. "For years, Haywood County has been a service county to Buncombe County. I would personally like to see some of those jobs come back here."
The Tourism Development Authority's role in job creation has both opponents and proponents, but Long isn't taking sides just yet.
"I hate to be vague, but I will have to listen to the people of this county, " he said. "If we have this way we could bring that money in from out of town and we're still below the state average, it certainly might be a place to look to gain a little extra revenue. So naturally I would try to look at all the facts and make the best decision for Haywood County."
The wrecker man
Also born and raised in Haywood County, Terry Ramey worked at Dayco for 17 years and is now semi-retired but is still in the towing business.
"I been in the towing business almost 40 years and I'm used to my phone ringing 24 hours a day," Ramey said. "That's the reason I waited to do this, because I want to put as much time as it takes to do this job, and I'm going to be available 24 hours a day.
Ramey's outspoken about what he calls wasteful spending, including on the county's Jonathan Creek Soil Reclamation project (see page 21) as well as the new animal shelter, on which the ribbon will be cut April 25.
"The one in Johnson City, Tennessee, is 8,000 square feet square feet bigger than ours, and every bit as nice as ours, and it's $2 million less than ours," he said. "I'm a big animal lover. I know we need a nice animal shelter and I want a nice animal shelter, but I also but I don't want to waste money either."
Ramey ran for commission two years ago, albeit as a Democrat and finished last with 16.5 percent in an election that saw Steve Brown and Robin Greene Black lead the ticket with 34.6 percent and 25.3 percent of the vote, respectively.
"People haven't left the Democrats, the Democrats are leaving the people," he said. "I'm like the old Democrats, I'm like my grandpa."
As a former motel owner whose sister sits on the TDA board, Ramey said he's leery of raising the room occupancy tax, an issue that seems to come up — and gets shot down at the state level — every few years.
"It's going to be interesting to see how this works out with this Asheville [Chamber economic development] deal first, to see if it amounts to anything, or if we just wasted that money," he said. "I think the tax is high enough right now. I'm afraid that we'll deter people from coming here, and if we're trying to draw people in here we have to do everything we can to draw people in here instead of scare them off."
The Wight guy
Like Ramey, Maggie Valley Alderman and local HVAC contractor Phillip Wight's also run for commission before — in 2014, when there was no Republican primary.
Wight finished fifth of six in the General Election, behind the field's only other Republican and ahead of the field's only Libertarian.
This year might be different; Wight's campaign signs sport a risqué slogan, "Vote for the Wight guy," which has generated some discussion in the county. Whether they help or hurt remains to be seen, but they don't change what Wight says are his small-government priorities.
"I believe in more of a balanced budget," he said. "We've had two tax increases in those six years. I have a proven history of cutting taxes and giving that money back to the people."
Wight was one of just two elected officials in all of Haywood County's municipal government to vote against the last proposed TDA tax increase, and is also critical of the Jonathan Creek project.
"I'm not doubting that anyone in Haywood County government isn't doing what they feel is right, but I sure would like to be in the room for some of those decisions," he said. "We're talking about dirt, right down here. Who knows what the mistake value is, but it's ridiculous."
He's also not a fan of the economic development deal between the county and Asheville, and thinks the tables should be turned.
"There again, that's what I keep mentioning about not being in the room," he said. "I think it's incompetence. They [Buncombe County] need us — they're out of inventory. We don't need them, and we don't need to pay them to be here."
The numbers
In 2016, the three-way Republican primary that resulted in wins by current commissioners Brandon Rogers and Kevin Ensley generated 10,982 votes.
But that was a presidential election year, which usually results in greater turnout all year long. For an apples-to-apples comparison of Republican turnout in non-presidential years, one would have to look all the way back to 2010, because there was no Republican Primary in 2014, and 2012 was also a presidential election year.
In 2010, just 4,265 votes were cast in the five-way Republican Primary, with the top candidate receiving 1,105. In theory, that means the four Republicans currently running would need to shoot for about a thousand votes to come away with a top-three finish that would put them on the ballot in November.
That's not the whole story, though. According to a Smoky Mountain News analysis of voting trends conducted in the wake of President Trump's 2016 victory, Republican presidential votes in Haywood County have increased 26 percent over three elections from 2008 to 2016 and have increased in every election, meaning a more appropriate target would be around 1,400 votes.
But even that analysis presents mixed signals. The 2016 vote totals were accompanied by an unexpected surge in Trump's numbers, and as probably the most loved/hated president since Franklin Delano Roosevelt, Trump's performance may encourage/discourage Republican voters both in the May 8 Primary Election and in November's General Election.
The fourth candidate, Mark Pless of Canton, did not return calls requesting an interview for this story.