Archived Arts & Entertainment
A hard life makes a good song: Jeremy Garrett of The Infamous Stringdusters
Wednesday, April 18, 2018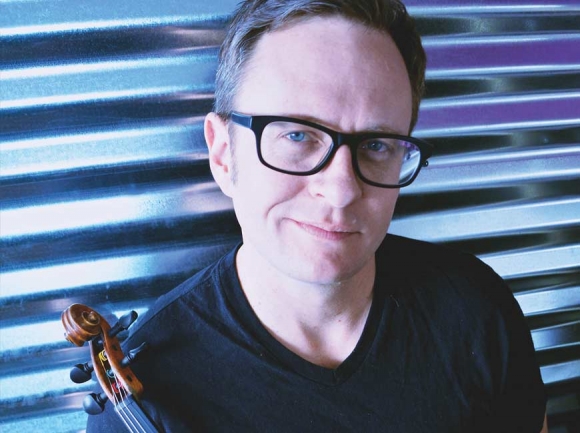 Jeremy Garrett. Connie Garrett photo
Hopping up on my truck tailgate one recent afternoon, fiddler/singer Jeremy Garrett gazed around the Spirit of the Suwannee Music Park in the rural countryside of Live Oak, Florida. His band — The Infamous Stringdusters — was headlining the Suwannee Spring Reunion that weekend, another feather in the cap of a celebrated acoustic act who this past January was awarded a Grammy Award for "Best Bluegrass Album."
Having been together for the last 12 years, the Stringdusters burst onto the national scene from seemingly out-of-nowhere when they won the 2007 International Bluegrass Music Association (IBMA) awards for "Album of the Year," "Song of the Year" and "Emerging Artist of the Year."
And since then, the group has roamed the entire country, taking the stage at any and all venues or fields with folks ready to boogie down to the band's unique footstompin' blend of bluegrass, jam and Americana music. The amount of miles they've traveled can only be calculated by the amount of notes played, which is infinite.
That dedication and determination is the bright, successful foundation the Stringdusters stand proudly atop, where they can now look further and farther out from where they're currently positioned, with a single thought in mind — once you've reached the top of the mountain you start to see other mountains in the distance worth climbing.
Smoky Mountain News: You tied [for "Best Bluegrass Album" at the Grammys] with Rhonda [Vincent & The Rage], the epicenter of [traditional] bluegrass. And you guys are arguably the biggest name in the progressive side of things. What does that say about where the genre is right now?
Jeremy Garrett: Terms are funny, because all of those categorizations, people need to be able to divide things in their mind. I think a lot of people in the real steep traditional stuff of bluegrass, they may be not into what we do or offended at what we do. But, we love bluegrass so much, it's really within all of our hearts, and probably more so than your average picker out there. We have all been steeped in bluegrass ourselves from early ages, played with all kinds of people where we paid our dues. Andy Hall [dobro] played with Dolly Parton and Earl Scruggs, some of us met with Ronnie Bowman's band. We've been in the bluegrass world forever, and a lot of people did support us early on. Of course, we understand, we push the limits for some people that want to call what we do bluegrass or not. Frankly, it doesn't matter to us. We don't really consider that when we're making out music. Luckily for us, our common denominator is bluegrass. So, that's where we draw everything on, that's what makes us the string band that we are. And I feel [that's what makes us] as good as we are, because bluegrass has such an high integrity compared to other music — the demand to be good.
SMN: Almost to like an elitist/purist kind of thing...
JG: Right. I personally feel like it's good for bluegrass to grow. And I was on the Board of Directors for the IBMA for several years myself, and have been going as a faithful member since 1996. So, I believe in the organization. But, I also have had my doubts lately as to whether or not the organization itself is going to become stagnant and become a preservation society.
SMN: Sometimes [the IBMA] tone is "keep the doors locked"...
JG: Yeah. They have done a lot of outreach. And when I was there, I was also heavily involved in trying to open the playing field a little bit — a bigger tent, so to speak. But, you know, there's a lot of resistance still within the community, the cultural divides and all kinds of things within the community that sort of inhibits what the success of bluegrass could be.
SMN: I look at [The Infamous Stringdusters] as bluegrass. But, regardless, it's a portal, because people that will find you at a jam festival will go down the rabbit hole, just like I found bluegrass through The Grateful Dead.
JG: Totally. There are so many levels. Like you said, if you're a Phish fan or a Grateful Dead fan, you're going to discover Del McCoury or David Grisman, and you're going to get to bluegrass eventually. I kind of went the other way, I didn't know anything about Phish and The Grateful Dead at all, coming from the bluegrass world [of my native] Idaho. I was lucky that my dad was a bluegrass musician and sort of brought me along in that. Because of his influence, I was pretty traditional until maybe into my 20s when I moved to Nashville and started figuring out what other things were out there.
SMN: I remember seeing you guys probably 10 years ago playing small clubs up in Vermont, and now it's a headlining act. What's this journey been like for you?
JG: It's been awesome, and really satisfying in a lot of ways. We definitely work extremely hard. I mean, if I would have been a doctor or something instead, I would have "made it" by now, I'd be very comfortable I'm sure. You struggle a long time in the music business to get to a place where you have success. And really, what is success? Mainly happiness, doing what you love to do, and doing important things for the world that make it a better place if you can. I really strongly believe in that, and I feel like that's our mission as the Stringdusters. The most satisfying part of the journey for me is discovering the power that we have to bring people together, and then the friendships they create [in the audience] and those long-lasting journeys they have together — that's incredible we get to be part of that.
Want to go?
Grammy Award winning fiddler for The Infamous Stringdusters, Jeremy Garrett will hit the stage during an intimate solo performance at 8 p.m. Monday, April 23, at The Grey Eagle in Asheville.
This is an all ages seated event. Prior to the show, Smoky Mountain News Arts & Entertainment Editor Garret K. Woodward will host a short onstage Q&A with Garrett, where audience members will also have an opportunity to ask questions.
Tickets are $12 in advance, $15 day-of-show. For more information and/or to purchase tickets, visit www.thegreyeagle.com.