Archived Arts & Entertainment
Roads that we abandon, and others that we take
Wednesday, April 18, 2018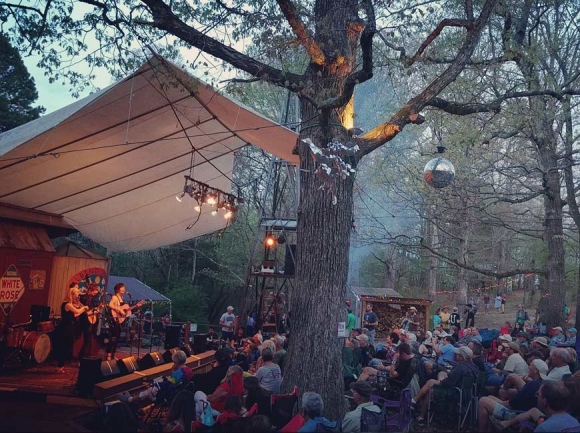 Albino Skunk Music Festival. Garret K. Woodward photo
A slight breeze awoke me from my slumber this past Saturday morning. Swaying in the hammock, I looked upward while the first sunshine of the day sprinkled through the branches all tangled high above.
Following a wild and raucous night of live music and new friendships at the Albino Skunk Music Festival (Greer, South Carolina), a blissful smile graced my face. I emerged from the hammock into a peaceful silence that only exists within the short timeframe between when the last campfire pickin'-n-grinnin' session ended and when the unknown adventures of today are soon to begin once some bacon, eggs and strong coffee are rustled up.
A legendary word-of-mouth gathering, Albino Skunk has been chugging along for over 30 years. And for a long-time festival-goer like myself, my first time at Albino Skunk last weekend felt like coming home. The farm of festival creators Glynn & Susan Zeigler is a place of true communal spirit and vigor, a devil-may-care attitude and welcoming presence I felt was long gone from this current age of massive corporate festivals and folks simply not willing to put the blood, sweat and tears into pulling off something of this nature in their own backyards.
It's only late April and this weekend's Tuck Fest at the U.S. National Whitewater Center in Charlotte with already be my fourth music festival of 2018. Kicking off last month at the Suwannee Spring Reunion (Florida), with Rhythm & Blooms (Tennessee) recently and now Albino Skunk under my belt, I'm champing at the bit to immerse myself headlong into the festival season.
I suppose the notion of simply throwing my gear into the truck and heading for a music festival has always been in my blood. I can't explain it, really. It's just something I've always done, and still look forward to like a kid on Christmas morning. The notion of wandering in a beautiful outdoor space with friends and family (or solo) amid all the unknown folks and unheard of bands, all ready to surprise you, maybe even changing your life as you find yourself in a cosmic conversation with a stranger or listening to your new favorite band in a happenstance moment of time and place.
And you never forget your first festival, wherever and whenever that may have been. Mine was Strangefolk's "Garden of Eden" festival (Sept. 1, 2001) at the Addison County Fairgrounds in New Haven, Vermont. Being one of the most beloved jam-rock acts in New England (and my native North Country of Upstate New York), the chance to actually see Strangefolk up close and in-person was too tempting to turn down.
I was 16 years old. Just having got my driver's license that summer, I had entered 11th grade the week prior. "Garden of Eden" was to be held during a weekend I didn't have a cross-country race or any other obligations in my teenage world of small priorities that seemed larger-than-life at the time. Seeing as my rusted 1989 Toyota Camry was unreliable for driving long distances, I begged my parents to take their minivan. They relented, to which I filled the Nissan Quest with three of my best friends and a cooler of snacks, and cheap domestic beer cans carefully hidden behind the backseat, to be drank with gusto once we had arrived at the festival.
Rolling up to the Addison County Fairgrounds, we unpacked our things, secretly cracked a cold one and saluted each other. Not having a single clue as to "how to act and be cool" at a festival, we stayed close to each other as the multitude of music freaks streamed into the wide-open fields of "Garden of Eden."
It was surreal to stand there and bounce along to the sounds of a band we constantly had blasting on our stereos in our childhood bedrooms. And there they were, right there, playing just for us. Following the main stage shows, we wandered up the hillside towards a massive bonfire, all kinds of interesting folks and interactions, instruments being played in the heat of a jam, perhaps even a joint being passed around if you were lucky enough to be in the right place at the right time.
Right around the midnight hour, we headed back towards the minivan, grabbing a seat in our camping chairs and swapping stories of who we met that day and what we thought of the music — laughter and friendship giving way to an oddly restful slumber as we all crammed into the minivan.
Back to high school that Monday, we were telling tall tales about the festival to our peers in front of our lockers. The four of us now had an eternal bond of that experience together, already making plans at our lunch table in the cafeteria as to where our next festival adventure would take place.
That first festival was 17 years ago. And I've been lucky enough to attend and cover hundreds of gatherings over the years, all in different and mesmerizing locations — high desert of Nevada, backwoods of Maine, rugged depths of Arkansas, and so on. That feeling of adventure is something still found at each and every music festival I wander into, where a true sense of freedom and chance wafts through the air.
Life is beautiful, grasp for it, y'all.