Archived Outdoors
'Enjoy yourself': WNC duo runs with outdoors-inspired sunglasses brand
Wednesday, April 11, 2018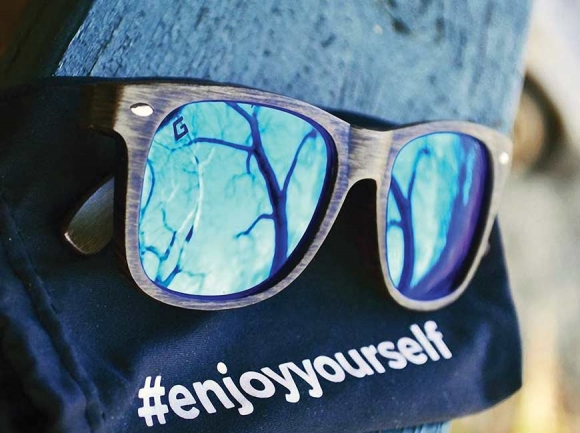 Gnarcissist sunglasses are designed to be high-quality and durable while staying cheap enough to be replaceable. Donated photo
For Nick Provost and Peter Moyle, co-owners of the startup outdoors brand Gnarcissist Gear, it all started with granola bars in high school history class. Moyle was new at Smoky Mountain High School, and he and Provost became friends over the shared snacks, strengthening their bond as they both took jobs at Cataloochee Ski Area.
"We worked together all the time, carpooled all the time," said Moyle, 27. "That's how this whole ideation came about was talking in the car about what we wanted to do someday."
"We were always talking about if we owned our own brand," added Provost, 26.
Sunglasses eventually became part of the conversation. The two were riding up the mountain yet again, Moyle wearing a pair of cheap gas station aviators, his third pair of the season. Wouldn't it be great, he asked, if there were something better out there? Something higher-quality than the non-polarized lenses you find in a gas station, but cheap enough to be affordable on a "dirt bag budget?"
From idea to reality
It was a good idea, but they were still just high school kids with no way to turn the concept into reality. It lay fallow for a few years, until Provost, a parks and recreation management major at Western Carolina University, reached his senior year. One of his classes required the students to develop a business plan for an outdoors-related enterprise, and Provost convinced Moyle, a business management major who didn't need the class, to take it with him.
"I said, 'I know this isn't your major, but if you take it we can sit down and make the plan,'" Provost recalled.
So they did, outlining a brick-and-mortar ski and kayak shop that, when they later revised it to fit the requirements for a different business plan project required by the honors college, became something close to what they're doing now — operating a company that sells inexpensive but durable polarized sunglasses, cheap enough to be lost and replaced, and sturdy enough to take a beating.
"That was the birth of the company," said Moyle.
They graduated, and they had a plan as well as encouragement from friends, family and the teachers they'd worked with along the way. But they were also broke and with no credit. So, Moyle entered the plan in the 2013 Awesome Business Idea Competition, hosted by SiteDart in Franklin and offering $1,000 in prize money.
"He (Moyle) pitched the plan, and we won," said Provost. "The prize money paid for a trademark and our first order of sunglasses."
That first order wasn't exactly what the two had had in mind, but they sold them — "mostly relying on our personalities and the name itself," said Provost — and then used the proceeds to buy more glasses and some T-shirts. Each sold order allowed them to buy more product and to better refine their design, bringing it ever closer to the high-quality, low-cost concept they'd had in mind to start with.
"Everything just kind of dominoed on itself," said Provost.
To the next level
It's just been within the last year or so that Gnarcissist has really seemed to hit its stride. After countless iterations of design and trial and error, the company has settled on what will likely become its main design, a pair of polarized glasses made out of sturdy plastic and textured for a look that resembles wood grains. They've started sponsoring athletes, and the glasses are in about 20 stores, all across Western North Carolina as well as in Wyoming, Idaho and soon in Virginia. They've got an online store in South America, and are in talks with multiple other stores to start stocking.
"We're really trying to take it to another level this year," said Provost.
Just a few months ago, he and Moyle were suit-wearing rental car branch managers during the day, pushing along the Gnarcissist brand during their off time. In the past year, they've both quit their full-time jobs, keeping a couple side hustles going to make ends meet but devoting the bulk of their time to the brand.
Gnarcissist owners Pete Moyle (left) and Nick Provost show off their gear at Grand Teton National Park. Donated photo

"It's been quite the journey," said Moyle. "It's been fun the entire time, just because doing something under your own idea and self-motivation is just such a good feeling."
The journey has taken them to places they never expected. Last year the guys drove all the way out to Idaho and Wyoming, to see one of their athletes compete in a paddling competition and network with other professionals in the world of outdoors gear. Provost was just in Colorado, getting some skiing in and talking with various shops — he'll likely go back a couple times throughout the summer.
"That is one of the most fun parts, for sure, is being able to get out and see new places," said Moyle.
"We just try to be a part of anything where there's someone chasing their dream and their passion," Provost added.
The Gnarcissist slogan is "enjoy yourself," and those are words its two founders live by. Sometimes the work is hard, and sometimes it's confusing, but it's theirs. And they really believe that their product helps others — especially those who spend their time hiking trails, paddling rapids and careening down ski slopes — enjoy themselves.
"You gotta protect your eyes," said Provost. "When you're outside recreating, if you don't protect your eyes you're at a higher risk to get cancer from the sun or get your eyes messed up early on … Our slogan is 'enjoy yourself,' and it's much easier to do that if you're not squinting the whole time."
Learning the hard way
While the Gnarcissist life has been a fun ride, it hasn't always been a smooth one.
"Some things you learn the hard way," said Moyle.
For instance, originally they'd wanted the glasses to be made out of wood. Wooden glasses are becoming increasingly popular, and the design fit their brand's outdoors focus. But it turned out that, while the wooden glasses "looked amazing," they proved to be both fragile and expensive. The latest iteration, or which Moyle and Provost are both fans, looks like wood but enjoys the greater durability and affordability of plastic.
They've had other hiccups too. For instance, there was the time they sold an order twice as fast as they thought they would but had a three-month lapse in inventory — because that's how long it took to finish all the paperwork they hadn't known they'd have to do in order to import the glasses.
"We thought we had prepared for it, but there's so many more unknowns once you start diving into it," said Moyle.
In that way, the world of business isn't so unlike the world of nature that sparked the friends' Gnarcissist adventure in the first place. Preparation is important, but at the end of the day you can't know exactly what the situation will be until you're in it. At that point, you better be able to stay calm and think on your feet.
"That's why the outdoors is such a good metaphor," said Moyle. "It's exactly like setting a line or paddling a rapid. You try to plan your line before you go, but things might happen, and you have to adapt, overcome."
Learn more about Gnarcissist
Gnarcissist Gear's signature product is its polarized sunglasses, which retail for a modest $20, but the brand also sells T-shirts, baseball caps, hoodies and more.
Find Gnarcissist on Instagram at www.instagram.com/gnarcissist_enjoyyourself, Facebook at www.facebook.com/Gnarcissistenjoyyourself or through its website, www.gnarcissistgear.com.