Archived Arts & Entertainment
This must be the place: Every soul has a story, every story has a face
Wednesday, April 11, 2018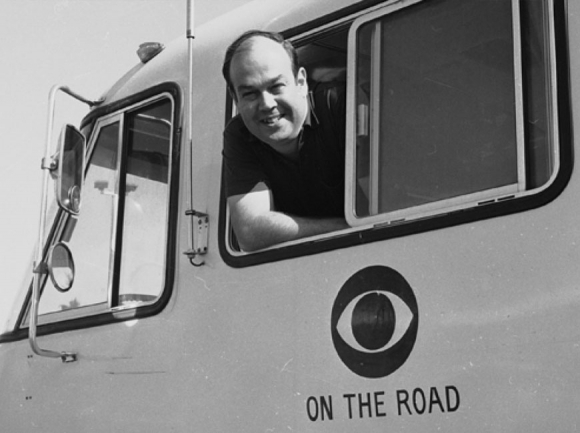 Charles Kuralt.
You can't help but smile.
Watching old clips of "On The Road" with Charles Kuralt, you find yourself in a headspace of familiarity. Not so much nostalgia as it is a trip down memory lane, when folks actually looked forward to watching the news, or at least those "CBS News Sunday Morning" episodes where Kuralt was as much a part of an enjoyable breakfast as bacon, eggs and a strong cup of coffee.
Though he passed away in 1997, his iconic reporting and presence is still felt, especially to those who vividly remember the unique way he could spin a tale, bring once unnoticed or forgotten voices to the surface of mainstream America. Even as a kid, I remember that signature tone and jovial laugh of his, and how it never ceased to amaze him how incredible John & Jane Q. Public can be once you give them the time of day — something of a lost art these days, I suppose.
"He didn't investigate people. He simply admired them," a CBS reporter said of Kuralt in a remembrance of the 50th anniversary of the premier of "On The Road" last year.
When asked about the initial public reaction to the first episode in 1967, "On The Road" cameraman Izzy Bleckman said, "The telephones lit up pretty hard that night when the first one was on. People said, 'It's about time we saw a little something else about America.' We were part of letting a lot of people know there were other kinds of people out there like them — just like them."
And the words of Kuralt still echo loudly in my heart and soul, "Despite the negative headlines, the backroads connect up a country that still seems rather fine and strong and enduring."
When I need a dose of inspiration, I go to YouTube and track down some of the old Kuralt clips. They're out there, and there's plenty of them. Some of my favorites (which you can search for yourself) are titled "20 Years On The Road with Charles Kuralt," "Blenheim Ginger Ale, Golden Gate Bridge Builders, Jethro Mann" and "Thanksgiving in Prairie Mississippi," to name a few.
Watching the clips, you can't help but smile. The folks portrayed seem larger-than-life, and they were in many respects. But, similar folks exist today, all over this country, probably in your own backyard, wherever that may be. Lately, I've been pulling up these old clips more often, kind of a reminder that there's still good, decent, hard-working folks out there, face and places I've yet to discover and write about. That in itself fuels the internal fire to bring to you — our readers — these stories every week.
I believe there's no such thing as a boring story. But, there is however, such a thing as a boring journalist. The key is to dig below the surface of your subject, to find that common ground that can usually break open an ever-flowing dam of conversation enjoyed between two people sitting face-to-face, talking about their respective paths that led to this momentary encounter amid an all too big and wondrous universe.
Sitting here while writing this column, the latest issue of Smoky Mountain Living (our sister publication) just landed on my desk. One of the features is an interview I recently conducted with legendary singer-songwriter Rodney Crowell.
Seeing our interaction in print, it's truly a full circle for myself and Crowell. In January 2008, when I was 22 and starting my first journalism gig at a small newspaper in Eastern Idaho, the first piece of mine that ran in the Teton Valley News was a Crowell show I covered on a snowy night way up in the Grand Teton Mountains at the Grand Targhee Resort in Alta, Wyoming.
"His words and tender guitar chords painted pictures of simpler times in his hometown of East Houston, Texas. Pictures of forgotten friendships, families torn apart and pieced back together, femme fatales lost and found as tears slowly cascaded down the cheeks of certain audience members. There is this intricate simplicity to Crowell's musical talents. You can't pinpoint or pigeonhole him, and in essence you wouldn't want to anyway," I wrote of Crowell in 2008.
In the decade since we last spoke, Crowell and myself have zigzagged around America on our separate paths of haphazard obligations and adventures. And in that time, I've written about seemingly every corner of humanity with gusto, a sincere feeling of appreciation for what specifically makes someone, anyone tick. People who are blacksmiths, veterinarians, actors, bartenders, peanut boilers, playwrights, teachers, politicians, musicians, and so forth. Each time another name is checked off my "to do list" another half-dozen names get added — the more, the merrier, I say.
"If you're like me, and you listen to music a lot, the role of the songwriter is more pointed and more centered than ever. In our culture and in the world, it has never been more important, never more prevalent — as is the poet, as is screenwriting, as is news reporting," Crowell said in our 2018 conversation.
I think of Kuralt, of Crowell, and of all those folks I've been lucky enough to stumble across and befriend, to tell their story, and I have but one thing to say — I remain inspired.
Editor's Note: If you would like to contact Garret K. Woodward, please email This email address is being protected from spambots. You need JavaScript enabled to view it..
Hot picks
1 Positive Mental Attitude (reggae/rock) will perform at 8 p.m. Saturday, April 14, in The Gem at Boojum Brewing in Waynesville.
2 A program devoted to Appalachian heritage and culture, "The Liars Bench" will return at 7 p.m. Thursday, April 19, in the Mountain Heritage Center auditorium at Western Carolina University.
3 Frog Level Brewing (Waynesville) will host Hunter Grigg (singer-songwriter) at 7 p.m. Saturday, April 14.
4 Nantahala Brewing (Bryson City) will host Circus Mutt (Americana) at 8 p.m. Friday, April 13.
5 Anthem Lights (Christian) will hit the stage at 7:30 p.m. Friday, April 13, at the Smoky Mountain Center for the Performing Arts in Franklin.