Archived News
Tribal transparency on shaky ground after media ban
Wednesday, April 11, 2018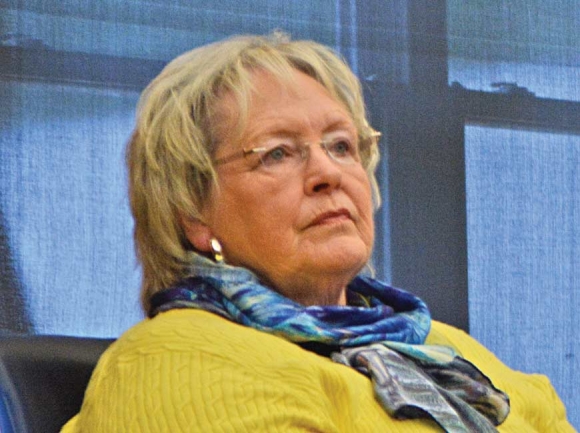 Cherokee Tribal Council Member Tommye Saunooke (above) moved to ban all non-Cherokee media from council Chambers. File photo
Allegations made by a member of Cherokee Tribal Council against a Smoky Mountain News reporter have resulted in a ban on all non-Cherokee media from Tribal Council chambers.
The move marks a new chapter in Cherokee's long struggle with transparency in government and the basic principles of a free and independent press. Those very principles, even though they're still under attack by Tribal Council, demonstrate the importance of such institutions in any self-governing society, especially since the tribe's own video footage of the meeting proves that the allegations against Smoky Mountain News' Holly Kays are false.
'U made me sound ignorant'
The move to ban all non-Cherokee media from Tribal Council chambers came at the end of a discussion in Tribal Council April 3 during which Principal Chief Richard Sneed addressed concerns about 7 Clans Brewing, a Cherokee-owned business that's sparked controversy amongst some tribal members who feel the brewery's branding, including MotherTown Blonde Ale, is insulting to the tribe (see page 8).
As The Smoky Mountain News' Cherokee reporter for the past four years, Maryland native and Virginia Tech alum Holly Kays has covered the issue extensively.
When Sneed concluded his remarks, Painttown Council Member Tommye Saunooke piped up with a proposal, seen on video of the meeting.
"Chief, two things. I know there's freedom of the press and freedom of speech and all that," Saunooke said, "but Tribal Council, I'm going to ask you to ask Holly not to enter these chambers, because she called me the other day and said, 'Can I quote you?' and I said 'No, don't make me look ignorant.' She had a different quote from what I had said, but she did anyway. There's an example of what she did. The Smoky Mountain News is not quoting us right, so I'm gonna ask Tribal Council if you'll ask her to step out. That'd be my suggestion."
However, Saunooke's allegations and her statement to council members were completely and verifiably incorrect as a simple matter of fact. The quotation in question was said by Saunooke about a month earlier during a Tribal Council meeting, which are recorded. Just before council again delayed a vote that would have funded a multi million-dollar crisis stabilization unit for drug addicts, Saunooke said, "I don't think we got that kinda money, people. And where's it coming from? I need to know that."
Emails to and from Saunooke (see page 7) provided by Kays show Kays wasn't asking for Saunooke's permission to use the quote, which is a matter of public record, even in Cherokee. Indeed, no such permission is ever necessary.
Instead, Kays — as a courtesy — was simply asking Saunooke if her statement was accurate and giving her a chance to elaborate on the point before the story went to print.
"U made me sound ignorant with the statement .. I'm sure it was not phrased that way.." Saunooke replied via email.
The statement, however, was phrased exactly that way, per tribal video of the meeting.
Tribal Council meetings are recorded on video and available online for all to see and hear (bit.ly/ECBIvideo), and Saunooke's statement that day is precisely as reported by Kays, a two-time winner of the North Carolina Press Association's Media and the Law Award, given for accurate and informative coverage of legal issues that foster greater public understanding of the legal system.
Both of those awards were presented by the N.C. Bar Association and the NCPA to Kays, who also serves as the editor of The Smoky Mountain News outdoors section. Kays received the awards for her coverage of Cherokee, including a story on two Cherokee police officers who lied to obtain a search warrant in 2014 and another story on pay raises Tribal Council members voted themselves in 2016.
Trust, but verify
On April 5, two days after she first broached the topic of media banishment, Saunooke led Tribal Council in prayer to open the meeting.
"Now go with us as we make decisions — let us be compassionate, honest, open and may we always do the will of Jesus Christ, in Jesus' name we pray, amen."
Saunooke subsequently made a motion to ban all members of the media except The Cherokee One Feather from council chambers during Tribal Council meetings.
"Mr. Chairman, at this time, I'd like to make a move that the only press allowed in our Cherokee chambers will be Cherokee press," Saunooke said, no longer singling out Kays as she had April 3.
"The Tribal Council controls the chambers," said Cherokee Attorney General Mike McConnell later, by phone. "They can determine who's there and who's not."
When contacted, Chief Sneed concurred and said of the vote that it was council's prerogative and that the same thing had been done to Bryson City newspaper The Smoky Mountain Times a few years ago.
There's little doubt officially over the legality of Saunooke's motion, which was seconded by Birdtown Councilman Albert Rose and passed without further discussion 11-1 with council only trusting — but not verifying — the accuracy of Saunooke's April 3 allegations.
"Ms. Kays, there's been a move made, unless you're with The One Feather, you would have to exit the chambers," Tribal Council Chairman Adam Wachacha told Kays upon passage of the measure.
Kays asked Wachacha if she could make a comment before leaving.
"No. I mean, it's a move already made. You don't have to exit the building. They just don't wish to have you inside the chambers during council sessions, but you can sit in the lobby," Wachacha said. "The only ones that's allowed is from The Cherokee One Feather."
That lobby includes, as Kays noted, comfier chairs and council meetings live streamed on a big screen TV.
It's thus unclear why she was singled out, considering the banishment can't stop The Smoky Mountain News — or anyone else — from covering the affairs of tribal government.
But it can make it much harder.
Covering Cherokee
By "Cherokee press," Saunooke meant The Cherokee One Feather, a small state-funded media outlet. North Korea, Russia and Saudi Arabia also have control over the media.
"It's government-run, and it has an editorial board," said Chief Sneed by phone April 6, noting his desire to strengthen the editorial independence of the paper.
"I'm a firm believer in a free press," said Sneed, who cited his recent request of the paper to stop publishing mug shots of Cherokee Police Department arrests, which he called unnecessary "shaming" in light of the fact that the paper still publishes a police blotter.
While Sneed could have demanded such a move from the paper, he says he deferred to the paper's editorial board composed of political appointees — all of whom happened to agree with him — but he says he wants to ensure the power he didn't use in that case can never be used.
"I'm trying to make it have the latitude to operate more independently, without fear of retribution from an elected official," Sneed said. "Right now, they're directly reportable to me."
Such a relationship would be outrageous in the rest of the world's greatest democracy, but right in the middle of it the Qualla Boundary is in effect a sovereign nation and its laws differ, meaning that this isn't the first time the tribe has struggled with transparency.
For example, a recent change in interpretation of Cherokee's public records ordinance by Attorney General Mike McConnell after Principal Chief Patrick Lambert's impeachment last year means that requests for government records can no longer be made by non-tribal members.
An editorial written by One Feather Editor Robert Jumper last year said that even The One Feather itself has had trouble acquiring requested records, in one case waiting over a year.
"… because our public information and free press laws are so convoluted, we are sometimes haltered by the silence of our government. Because we are bound by the tribal human resources policy and governmental chain of command, we are always one story or issue away from being censored with a simple directive from someone in the hierarchy of government," Jumper wrote in March 2017.
Jumper's comments echo an editorial in the Dec. 14, 2015, issue of The One Feather written by former editor Joseph Martin.
"Throughout my nearly 12-year tenure at the paper, one thing would become painfully clear," Martin wrote. "This tribe needs an independent newspaper, and it needs the tools to allow such a newspaper to do its job."
An editorial published by The Cherokee One Feather Editorial Board in the wake of Saunooke's ban, on April 9, acknowledges the tribe still doesn't have an independent newspaper.
"We push ever forward to secure protections under the law that will provide the community a truly free press, but, in the meantime, outside media provide the valuable service of assisting The One Feather in the documentation of tribal history," it reads, while calling for Saunooke's ban to be rescinded.
But perhaps the best example of The One Feather's current degree of independence is that the editorial lauds Saunooke, in her ninth term on council and a graduate of Western Carolina University with a bachelor's and a master's degree in public affairs, and says it still does "not have confirmation on exactly what happened to precipitate this action," despite clear explanation from Saunooke herself during the public meeting and on the tribe's own video.
This isn't the first time Kays has been kicked out of a Tribal Council meeting. In December of 2014, police officers escorted Kays back to her car after trying to attend a Tribal Council meeting, stating that she had to have permission to sit in the chambers. That was standard procedure but usually Kays was given the opportunity to enter the chambers to ask council if she could stay. On July 9, 2015, Tribal Council under the leadership of Chairwoman Terri Henry asked Kays to leave the chambers at the beginning of the meeting without giving a reason.
Council's response
The Smoky Mountain News reached out to all 12 members of Tribal Council for comment on this story. Each member was sent an email and a text, and phone calls were placed to each as well. Voicemails were left for all, except in the case of Chairman Adam Wachacha, whose voicemail box was full and could not accept messages.
Chairman Wachacha didn't respond anyway; nor did Vice Chairman David Wolfe, Yellowhill representative Tom Wahneetah, Big Cove's Richard French or Perry Shell, Wolftown's Bo Crowe or Painttown's Saunooke, who originally offered the motion.
When Birdtown's Albert Rose, who seconded Saunooke's motion, answered his phone, he said he wouldn't be interviewed, and hung up.
Birdtown's Boyd Owle and Snowbird's Bucky Brown both answered their phones April 6, but said they were occupied at the time of the call and didn't return a follow-up call, emails or texts.
Wolftown's Jeremy Wilson responded via text, saying his only comment would be that "it was a rightfully made decision by Tribal Council. It is our chambers, her move was legal, and that was our decision."
When confronted with evidence that the decision may have been made based on false statements given by Saunooke to Tribal Council April 3, Wilson didn't respond further.
Painttown's Lisa Taylor, the sole Tribal Council member to vote against Saunooke's ban, said she was going through a family emergency and couldn't find the time to answer questions about her vote.
The facts
In her April 3 comment to Cherokee Tribal Council Members about possibly banishing all non-Cherokee media from Tribal Council chambers, Painttown Tribal Council Member Tommye Saunooke said that Smoky Mountain News reporter Holly Kays had:
• made her look "ignorant" by using a quotation she uttered during a videotaped public meeting;
• asked her for permission to use the quote;
• used the quote without her permission; and
• altered the quote.
A Tribal Council video and emails between Saunooke and Kays, however, show Saunooke to be either gravely mistaken or just plain oblivious to her own comments about the situation over the course of the previous month. Each of the points outlined above is demonstrably false per tribal videos and the emails below, which have been edited only for spacing and formatting. The actual content of the emails has not been altered whatsoever.
Mar 13, 2018, 9:58 a.m.
Good morning Tommye,
Congrats on being awarded the Order of the Long Leaf Pine! That's quite an honor. What are your thoughts on being selected? I also had a quote to send you for a story about the crisis unit discussion. Please confirm that it's accurate.
"I don't think we got that kind of money, people," said Councilmember Tommye Saunooke, of Painttown. "Where is it coming from? I need to know that."
Thanks,
Holly
Mar 13, 2018, 10:25 a.m.
Please do not quote me ...
Mar 13, 2018, 10:49 a.m.
Hi Tommye,
I've already sent the story and have the ability to make some changes to the language if you feel you were quoted incorrectly. However, I'm not at this point able to change the story as much as would be required to remove this quote from a public meeting. But if the quote is in any way incorrect, please let me know and I will make that change.
Thanks,
Holly
Mar 13, 2018, 11:25 a.m.
U made me sound ignorant with the statement .. I'm sure it was not phrased that way .. but why did you ask my permission on a quote if you'd already sent it in ... u disappoint me ...
Tommye Saunooke
March 13, 2018, 11:31 a.m.
I think there might be a misunderstanding. I'm not asking for permission to use a quote, since it came from a public meeting. I'm giving you a chance to confirm that the language used is accurate. If you don't think the phrasing is accurate, I'm more than happy to make corrections in that regard. I just can't at this point rewrite the story to completely get rid of a quote and all the context that goes along with setting a quote up in the narrative. But I can certainly tweak language within the quote if you feel it's not accurate.