Archived News
Challenge against Swain sheriff dismissed
Wednesday, April 11, 2018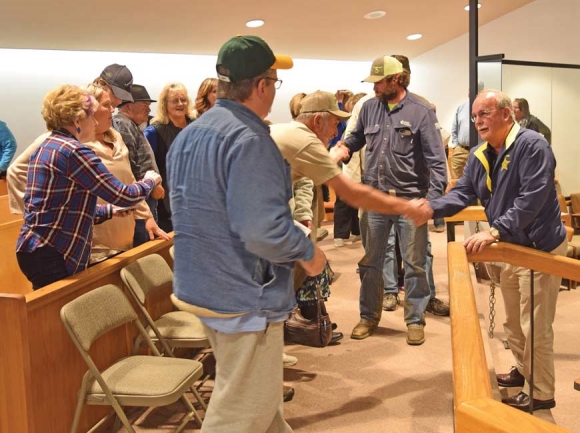 Cochran shakes hands with his supporters after the board of elections dismissed the candidate challenge against him. Jessi Stone photo
The packed Swain County courtroom broke into thunderous applause as the newly seated board of elections unanimously dismissed a candidate challenge against incumbent Sheriff Curtis Cochran Monday evening.
With the candidate challenge and protest filed by Jerry Lowery dismissed, Cochran can proceed with campaigning for his fourth term in office.
Lowery filed the protest and challenge against Cochran on Feb. 26 soon after the sheriff signed up to run for another term. Lowery claimed Cochran wasn't eligible to run for office because he was dishonorably discharged from the military, which he said was the equivalent of a felony charge. If Cochran was indeed guilty of a felony, he couldn't run for office or carry a firearm.
Lowery's challenge stated that Cochran failed to disclose his dishonorable discharge and was concealing his DD-214 form — a separation document service members receive when they leave the military — to conceal the circumstances of his discharge.
In addition to the eligibility challenge, Lowery's protest included allegations that Cochran and others stole tools and equipment from a construction job in Georgia and was caught when he took them to North Carolina to sell. While Lowery didn't have any proof of his claims other than hearsay, North Carolina law places the burden of proof on the candidate.
The challenge and protest would have to be heard by the local board of elections during a quasi-judicial public hearing in which both parties present their evidence. The hearing was postponed for over a month while the Swain County Board of Elections waited for the state to make new appointments to the local board. The board members — Republicans John Herrin and Bill Dills and Democrats Chuck McMahan and Don Woodard — were sown in March 29 and held their first meeting April 3. At that time the local board dismissed Lowery's protest since election protests are supposed to be filed after the election during the canvasing period.
The board of elections called the April 9 hearing to address the issue of whether Cochran has any kind of felony charge that would prohibit him from running for sheriff.
When asked he if had any new evidence to present, Lowery called Gerry Laschober to the stand to testify. He asked Laschober to present his DD-214 form as evidence. Before he could even speak, Cochran's lawyer David Sawyer objected to its relevance to the case. The board members agreed and dismissed him from the stand.
Lowery said he was trying to show that every service member receives a DD-214 form no matter how long they served since Sawyer argued Cochran never received one because he served less than 90 days.
Laschober provided his DD-214 form to The Smoky Mountain News that shows he was discharged after a month due to a shoulder injury.
The Smoky Mountain News also obtained limited information from Cochran's military personnel file under the Freedom of Information Act that states he was discharged from the U.S. Marines after he only served just over a month. The information provided did not contain any details about Cochran's departure from the military, but he claims he had to return home for a medical emergency involving his son.
While he was at home for his son's surgery, he said he received a letter from the military stating they'd release him from duty if he signed a document waiving any rights to VA benefits. Cochran said he signed the waiver but never did receive a DD-214 form, which he chalked up to moving around a lot for jobs.
Sawyer claimed during the public hearing that Cochran didn't receive a DD-214 because he didn't serve long enough and even if he had received the form, he argued that releasing the document into evidence would be "a slippery slope."
"If someone is allowed to present a challenge and the candidate is forced to provide a DD214 — what stops the next person from saying, 'I want to see you tax forms or your medical records?'" Sawyer said.
Julie Willi with the National Personnel Records Center — who fulfilled the FOIA request — confirmed April 10 that normally anyone with even one day of active duty service would receive a DD-214 form, but apparently Cochran's circumstances were different. However, that information is not available to the public.
"He (Cochran) didn't have one for certain reasons not releasable," she said.
Lowery also called James Brooks as a witness, asking him if he remembered talking to Cochran during his last campaign for sheriff about his military service.
Brooks said he did remember asking Cochran about the issue and was satisfied with his explanation regarding his son's medical emergency.
"He explained it to me and I accepted it. I told you he had a valid reason for not going back for service," Brooks told Lowery from the stand. "He was a married person with a kid and a medical situation — the Marines decided not to call him back."
Lowery then read off the information included in the FOIA document. Many of the sections read "N/A" as that information is not public record, but Lowery said under the Transcript of Court-Martial Trial section, it read "Not in File." He takes that to mean such a transcript exists, but Willi confirmed that the FOIA request would say whether such a transcript exists.
Trying to get the hearing back on track, board of elections member John Herrin asked Lowery if he had any evidence that Cochran was a felon.
"The only question is there a convicted felon running as a candidate for office and I haven't seen that yet," Herrin said. "Do you have evidence he's a felon? Otherwise we're all wasting our time."
Lowery tried to say again that a dishonorable discharge was the same as a felony charge but without the DD-214 admitted that he didn't have any proof to back it up.
Sawyer called Janet Cochran, the sheriff's administrative assistant (no relation to Curtis Cochran), to the stand to testify. Janet testified that after Lowery filed the challenge against the sheriff, she conducted a background check on Sheriff Cochran using his Social Security number, date of birth and fingerprints. The background check was run through DCI (Division of Criminal Information), NCIC (National Crime Information Center) and the III (Interstate Identification Index) and revealed that Cochran has not ever been charged or convicted of a felony in any of the 50 states or in a federal court.
Sawyer also called Cochran to the stand to testify that he has not ever been charged or convicted of a felony. He also testified that he had never been subject to a general court martial, as Lowery had eluded.
Lastly, Sawyer made a motion for the board of elections panel to set aside the military discharge issue as irrelevant and only consider the evidence regarding whether Cochran had committed a felony. The board denied Sawyer's motion.
During his closing statement, Lowery insisted Cochran's DD-214 would reveal his ineligibility for office.
"Now everyone released from the military have one of these no matter how long they were in the military and he can't produce one. I want to know why he hasn't or refuses to," Lowery said. "What's he trying to hide?"
With no evidence of a felony, Herrin made a motion to dismiss the candidate challenge; it was seconded by Woodard and passed unanimously.
Lowery has said he plans to appeal the decision, which means he'd ask the N.C. State Board of Elections to hear the challenge.