Archived News
Red, Wight and blue: campaign signs cause a stir
Wednesday, April 11, 2018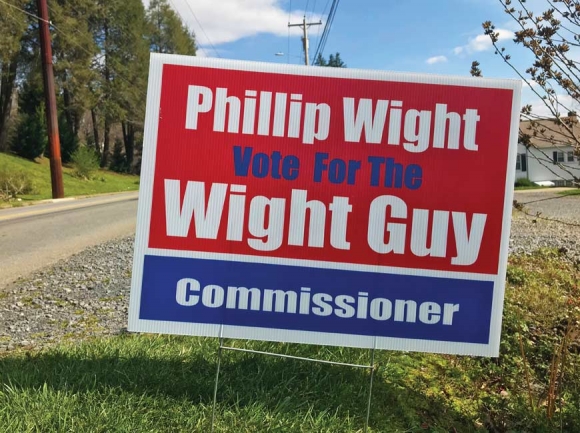 Phillip Wight, a candidate for Haywood County commissioner, has caught some flack for his campaign signs that read, 'Vote for the Wight Guy.' Cory Vaillancourt photo
A spate of unusual campaign signs began popping up in Maggie Valley about a week ago and although the message is simple, the response has shown that in Haywood County, right and wrong isn't always so black and Wight.
"Vote for the Wight guy," the signs read, commissioned by Republican Maggie Valley Alderman Phillip Wight, who is running for the Haywood County Board of Commissioners.
"When I saw his sign last Monday, my initial response was incredulity," said Haywood resident Jesse-Lee Dunlap. "Haywood County Republicans have been in upheaval for years with various party schisms. On the national stage, the GOP wants to show people of color and other marginalized folks that the Dems aren't the only game in town, and here comes Phillip Wight with a lack of awareness or disregard."
Dunlap called Wight sweet, smart and "an indispensable member of my community," but also called him something else — funny.
"Everybody puts an 'r' in my name," Wight said. "Even my English teachers would put it in my name. My name's been 'Wright' for years."
According to Wight, the joke on his campaign signs encourages readers to select the correct, or "right" candidate in the May 8 Primary Election, where the top three of four competing Republicans — including Wight — will advance to meet three Democrats in the November General Election for one of three available seats on the commission.
Dunlap thinks that some might not get the joke, and might actually interpret the cheeky signs as an admonition to vote only for a "white" candidate in the Republican primary — another joke, since all the candidates are indeed white and, for that matter, guys.
"I don't think Phillip is any more racist than I am," Dunlap said. "We live and operate within a system that is inherently racist and to change that, we all first have to acknowledge our own racism — internalized, blatant, however it is manifested — in order to move forward. I absolutely do not believe Phillip made this sign with malicious intent, but I do believe it could be taken the wrong way, for sure."
As to any charge of racism, Wight simply isn't having it.
"I have no words for that," he said. "I'm not that guy. If you want to go in that direction, anybody who knows me knows I'm not a racist. I hate to even use that word. I don't care about the color of your skin, I don't care about your gender, I don't care about your politics, or your religion."
What he does care about, he says, is elected officials raising taxes, violating rights and bypassing the Constitution.
He said his priorities are loving God, his family and supporting the Second Amendment at all costs, but the 50-year-old small business owner and confessed Rodney Dangerfield fan also said he's "an equal opportunity offender when it comes to jokes" and that the thought of using the slogan had crossed his mind during previous campaigns.
Wight's in his third term in Maggie Valley and has run for commission once before, and thinks it's a clever marketing move.
"That one sign," he said, "could possibly take the place of six."
Look for a full preview of the Haywood County Commission's GOP Primary race in next week's Smoky Mountain News, on stands April 18.