Archived News
Primary election will determine next Haywood Clerk of Court
Wednesday, April 11, 2018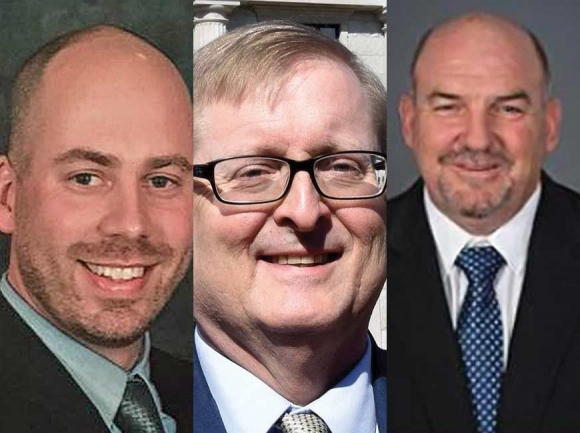 Left to right: Hunter Plemmons, Jim Moore and Eddie West. Donated photos
While some Haywood County voters will head to the polls May 8 asking themselves who they're going to vote for, many of those same voters may be asking themselves an altogether different question — what the heck does the Clerk of Superior Court even do?
Despite the little-known duties of this countywide office, it is important, according to three Democrats running in an important Primary Election; no Republican awaits in November, meaning that for Jim Moore, Hunter Plemmons and Eddie West, the primary is the general.
Hunter Plemmons
Haywood native Hunter Plemmons was appointed by Judge Brad Letts to serve as clerk of court upon the October 2017 departure of longtime clerk June Ray. Since then, he's been busy learning the job and trying to improve on the performance of the widely respected Ray.
"We have not lost any traction in the clerk's office since I started," Plemmons said. "My first objective getting into the office was establishing a relationship with the 18 assistant and deputy clerks there."
As the incumbent, Plemmons is one of the best people to ask about the duties of the office.
"The general public is aware of the fact that the clerk assembles the jury and keeps the courthouse records, and that's probably about it," he said. "But in North Carolina the clerk has a much more expensive role, and that includes judicial responsibilities — we are the judge of probate in North Carolina, we hear guardianship matters foreclosures, and adoptions, so those are the areas where we have judicial authority."
Then, of course, there's the money.
"We also handle the millions of dollars that comes to the courthouse each year, so we're responsible for maintaining and acting as a fiduciary for that," he said.
Plemmons thinks that the clerk's office is at a "pivotal point" in its history and has much work to do to maintain efficient operations.
"We are way behind when it comes to technology," he said. "Our judicial system has made a commitment over the next several years to transition from a paper office into a digital format. I think my background, my education, my skills are very appropriate for this time in this office and will help lead us into a digital way of doing business."
Plemmons attended N.C. State and studied engineering before graduating from Campbell Law School in Raleigh.
"That gives me a strong technology background, but I went to law school because I wanted to serve the public."
Plemmons said people should vote for him not only because of his background, but also because he works well with staff and the attorneys the office deals with on a daily basis.
"I'm committed to serving this community into the future," he said.
Jim Moore
Jim Moore is originally from Arkansas but has been practicing law in Haywood County for 32 years, 17 of them as an assistant district attorney.
"I'm a well-rooted transplant," said Moore.
Moore thinks his legal experience in the area makes him best suited for the job; indeed, he mounted an unsuccessful bid against current District Attorney Ashley Welch in 2014 but still enjoys good name recognition across the district because of it.
"I have been in every court in this end of the state. I have tried every kind of case from murders to domestic cases to real estate, juvenile, condemnations, probate, estates," he said. "I can't think of a case that I have not handled in my 32 years, and that has helped me in being able to evaluate cases, testimony, and witnesses when need be."
Moore's experience in the industry has also led him to recognize some emerging trends that will, as Plemmons mentioned with technology, lead to changes in the way the courts need to be run.
"One of the really big ones is the juvenile court system," he said. "They are about to switch juvenile court from ending at 15 years of age to the age of 18. That will put a significant load on our juvenile court system and far more attention will need to be paid to that workload in the court."
The elderly are also an impending concern as baby boomers age and eventually pass away.
"As our population tends to get older and older, we're going to have more estates," he said. "So again, there will be need to be appropriate resources to monitor those as far as filings go."
Domestic cases are already becoming an issue, according to Moore, and court operations need to be modified to accommodate the load.
"We currently have a tremendous load of what I call domestics — custody, divorce, equitable distribution," said Moore. "That particular branch of the office right now needs more attention. They are overworked and understaffed, and I don't know it's anybody's fault, that's just the way it is."
Eddie West
Eddie West grew up playing football, an experience he said prepared him not only for life in general, but also for leading the clerk's office and staff into the future.
"I want to be the leader of that team, and I think they'll respond to me — not that they need help," West said. "They're a fun bunch of professional women who know what they're doing, and it's not that they need any guidance, but someone has to fill the position and I feel like I would be the one to get along with them and do the best job possible."
Currently the distribution supervisor at Canton's Champion Paper, West graduated from Tuscola High School — where he shared the gridiron with classmate Greg Christopher, Haywood County's elected sheriff.
West went on to study industrial technology at Western Carolina University, and is the only candidate in the race without a law degree, which isn't required. But that doesn't mean that he doesn't know the legal system.
"I have been a small claims court judge in Haywood County for the last eight years. For part of that, I was a criminal magistrate, and before that I worked for the prison system for 10 years in Haywood County," said West.
His experience in that regard, he said, makes him the ideal choice.
"I think my experience makes a difference in the fact that I'm a local and I've helped many people in the county, or tried to," he said. "I worked in there with those ladies for eight years, side by side. My office was right beside theirs, so I was in and out, back and forth, not necessarily helping them but interacting with them."
His goals, if elected, are to provide a better customer service experience for everyone who comes to the courthouse.
"When most people come to the courthouse they are either upset or scared or nervous," he said. "My goal is to ensure that when the citizens of Haywood County leave that courthouse, I want them to leave knowing that they are satisfied. I want them to leave feeling like someone has tried to help them. I want the people of Haywood County to feel like they have a friend there, that's there to help them, and when they leave their businesses has been handled."
West, however, has some unfinished business from his time as a magistrate — a complaint filed by District Court Judge Donna Forga on Jan. 31 says that West "not only prepared complaints and other documents for Ms. Lee Cathey-Bell but then proceeded to hear cases involving Ms. Cathey-Bell while in a relationship with her." The complaint also refers to Cathey-Bell as West's "fiancé."
West retired from his position just prior to a hearing on the matter in February, but he could still face criminal charges. West did not return a call asking for comment on the issue.
Per N.C. General Statute 7A-100, salaries for the position are based on the population of the county. In Haywood, that amounts to $88,188 a year, but in counties with more than 250,000 people, it rises to $120,131. Clerks are also given longevity bonuses beginning at five years of service.