Archived News
Historic Hospital project inches forward
Wednesday, April 11, 2018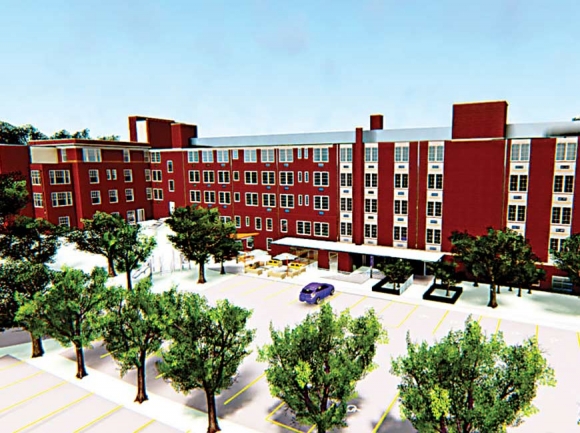 An artist's rendering of what low-income housing might look like at the old Haywood hospital. Donated photo
The next chapter in the saga of the historic Haywood Hospital is about to be written, but in the choose-your-own-adventure format of the existing saga, the happy ending of the county's quest to unload the expensive, underutilized parcel has yet to be written.
"We're keeping our fingers crossed," said Haywood Commissioner Bill Upton April 2, just after county program Administrator David Francis informed the board of a perfect site score on the application for low-income tax credits.
"A couple toes too," Francis replied.
The county's been in this position before; on Jan. 2, commissioners again approved an agreement to sell the property to Landmark Asset Services, the same firm that attempted to redevelop the property at 1233 North Main Street in Waynesville two years ago, contingent on an award of tax credits that never materialized.
Based on optimism about this go-round, commissioners called for the required public hearing April 16 that would enable the county to sell the property to Landmark for $225,000 as well as loan the company $495,000 over 30 years at 1.95 percent interest, all again contingent on receiving the tax credits.
Plans from the North Carolina Housing Finance Agency attributed to Asheville-based Rowhouse Architects show Landmark's plan, called Brookmont Lofts, with about 50 one- and two-bedroom units meant to alleviate somewhat the county's affordable housing crisis.
The renewed effort comes as the county pursues all available options to rid itself of the deteriorating structure, which costs $67,000 a year to just maintain and generates no property tax revenue, but still holds important aesthetic, historic and sentimental value.
In January, Francis told The Smoky Mountain News portions of the building were being considered for demolition while potential tenants were being entertained in the event the Landmark deal again fails.
Interim County Manager Joel Mashburn said April 3 those options were still being pursued, just in case.
"It's prudent for us to do that," said Mashburn. "We need to be looking into other options in case this doesn't work out."
If it does or if it doesn't, a new issue still emerges — or rather, re-emerges. Haywood County Schools currently occupies a portion of the building and would have to be relocated.
Tax credit awards are expected to be announced in September.