Archived News
Franklin considers options for alcohol at events
Wednesday, April 11, 2018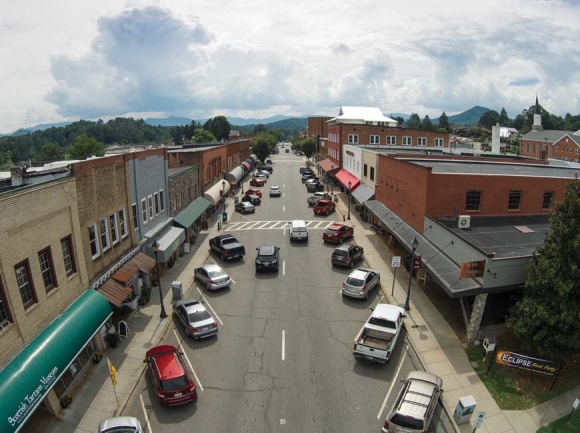 A music and beer festival planned for April 20 in downtown Franklin has hit a roadblock since a town ordinance doesn't allow alcohol to be served on town-owned property, but the Franklin Town Council is looking at ways to ease the restriction.
The town council directed Town Manager Summer Woodard last month to look into what other municipalities are doing to regulate alcohol sales at events and festivals. She came back to the April 2 board meeting with ordinances from Sylva, Canton, Waynesville, Highlands and Laurel Park.
"There's a number of different ways to approach it — the one that might be a good fit is the town of Canton," said Town Attorney John Henning Jr. "Their approach is saying generally on town streets and sidewalks alcohol is prohibited but a resolution by the town could permit it on a case-by-case basis. We could also designate certain areas pursuant to a permit application."
Even if the town decides to adopt a new ordinance regarding alcohol at public events, it would be too late to make a difference for Springtopia — the spring music and beer event scheduled for April 20. Franklin resident JimBo Ledford has been trying to get the event off the ground since last fall with original plans to hold a multi-day festival on the town-owned Whitmire property.
With the help of other organizers, he formed JEPaCA — JimBo's Event Planning and Cooperation Association — to host the event in hopes of attracting more visitors to town and giving locals something fun to do in the community. However, town council voted the idea down. Board members decided there were too many factors to make it work for this year, including liability issues and the alcohol policy for town property.
Ledford went back to the drawing board and turned the event into a one-day event spread out at two downtown venues — Brother Bluebird is scheduled to play at Root & Barrel and Forrest Rivers, Nick Prestia, Woolly Adelgid and The Orange Constant are scheduled to play at the Rathskeller (owned by Town Councilmember Adam Kimsey) on Stewart Street. Ledford said they hit another roadblock when they reached out to the Alcohol Law Enforcement (ALE) to get a noise ordnance extension approved.
"Now the town is saying Stewart Street right behind the Rathskeller, where they've closed it off before for many events that included alcohol consumption, even the St. Patrick's Day event just a couple weeks ago, is town property and can't have alcohol consumed there," Ledford said.
With bands already booked and money already spent on marketing, Ledford hopes something can be worked out to allow his event to continue.
At the April 2 meeting, Henning said it wasn't clear whether Stewart Street is a town-owned street or not. It is included on the Powell Bill street list — a list of streets eligible to receive state maintenance funds — but he's not sure if there was ever an easement given to the town. Either way, he said no one from ALE ever asked town administration whether it was public or not before telling Ledford a permit couldn't be issued to sell alcohol on the street.
"The town has no authority to step in and say you can't have this event there," Henning said. "As far as I can tell ALE was just using our ordinance as their interpretation."
"So how do we allow this event to happen," asked Councilmember David Culpepper, adding that he'd be in favor of adopting something similar to Canton.
Woodard suggested looking at the event and the alcohol ordinance as two separate issues.
"We've had events there in the past — I don't mind reaching out to ALE and letting them know we don't have an issue with it there and we can search for easements in the meantime," she said.
Henning asked if Council wanted to see a draft ordinance incorporating ideas from the other towns and most of the council members seemed agreeable to it except for Dinah Mashburn. She said she's heard from more people in town who are opposed to allowing alcohol on town property than she's heard in favor.
"I would probably say I don't want to pursue an ordinance," she said.
Even though he said he's never heard of anyone having an issue with the current ordinance until this new event was presented, Mayor Bob Scott said he'd go with the direction of the board.
Henning will present a draft ordinance at the next monthly meeting in May for the board's consideration. In the meantime, town administration will contact ALE to see if something can be worked out to allow Springtopia to proceed as planned for April 20.
For more information on the event, visit www.facebook.com/jepaca.franklin.