Archived News
Impeachment issue returns to Cherokee courts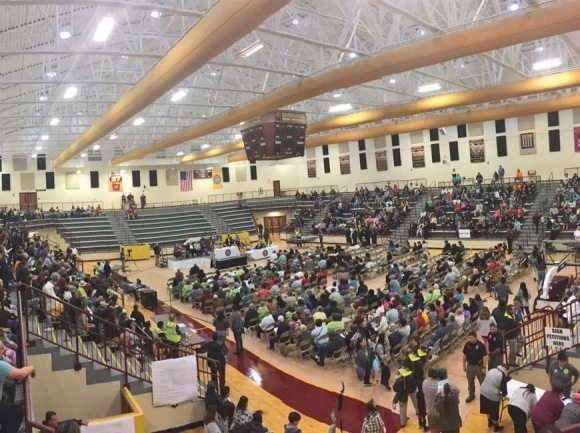 Tribal members crowd the Cherokee Central Schools auditorium during a Grand Council held April 18, 2017. Holly Kays photo
While nearly a year has passed since former Principal Chief Patrick Lambert was removed from office, a court hearing March 29 showed that debate over the legality of the process is not dead.
Last year, Lambert and the 2015-2017 Tribal Council appeared in a series of court hearings stemming from a complaint Lambert filed, claiming that the impending impeachment violated his due process rights. Tribal Council, represented by attorney Robert Saunooke, contended that the tribe's sovereign immunity protected it from Lambert's claims and that an elected office is not a property right, meaning that due process laws don't apply.
The case resulted in multiple appearances before the Cherokee Tribal Court's trial court and then before the Supreme Court, with that highest court ultimately issuing a preliminary ruling that allowed the impeachment to proceed.
Lambert was removed from office in May of 2017, and in February 2018 the Supreme Court finally issued a full opinion on the questions it had been asked the previous year. That new guidance, as well as motions filed by both parties, prompted the lower court to schedule a hearing that would revisit the motion to dismiss.
About 15 people watched the proceedings that day, a collection of community members that included several current and former Tribal Council members, and a total of five lawyers gathered around the counsel tables before Temporary Associate Judge Sharon Barrett. Saunooke represented Tribal Council, assisted by attorney Chris Siewers and Carolyn West, legislative counsel for Tribal Council. Scott Jones represented Lambert, and Attorney General Mike McConnell appeared on behalf of the tribe.
When the suit was originally filed, Danny Davis was the attorney general and had entered arguments opposed to the impeachment process; during last week's hearing, McConnell's arguments supported the process and opposed Lambert's attempt to have the court rule on its legality. McConnell told the court that he plans to file a voluntary dismissal of the claims that Lambert had brought in his official capacity. Richard Sneed is now the principal chief and does not support those claims.
McConnell said that would mean dismissing all the claims except for the one Lambert had brought as an individual, which states that Tribal Council had maliciously abused the process. However, Jones argued that all the official claims were tied to a corresponding individual claim.
"There are claims that Chief Lambert brought both in his official capacity and in his individual capacity," Jones said. "That's analogous to a husband and wife who are in a car wreck. You can have them both as plaintiffs. One can decide to dismiss their claims, and it doesn't mean the others' claims aren't exactly the same when they go forward. Chief Lambert's claims go forward."
Barrett then asked the parties whether it would be acceptable to amend the parties involved to be simply Patrick Lambert, individually, versus the defendants.
While Lambert's claims may remain on the complaint, the court has yet to rule on whether the defendants' motion to dismiss should be granted.
Saunooke argued that the tribe is protected from suit by sovereign immunity, and that even if the court should decide sovereign immunity doesn't apply, the claim is invalidated by something called the "mootness doctrine" — because the impeachment is past, there is no longer any actual controversy, so the court cannot review the case.
"The Supreme Court's opinion I think is a great foreshadow of what would happen if this case went forward," Saunooke said. "I think the Indian Civil Rights Act protections are not at issue here. An elected office is not a property right that gives an individual due process."
"Tribal Council did remove and impeach Mr. Lambert. That is now done," he continued. "I don't know where this would go at this point with the remedy. You can't put him back in office."
McConnell concurred, affirming that Tribal Council followed the proper process when it conducted the impeachment and that the Supreme Court's ruling on the sovereign immunity issue is clear.
"The court said there was a waiver to the extent that the attorney general had intervened seeking injunctive relief, and you held, Your Honor, that there was a limited waiver, and it went to the Supreme Court," McConnell said.
Jones, however, pointed out that the Supreme Court opinion said that sovereign immunity had not been waived "at the preliminary injunction stage," implying that the sovereign immunity question could be answered differently at a later stage. He also said that the last claim in Lambert's suit names certain people in their individual capacities, seeking monetary damages — that claim would not be barred by sovereign immunity, he said.
In regard to the mootness issue, Jones admitted that he was a bit nervous when he first realized he'd have to address it, but said that nervousness stopped when he read the law in question. There are five exceptions to the mootness doctrine, and three apply in this case, though the court need find that only one apply to move forward, he argued.
One of those relates to collateral consequences. As a result of the impeachment, Jones said, Lambert is barred from running for elected office, has not been able to get a Tribal Employee Rights Office certification for his businesses and will not receive the pension given to chiefs who serve at least one full term.
While Lambert is not asking to be restored to office, so as to avoid a "constitutional crisis" for the tribe, the impeachment decision has had lasting consequences for him, Jones said.
"This continues to affect him every day in his business and his personal life," Jones said.
The case is also a matter of "public interest and general importance," Jones said, because a majority of voters elected to put Lambert in office. If the process used to take him out of office were found to be unlawful, he said, that would harm not just Lambert but all those who cast a vote for him.
Finally, he said, it's a matter that's "capable of repetition yet evading review." Another impeachment could happen in the future, but when Lambert brought the question before the court prior to the impeachment hearing, he was told his complaint was premature.
"This is our next chance to be before this court, and if the court now tells us, 'You're too late,' isn't that the definition of something that's capable of repetition yet evading review?" Jones asked.
In his response, Saunooke vehemently opposed Jones' argument, reiterating his view that an elected position is not a property right and that the Supreme Court had upheld Tribal Council's right to do what it did.
"There is no controversy," Saunooke said. "Declaratory relief becomes an advisory opinion. This court is not in a position to do that."
Saunooke further argued that Lambert's claims could be considered frivolous, since he doesn't have standing to bring his claims and there's really no way he can be granted relief at this point. His client will be seeking recovery of attorney's fees, Saunooke said.
"In this case the court did enjoin the suspension of the plaintiff from office," Barrett responded. "Doesn't that suggest the action was not frivolous?"
"It is the maintenance of the issue," Saunooke replied.
Jones contested that view.
"We are properly before this court, and proudly so Your Honor," he said.
As of press time, Barrett had not yet issued a ruling in the case.