Archived News
Rise Against Hunger: Junaluska Elementary students help feed the hungry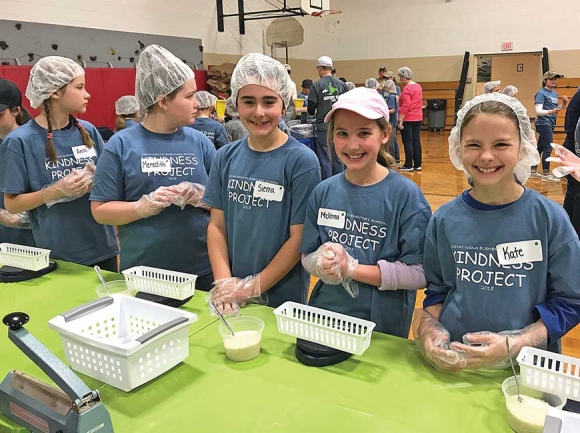 Junaluska Elementary School students work together to package meals for Rise Against Hunger. Jessi Stone photos
Random Act of Kindness Week at Junaluska Elementary School culminated on Friday when students and community volunteers gathered in the school gymnasium with the goal of packing 30,000 meals for the hungry.
Rise Against Hunger, a nonprofit with the mission of ending world hunger, aided the school project by bringing in all the materials needed to meet their goal. While the original goal was to raise $5,825 to be able to pack 20,000 meals, more than $11,000 was raised and 35,000 meals packaged.
Every student had a job to do — pour the rice, measure out the dried vegetable, add the vitamin pack, weigh it out and seal it up tight. As the assembly line got rolling, a gong sounded letting the group know they had packed another 5,000 meals.
School counselor Joy Sollie was thrilled with the results of the event. The goal was for the students to realize that no matter how little they may have, they can always find a way to give back to others and in doing so they felt a sense of accomplish and pride.
"Friday was such a great day to be a Junaluska Eagle. All of our students were doing amazing community service projects on this day," Sollie said. "It was so amazing to have over 70 community volunteers come help make this event possible. All the students and faculty had an amazing day."
"I was happy because I was helping other kids that needed it. It was fun because every bag that I was filling, I was thinking one more kid will get fed," said fourth-grader Brayden Boissoneault.
In addition to the fourth- and fifth-grade students packing meals, the younger students also found a way to give back.
"Our kindergarten students were singing and giving out flowers at two nursing homes. First-grade students made place mats for Meals on Wheels, and Steffie Duginski came and talked to the students about Meals on Wheels. Our second-graders held a Cookies for Courage event to share cookies and cards for police, firemen, and EMS workers to thank them for their courage," Sollie said.
"I think it was a great idea and for all the people that needed all the food, they will enjoy eating the food," said third-grader Abbey Adams.
"It felt really good to help other people that needed it because we normally have too much food, so it feels good to give people in need help," said third-grader Brooks Barbee.
"It really felt great because doing a program to help kids around the world that might be homeless and hungry, felt great," said third-grader Henry Blackburn. "It felt great to help save their lives because they don't have the things that I have and value and just thinking of that makes me a little bit sad, but helping them makes me feel great."
The school will hear from Rise Against Hunger in the coming weeks to find out where their packed meals will be sent. For more information, visit www.riseagainsthunger.org.