Archived Arts & Entertainment
The Art of Garfunkel: Musical, pop culture icon to play WNC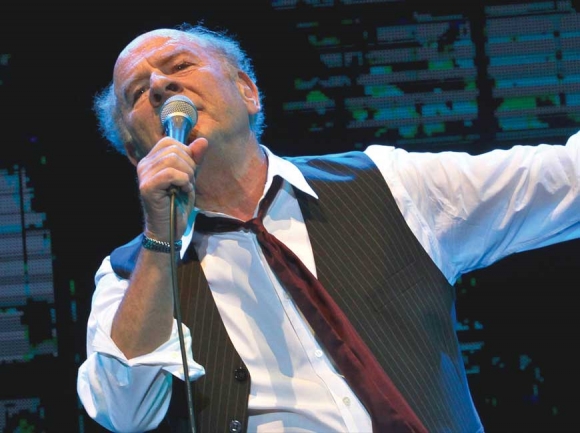 Legendary singer-songwriter Art Garfunkel will perform in Asheville on April 5.
In conversation, Art Garfunkel is as poignant and whimsical as his music. The strong, heartfelt emotion behind his thoughts and words swirl around both sides of the conversation. At 76, he's still that kid wanting you to play in the sandbox with him.
Sure, he was one half of Simon & Garfunkel, a cornerstone of American music, whose folk melodies will forever be played so long as raindrops fall outside your window or you're in need of a backroad cruise on a lazy afternoon to clear your mind, ready to open yourself up to the possibilities of a new tomorrow. But, like his timeless music, the depths of Garfunkel have no accurate measure.
The Smoky Mountain News caught up with Garfunkel at his home in Manhattan. On a recent snowy morning, he was giddy about the weather in his native New York City, enjoying the snowfall, perhaps even tempting the idea of going outside in search of adventure. To Garfunkel, each day given is a gift from above — no time to waste, let's see just where this gift will lead and who it will lead to.
Smoky Mountain News: You were in the spotlight in the midst of a very tumultuous time in this country (1960s). Do you see the similarities of where we are today?
Art Garfunkel: Tough question. In the middle of your question, I was going to say, "No, we had it better." It was more joyous. It was less cynical in my age. You can't compare this to the 1960s. It was fabulous in the '60s. There was the sense of busting out of the boring '50s — the Eisenhower era of tract houses. Things changed. It got more constricted, I believe. I wouldn't compare today, with all of its bullshit, to the '60s, which was exciting. In the '60s, we opened our shirts, we jumped in the ocean and swam more. It was a busting out of the spirit. It was a kind of release from how sane the '50s were. We really got more creative in our private lives. It was a wonderful period. The Beatles may have led the way, but we were right with them.
SMN: Are you optimistic about the future?
AG: Yes. Because life is a surprise, and a surprise means you never know. And this means it's up to you to make the future. "How do you feel about it, Mr. Garfunkel?" Well, I have to believe when I go onstage here comes my best show that I ever did. And I do. I go onstage with a tremendous youthful feeling of, "Here comes a surprise to me and everyone. This show is going to be my best." That's optimism about the future. If that's me, then why would the whole rest of country be different from me? That's the spirit of the age.
SMN: It's one of those things [of] what can one person do? I look at it as wherever you are, try to make your own backyard a better place, a kinder place, and hopefully there's other people in their spots doing the same thing.
AG: Beautiful. Life is a multiple view. Whatever you feel, why wouldn't that be what people feel nowadays? So, you represent the scene that you help create. I love what you just said. Pay attention to what you specifically are doing, and you'll see the whole nation. The [multiple view] is a multiplication of you.
SMN: Since you've gotten your voice back with these last couple tours, do you look at it as a victory lap or a new, unwritten chapter?
AG: Well, I added an element that was an unwritten chapter that is bold and different. I became a writer in the last 10 years and got a contract with Knopf, a wonderful, prestigious book publishing company. And I finally had the bravery to take all this writing I've been doing [and released a book, what is it all but luminous: notes from an underground man]. You know, I walk across countries. And in my walking, I carry my notebook and I've been writing to myself — I thought — all these years, these prose poems. I started getting more serious and shaping the prose poems, making sure the rhythm really had rhythm. I bring it into my concert and read some of the bits — that's big [for me].
SMN: You talk with so much gusto about performing...
AG: I love this work. That's why I'll come to town with a kind of innocence. I get onstage and I'm nervous. I'm like a kid. I start singing and I'll be thinking, "Thank you Lord, for giving my voice back — it's so much fun to sing." Then, I enjoy my gift as it comes out. And, like the pros do, I work that microphone with infinite degrees of exactitude. It takes a ton of concentration and love. I love the job, I think I love it more than ever. The older we get, the more we burn with the joy of what we're doing, because soon you won't be able to.
SMN: I feel like you've never lost the childlike wonder of life.
AG: That's true. Don't you feel the same? Every morning you wake up, don't you feel it's fantastic to have free eyesight, free hearing, free touch, smell? To have the gifts of being a person, for free. Isn't it a joyful, magnificent thing? I feel that everyday — oh, thank you, God, more life.
Editor's Note: To listen to the entire conversation, you can stream the audio for free by going to YouTube and searching: "Art Garfunkel Garret K. Woodward." If you would like to contact Garret K. Woodward, email This email address is being protected from spambots. You need JavaScript enabled to view it..
Want to go?
Art Garfunkel will hit the stage at 8 p.m. Thursday, April 5, at the Diana Wortham Theatre in Asheville. Tickets start at $76 per person. For more information and/or to purchase tickets, click on www.dwtheatre.com.