Archived Arts & Entertainment
This must be the place: I know I'll see you again in the long run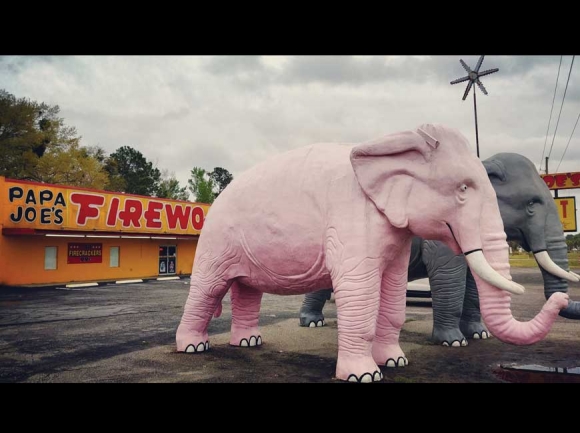 Roadside in South Carolina. Garret K. Woodward photo
Somewhere around central South Carolina my mind began to drift.
I'd been on the road over a week, rambling from Waynesville to Georgia to Florida, only to slingshot back to Western North Carolina before this past Monday reared its ugly head. Leaving Interstate 95 for Interstate 26, my pickup truck roared through the Low Country, eager to once again see the tops of those mountains on the horizon I'm always running towards.
And there I was. End of March in the year 2018. Ten years ago, I was 23 and working at my first newspaper gig, way out on the high desert prairie and high peaks of Eastern Idaho. Seems like a million years ago, seems like it never even happened sometimes. But, then again, it feels like it was yesterday, and that a big piece of my soul still remains out there, only to be retrieved when I finally cross back over the Mississippi River with eyes aimed westward.
What's funny is what has changed and what has remained the same in my thought process. So many mornings in those old cowboy diners, drinking coffee and staring out the window onto the Grand Teton Mountains, wondering if this is where I was supposed and what I was meant to be doing in the grand scheme of things.
Sitting in those Idaho diners, alone and in the corner, I would write in my journal, something that carried over from when I was in college in Connecticut, holing up in some 24-hour Greek diner with a journal and nice pen given to me by a dear friend who said, "I think you should start writing down your thoughts. It'll be good for you." It was that friend, that journal and pen, that led to the discovery of the untouched waters of my soul, pouring out of me from seemingly out-of-nowhere, this newfound urgency to scribble down every thought and desire, finally clearing my jumbled head in a way I'd never known before.
And it was in that corner of the Bunkhouse Bistro in Driggs, Idaho, where I'd sip on endless cups of coffee, nibbling on bacon and eggs, trying to figure out this path I was heading down, and currently remain on. I kept thinking about my hometown up in the North Country, thousands of miles away — physically and emotionally — with once familiar faces becoming fuzzy around the edges in my memory.
Entry from 2008 Idaho journal:
"What has happened to those I left behind in Clinton County, New York? I continue on this damn quest of all that is righteous and heinous. At 18, I started this journey with all who were familiar with me, my peers who I cherished and never thought would find myself a stranger in their eyes, a foggy memory of a time gathering dust and falling further back into the closet of life. And now, they are gone, all of them, like a few scattered specks of flesh and bone dotting the horizon, disappearing into the distance, the lonely night, just as I turn around to see if they still will catch me when I fall, still be there in the morning."
Ten years later, the mind still races, trying to make sense of nothing and everything. Did you dig yourself into a hole? Or did you dig that hole to bury the bullshit, and used that nearby pile of dirt to stand atop of instead? Ain't nobody perfect, that's the damn truth. But, such incredible beauty lies within the flaws in our minds and the dents in our souls. The older you get, the more you realize you can't really change hard truths about yourself. What you can change is whether or not to feed into those hard truths, trying to push divinely upward and not swing-n-miss outward.
Poem from 2018 North Carolina journal:
"The midnight air filters through/The raggedy screen door/Streetlight buzzing on the corner/Illuminating the make and model/Of the vehicles zooming by/To destinations known and unknown/Speedometer determined by current emotion/Usually about 10-15 miles above the speed limit/When I'm on the highways these days/Passenger window rolled all the way down/Rear window slid all the way across/Driver's window two-thirds down/Due to wear and tear on an aging truck/Two-thirds is all the window crank can take/Two-thirds down is better than two-thirds up, eh?/Especially when the wind kisses your face/With a sweetness only found in the depths of early April/In the ancient mountains that laugh at me/When I look up at them and ask/'How old is old?'/'Silly human, time is all but a single moment/So, enjoy responsibly and lovingly.'/The wind howls pridefully on a backroad curve/Few more wrinkles and grey hairs noticed/When adjusting the rear-view mirror/Don't forget to smile at your reflection once-in-awhile/Don't forget to smile, period/The dot at the end of a sentence not yet written/It's in there somewhere, you say to yourself/Scratching your head/Trying to shake out the words that say who you are/And where you're at during this juncture/Where time sticks out its tongue/Teasing you because you thought too much/Much ado about nothing, brothers and sisters/Thoughts like fireflies in the darkness of your mind/Bright lights then fade to black/Black then fired back up into a glowing spectacle/ A sensation chased after with a reckless abandon."
Life is beautiful, grasp for it, y'all.
Hot picks
1 Folkmoot will host the Appalachian Friendship Dinner from 6 to 8 p.m. Saturday, April 14, at Elevated Mountain Distillery in Maggie Valley.
2 Western Carolina University will celebrate the cultures and traditions of its diverse student population during the university's 39th annual International Festival on Wednesday, April 11.
3 Handbell choir The Raleigh Ringers will perform at 3 p.m. Sunday, April 8, at the First United Methodist Church in Waynesville.
4 Currahee Brewing (Franklin) will host Eric Hendrix (singer-songwriter) at 7:30 p.m. Saturday, April 7.
5 Nantahala Brewing (Bryson City) will host The Buchanan Boys (country/rock) at 8 p.m. Saturday, April 7.