Archived News
School threats continue in mass shooting aftermath
Wednesday, March 28, 2018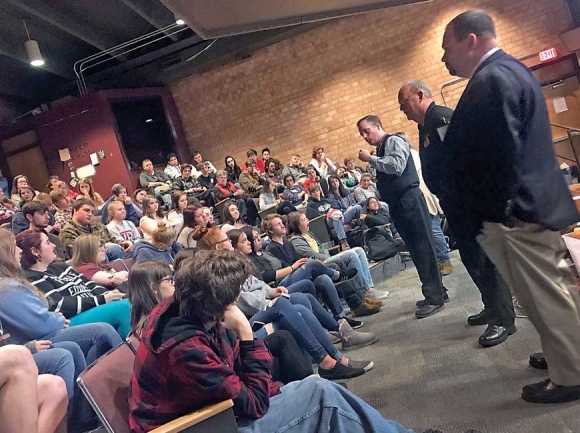 Swain County High School Principal Mark Sale (from left) Sheriff Curtis Cochran and Assistant District Attorney Jason Arnold speak to students about the seriousness of making threats at school. Jessi Stone photo
School systems in Western North Carolina continue to deal with a multitude of threats in the aftermath of the mass shooting at Marjory Stoneman Douglas High School in Parkland, Florida, that left 17 people dead.
A student made a bomb threat Monday, March 26, at Cullowhee Valley School that forced Jackson County Schools to evacuate the school and dismiss class for the day.
Students at Scotts Creek Elementary in Jackson County had to be evacuated March 15 due to a bomb threat. A bomb threat written on a restroom wall prompted the evacuation and early dismissal of Tuscola High School in Waynesville on March 7.
Swain County Schools were placed under lockdown Feb. 22 because of a threat made on social media.
Swain County Sheriff Curtis Cochran and Assistant District Attorney Jason Arnold recently took the time to talk to students at Swain County's schools about the seriousness of making such threats and the consequences they could face for making them.
"Whether it's a real or false threat, we take each one seriously — don't think your social media post threats won't be seen," Cochran said.
Once a threat is made, Cochran said his deputies would take their probable cause to the magistrate judge to obtain an arrest warrant.
"If we get that warrant we're gonna come get you, put you in handcuffs, arrest you, take you down to the jail to process you and put you in a green jumpsuit," he said.
Cochran also warned students of the costs associated with securing a bond to get out of jail, paying for a lawyer to defend them and hefty court fines trying to discourage them from making any kind of threat against others.
"I can't beg you enough not to make these threats," he said.
Arnold then explained to students that if they are 16 and older, North Carolina will treat them as an adult in the court system. Even if they are under 16, they can end up in a juvenile detention center. And even if they aren't convicted, the charges will be on their record forever.
"Even if it's a hoax, it's still a felony. My office and the elected DA takes that extremely serious and we're going to prosecute you and do what's right to keep the schools safe," Arnold said.
Students were then allowed to ask the sheriff and ADA questions about school safety. Some students echoed their parents' concerns over not being notified when the schools were under lockdown Feb. 22, but the sheriff explained it was a matter of safety. If a notification was sent to parents during the lockdown, Cochran said many parents would have been trying to come onto the school campuses to pick up their kids and law enforcement resources would have to be diverted to deal with that issue instead of the lockdown.
"The more people we can keep off campus the better off we are," he said.
Principal Mark Sale said the lockdown process went smoothly and he appreciated everyone's cooperation. However, he did hear afterward that some students were making light of the situation and making jokes about shooting each other.
"It's not funny," he said. "We're at a point in our society where we're on edge. Don't joke about these issues when students are nervous to be here."
Some students said they didn't feel safe in certain classrooms where there are a lot of glass windows or in rooms that don't have a secondary exit.
Sale told students he is aware of the safety issues at Swain High and while he'd love to invest money into renovations to improve safety, he told students the funding just isn't available.
"The quarter-cent sales tax referendum was denied last year — we could have used that money to better secure our school, which will take $8 million," Sale said. "I would love to give y'all a new high school, but that would take $60 million."
Sale did tell students there are discussions about installing one-way vision protectors on the entranceway windows, a push-button lock entry at the school and getting a new PA system for better communications.