Archived Mountain Voices
Old-time dentistry just plain hurt
Wednesday, March 21, 2018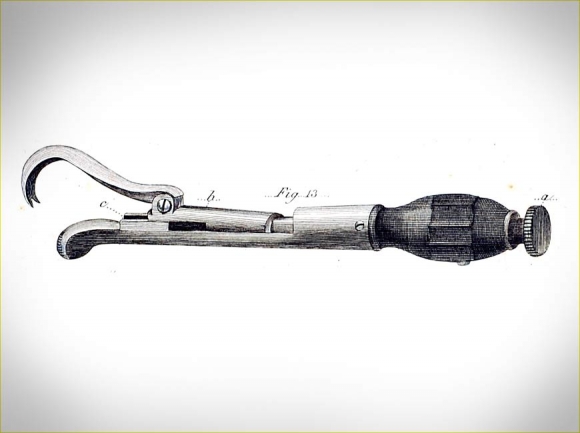 Old-time dentistry as practiced here in the Smokies region wasn't pretty. All of the descriptions I have found make it seem just about barbaric, but, then again, when you've got tooth problems you'll resort to just about any remedy. John Parris, in a chapter titled "'Tooth-jumpin' With A Hammer" in his book These Storied Mountains (1972), provides these insights in regard to a great-uncle who practiced homespun dentistry.
"Folks came from miles around to get him to jump a tooth. He used a hammer and a chisel. The chisel, as my grandfather described it, was about the size of a big nail. It was forged by hand. When Grandpa talked about his uncle's tooth-jumpin', there was something akin to awe in his voice.
"'If a tooth-jumper got the least bit careless,' he said, 'he could break a feller's jaw or bust a whole mouthful of teeth. It took a steady hand and a keen eye and a knowin' tap of the hammer on the chisel … There was other tooth-jumpers hereabouts besides my uncle. But they didn't make a business of it like he did. They weren't as good either. But them that really knowed how to tooth-jump could pop a tooth out of a feller's head before you could wink an eye. It was just that quick. It had to be.'
"'If one lick didn't jump the tooth out it was all-night-ice-em. For if the tooth didn't come out with that first lick a feller just went plumb crazy and had to be hog-tied till the job was finished.'
"'The only time I ever heard of Uncle Eli havin' any trouble was once when the feller sneezed just as he started a lick with his hammer. The hammer missed the chisel and struck the feller right on the nose. The feller rose up out of the chair like he'd been stung by a whole passel of wasps. He forgot all about his achin' tooth and said he was too tore up inside to go on with tooth-jumping.'
"'To jump a tooth,' the old man explained, 'the chisel was placed against the ridge of the tooth, just under the edge of the gum, and given a quick but hard lick with the hammer. When the chisel was placed just right and the hammer lick made just right, the tooth would jump out like it was shot out of a rifle.'"
Parris records that the only antiseptics his great-uncle used were salt packed into the tooth hole and "peartening juice" (alcohol) administered to the patient just before the tooth was jumped.
Yet another account of regional dentistry was recorded by Horace Kephart in Our Southern Highlanders (1913), wherein he recites a neighbor's recollections as follows.
"'You take a cut nail (not one o' those round wire nails) and place its squar p'int agin the ridge of the tooth, jest under the edge of the gum. Then jump the tooth out with a hammer. A man who knows how can jump a tooth without it hurtin' half as bad as pullin'. But old Uncle Neddy Cyarter went to jump one of his own teeth out, one time, and missed the nail and mashed his nose with the hammer. He had the weak trembles.'
"'I have heard of tooth-jumping,' said I, 'and reported it to dentists back home, but they laughed at me.'
"'Well, they needn't laugh, for it's so,' said my neighbor. 'Some men git to be as experienced at it as toothdentists are at pullin'. They cut around the gum, and then put the nail at jest sich an angle, slantin' downward for an upper tooth, or upwards for a lower one, and hit one lick.'
"Will the tooth come at the first lick?'
"'Ginerally. If it didn't, you might as well stick your head in a swarm o' bees and fergit who you are.'
"'Are back teeth extracted in that way?'
"'Yes, sir; any kind of a tooth. I've burnt my holler teeth out with a red-hot wire.'
"'Good God!'
"'Hit's so. The wire'd sizzle like fryin'.'
"'Kill the nerve?'
"'No; but it'd sear the mar so it wouldn't be so sensitive.'
"'Didn't hurt, eh?'
"'Hurt like hell for a moment. I held the wire one time for Jim Bob Jimwright, who couldn't reach the spot for hisself. I told him to hold his tongue back; but when I touched the holler he jumped and wropped his tongue agin the wire. The words that man used ain't fit to tell.'"
These old-time accounts are worth thinking about the next time you visit your dentist and are subjected to very little, if any, pain. Some things have come a long ways.
(George Ellison is a naturalist and writer. He can be reached at This email address is being protected from spambots. You need JavaScript enabled to view it..)