Archived Outdoors
The sediment spotter: Fifth-grade science project spurs real-world change
Wednesday, March 21, 2018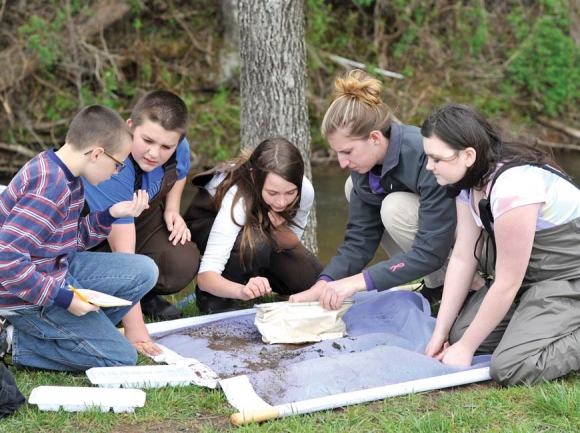 Western Carolina University senior Brittany Timpson shows an inquisitive group of elementary students in the Watershed Moments program a macro invertebrate. Inset, below: Liam Tormey has been an avid participant in the program.
While elementary, junior high and high school students from across the region offered a plethora of good ideas during last month's 2018 Region 8 Western Regional Science and Engineering Fair at Western Carolina University, one entry in particular caught the eye of judges and university officials alike.
Liam Tormey, a fifth-grader at Cullowhee Valley School, conducted a study of Tuckasegee River water quality at test sites above and below the Cullowhee Dam, which is owned by WCU — and he found that during recent rainstorms sediment coming from university property at a source point below the dam increased the concentration to levels unacceptable for trout habitat.
"You could see dirty water entering the river, right there," Tormey said during a visit to the site, pointing to an area adjacent to a boat ramp and immediately downstream from the dam. "Some of it appeared muddier and that runoff was coming from a gully on the hillside and into a culvert."
Faster-flowing water quickly dispersed the murky water, but in Tormey's eyes it was still a problem.
"Not just for trout, but animals like the bald eagles we've seen by the river, and blue herons and an osprey," he said. "And not just birds, but bears and raccoons and a lot of other wildlife. The river is important to them and us."
Sediment is one of the biggest water quality issues affecting the Tuckaseigee River. When rain washes loose soil down into the river, it not only carries pieces of Jackson County for permanent deposit elsewhere, but it clouds the water and makes it less hospitable for the many animals that require clear streams to thrive. Among those animals are trout, which have proven a substantial tourism draw in recent years. Keeping the water clean has economic as well as environmental implications.
Lauren Bishop, WCU's chief sustainability officer, said the university was immediately interested in Tormey's findings.
"This campus does everything we can to support clean and healthy waterways in the region," she said, noting that WCU was in compliance with both EPA regulations and the state's riparian buffer guidelines. "There are situations where you want to be at the maximum level of stewardship. Liam showed us a way to get there."
So, the university added buffers and reinforced existing stormwater runoff prevention, strengthening its defenses against erosion in the face of torrential and extended rainfall.
"This was an 'over and above' for our grounds crew, who appreciate the outdoors and activities on the Tuck, and responded immediately to help put improvements in place," said Bishop. "I am always impressed with the quality and care of their efforts. They are one of the main reasons we have such a beautiful campus."
Tormey's project accumulated a list of honors and awards at the science and engineering fair, including first place in the third- through fifth-grade category, an award for the best biodiversity project, a special award in the geosciences category and a first-place recognition from the N.C. American Water Works Association and N.C. Water Environmental Association, which includes a $50 prize.
"In the science fair, kids have to have a curiosity and solve a problem to be successful," said fair organizer Kelley Holzknecht Dinkelmeyer, an instructor in chemistry and physics at WCU. "Liam did both with his project. A neat aspect of this story is how his project led to a push that helped improve the local environment, an actual outcome of an action resulting from his data."
The fair was held at WCU's Ramsey Regional Activity Center, with 137 projects created by students from schools in 14 mountain counties. With a theme of "Superhero Science," it was the year's largest regional STEM event for pre-college students. Guest speaker Rhett Allain, who is a physics instructor at Southeastern Louisiana University and a technical consultant for the TV shows "MacGyver" and "MythBusters," addressed the students.
Tormey will now advance to the state Science and Engineering Fair, set for March 23-24 at N.C. State University in Raleigh. There he'll compete against winners from the seven other regions in the fair.
While Tormey worked hard on his project, he's had some help along the way, growing up with scientists as parents and participating in an aquatic ecology club at his school. Tormey is the son of Cheryl Waters-Tormey, head of WCU's Department of Geosciences and Natural Resources, and Blair Tormey, a coastal research scientist with the university's Program for the Study of Developed Shorelines.
Even before becoming a fifth-grader, Tormey got his feet wet in aquatic ecology with Watershed Moments, an afterschool activity led by the WCU Department of Biology and the Highlands Biological Station. Launched in March 2016, the program is funded by a three-year, $160,000 grant from the Burroughs-Wellcome Fund.
Students in the project meet after school to examine levels of sediment and velocity of water flow in Cullowhee Creek, also gauging the health of aquatic life and examining the impact of land use on the creek. The goal is to improve their understanding of the global implications that the health of a small backyard stream can impart, allowing students to have fun and be creative in the process.
"Liam is dedicated to nature and supporting conservation," said Lora Cox, a science teacher at Cullowhee Valley School. "He is particularly engaged with Watershed Moments and motivated by it, and the science fair project further reflects that."
Clean up the Tuck
The 34th annual Tuckasegee River Cleanup is coming to Cullowhee Saturday, April 14, giving people across the region a chance to help keep Jackson County's largest waterway clean and healthy.
Volunteers can pick up trash by foot or by boat. Registration will run 10 a.m. to 1 p.m. on the University Center lawn at WCU, with volunteers issued a life jacket and paddle, as well as transportation to the river. At the main put-in, volunteers will listen to a safety talk and pick up trash bags in preparation for two or three hours navigating the rapids, enjoying the scenery, and filling the raft with trash. After the cleanup, volunteers are invited back to the UC lawn for a free cookout, live entertainment, yard games and door prizes from local businesses.
All rafters must weigh at least 40 pounds and wear shoes that won't come off in the water. No coolers or alcohol allowed. No pre-registration is allowed, but the first 500 volunteers will receive a free T-shirt.
The Tuckasegee River Cleanup was first organized 33 years ago by students and staff from Western Carolina University's Outdoor Program, drawing a small group of volunteers who recognized the need to clean up the river. It has since grown into the nation's largest single-day effort to clean up a river, drawing more than 1,000 volunteers annually.
Organized by Base Camp Cullowhee. Kay Tufts, event coordinator, 828.227.8804.