Archived News
Major development looking toward Maggie Valley
Wednesday, March 21, 2018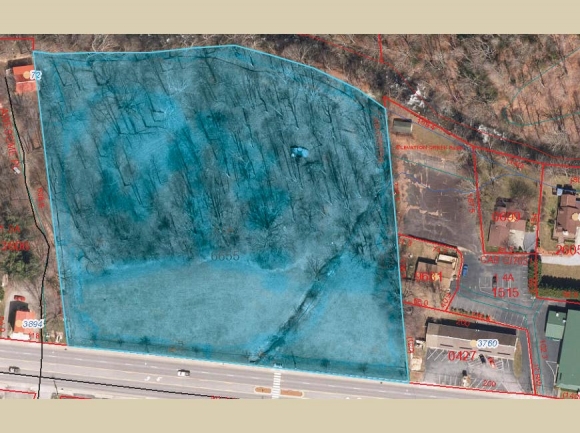 A 5.9-acre parcel on Soco Road in Maggie Valley (in blue) may soon be home to a national chain hotel. Haywood GIS photo
A major hotel could be coming to Maggie Valley sooner rather than later after the town recently passed a pair of amendments to its design guidelines to allow for taller buildings.
Developer Craig Woolmington, who has owned a 5.9-acre plot located just west of Elevated Mountain Distilling Company on Soco Road for more than eight years, asked the town's planning board to consider raising the maximum height of buildings constructed in a floodplain from 55 feet to 65 feet.
In January, the planning board voted unanimously to recommend the request, as well as another request by Woolmington that would allow buildings over 15,000 square feet to have flat roofs, as opposed to the town's current requirement for pitched roofs. The Board of Aldermen unanimously approved both requests during its Feb. 13 meeting.
"This is the result of serious discussions going back about a year. We feel that this can be new construction for Maggie Valley and it's something that's needed, especially if a buyer came in and wanted to put in something. We want to be hotel-friendly," said Maggie Valley Alderman Dr. Janet Banks.
"We bought it to try to do something special for Maggie Valley," Woolmington said. "It would be great to utilize all that creek frontage, and we've been exploring lots of different concepts over the past eight years."
Evidence of Woolmington's efforts lies in a website created in 2015 — the URL www.woolmingtonsmith.com redirects to a site called www.smokymountainscreeksideresort.com.
While he was exploring that unrealized concept, Woolmington said he was approached by a national hotel chain that had another idea — hence the two amendments, both of which seem tailored to maximizing the use of available space on the parcel.
Raising the roof on floodplain construction has led to speculation that the hotel could be as many as five stories high, and flattening the roof allows for mechanical equipment to be situated there, and also eliminates the need for an additional 15 to 20 feet of pitched roof to be placed atop the structure.
Currently, the Dollar General in Maggie Valley has a variance allowing for a flat roof, but that mechanical equipment must still be hidden from view, which is why the structure has a false peak crowning the front of the store. The proposed hotel would likely have a similar feature.
Banks added that Woolmington, who was active in shopping center management, leasing and development in California, is adamant about preserving access to Jonathan Creek, which marks the northern border of the parcel.
Across Soco Road to the south lies a sports bar, but the eastern border of the parcel abuts Maggie's Gift Shop, a private home and the rearmost section of Elevated Mountain's parking lot.
Situated there is a small picnic area overlooking the creek that's referred to as Elevated Park, owned by distillery proprietor Dave Angel.
Angel spoke in favor of the amendments and said March 19 that he is excited about the prospect of new development within walking distance of his facility. He guesses it will be a $15-20 million development and thinks it may be the largest investment in tourism infrastructure in all of Haywood County since renowned museum Wheels Through Time opened in 2002.
He also confirmed Banks' statement that Woolmington supports the extension of Elevated Park from where it meets Angel's property westward along the creek through the length of his parcel; because of setbacks and a sewage right-of-way, Woolmington's property isn't buildable close to the creek anyway.
Banks said the expansion of the park would also fit nicely into her desire to see a creek-side walking trail that runs the length of Maggie Valley.
Woolmington said the amendments were but the first step in development, for which he gave no timeline.
The hotel chain he's involved with operates only franchises. Woolmington said that in the next month, he'll begin looking for local investors or hospitality partners that want to invest in what he said would be "the nicest thing in Maggie Valley."