Archived News
WNC students speak out on school safety
Wednesday, March 21, 2018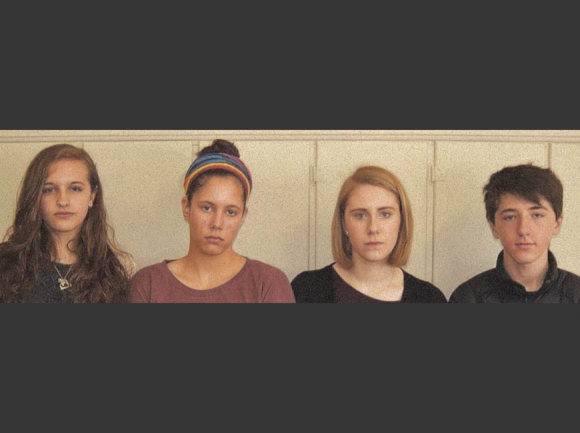 Tuscola High School students (left to right) McKenzie Yazan, Molly Dorgan, Grace Feichter and Harper Schwab say they're ready for changes in school safety. Cory Vaillancourt photo
Last week, students across the country walked out of classrooms to acknowledge the 17 people shot to death at Marjorie Stoneman Douglass High School in Parkland, Florida.
Several Western North Carolina counties saw similar student activism — including Swain, Jackson and Haywood — and although weather dampened the events for some students, it didn't dampen their desire for change.
"I was terrified," said Molly Dorgan, a Tuscola High School sophomore, of her reaction when she learned of the events at Stoneman Douglass.
"I thought about my sister, and how she's going to be in ninth grade next year, and how that could've been her if that was our high school. What if that was our school? What if that was me? What if those were my friends?"
The Feb. 14 shooting was followed almost immediately by an outpouring of activism, as students from the Florida high school became the focus of national media attention.
Swain County High students held a walk out and school safety presentation Feb. 23 to advocate for change after the entire school system experienced a lengthy lockdown and early dismissal Feb. 22. Students also held a meeting with Rep. Mike Clampitt, R-Bryson City, to talk about what can be done to improve safety.
And they weren't alone in that activism — on March 14, one month to the day after the shooting, schools across the nation and across the state saw walkouts by students concerned about school safety.
In Jackson County, weather shuttered schools and scuttled a planned Wednesday gathering on the football field, but according to Jackson County Schools' Cora Fields, a student forum on school safety was still held at Smoky Mountain High School later that night (see page 9).
Wintry weather also forced the cancellation of school in Haywood County, where students from Pisgah and Tuscola high schools had planned to participate in the walkout.
"I was definitely disappointed," Dorgan said. "Usually, students are excited to have a snow day but we were really looking forward to spreading awareness for this important topic, and I was kind of disappointed we didn't get to do that."
Grace Feichter, a Tuscola junior, served on a student board specifically created to engage in a dialogue with administrators and discover the desires of students; with Dorgan, Feichter and other students helped organize the Tuscola event.
"After I heard about the shooting at Parkland, I was devastated. We had a discussion about the national walkout and if we would be interested in having one at our school, and everybody said absolutely yes," Feichter said.
Although some schools across the country discouraged walkouts or promised disciplinary action for participants, Haywood County Schools took the step of sanctioning the walkouts, not as a political gesture, but as a way to provide a safe and organized forum for students to voice their opinions on school safety.
"I began communicating with our principals, in particular our high school principals on the 23rd [of February] and they begin shortly thereafter meeting with some of their student leadership," Interim Haywood Schools Superintendent Dr. Bill Nolte told the Haywood Board of Education during a meeting March 12. "They're like us. We have freedom of speech rights and they wanted to talk about the people who passed away, and express their feelings about what we should do to improve the school safety situation in the country."
But as officials across North Carolina consider a plan to place armed volunteers in schools, 15 year-old Tuscola student McKenzie Yazan says more guns aren't the solution.
"I think that it's definitely not more guns in schools," she said. "Personally I think that we need to have more reforms and background checks for people wishing to buy a gun."
Gun control measures proposed by N.C. Gov. Roy Cooper and additional funding for school resource officers proposed by Congressman Mark Meadows, R-Asheville, are among the immediate steps that have been taken, but they certainly can't be looked upon as the end of the problem.
Whatever the solution is, Tuscola freshman Harper Schwab thinks that communication will help them find it.
"I don't think there's one exact direct solution," he said. "I don't directly believe that more guns will necessarily solve the issue. I think that with heavy communication between students, faculty, lawmakers and the community, multiple solutions will come of that."
Even though the event didn't happen, Schwab said that after the cancellation he and other students met with school administrators, who pledged to help them move forward with planning another.
"I'm very appreciative of their outreach and their help for us to create this platform," Schwab said. "I think it's great. It's an opportunity to speak our minds and let all the other students and faculty know what we want to happen, and the reforms we want."
So what, exactly, is it these students want?
"We want to see change," Feichter said. "We're tired of being afraid to go to school."
"Change starts with people in schools," said Yazan. "I think we need to be more connected as a society, as a nation, to make sure that nothing like this happens again."