Archived Arts & Entertainment
Hard times, come again no more: An evening with Scott Ainslie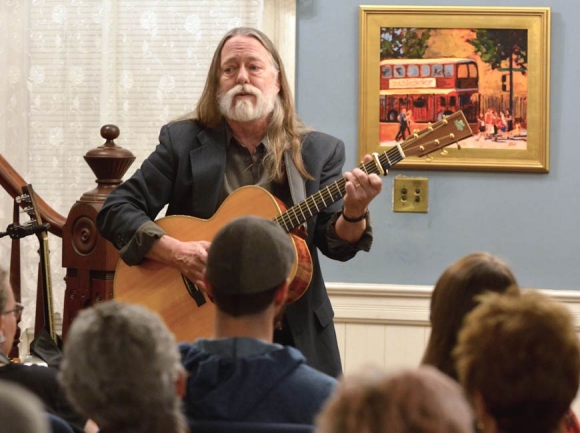 Scott Ainslie performing on March 17 at the Boone-Withers House in Waynesville. Garret K. Woodward photo
Literally and figuratively, the idea of "listening" is somewhat of a lost art in our digital world. When a voice begins to share a point-of-view, usually a louder voice interrupts with a "more important" counterpoint or immediate distain for the sentiment before the initial thought can place a period at the end of a full sentence.
That, and many-a-time folks simply have forgotten what it means to listen with intent and purpose. It's that fleeting moment where you're soaking in the words, emotions and mannerisms of another human being, in a sincere effort to make sense of the world within your head and outside your front door.
And when singer-songwriter Scott Ainslie stood in front of a sold-out audience at the Boone-Withers House in downtown Waynesville last Saturday evening, a hush fell over the living room while Ainslie (a renowned Delta blues and American roots musicologist) captivated all within earshot about the trials and tribulations — known and unknown — of our ancestors in this supposed land of the free.
The Vermont-based performer has crisscrossed the southeast for several decades, cultivating stories, songs and — most importantly — experiences he weaves together and shares with listeners around America and abroad.
Ainslie spun his melodic web for the better part of two hours under the roof of the Boone-Withers House. He meandered through the hardships and triumphs of suppressed blacks and poor whites in the South, many of which were alive when the wood was new, the paint fresh and the long-gone faces once young in the black and white photographs adorning the walls of the 19th century Victorian-style mansion.
The power of Ainslie lies not only in his haunting presence, but also in his depth of musical and historical knowledge, more so his bird's-eye-view perspective on our society as a whole — making sense of where we came from, where we're at, and what lies ahead.
Smoky Mountain News: In terms of the musical and cultural history you study and share, how does that history make sense of where we are today as a society, and where we're going ultimately?
Scott Ainslie: It was Mark Twain who has been credited with saying that "history doesn't repeat itself, but it often rhymes." The United States of America today is a very, very strange and strained place. But, think of 1963. Vietnam. The Klan bombing of the 16th Street Baptist Church killing four little black girls, one of whom was decapitated. The assassination of JFK. We've seen worse. People have to keep this in mind. We have to buck ourselves up, take note of the crises presenting themselves to us, without becoming numb or apathetic about the imperatives immediately before us. We have a country to save.
SMN: Why is it important that this music and the history behind it not only survive, but also continue to thrive in the 21st century?
SA: I look on the work of the artist in society in a fairly traditional way. Not unlike the Shaman in a traditional society. Our job is to know our history and create experiences that the community can have in common. We are all besieged by our screens — cell phones, iPads, computers. Digital media can separate a married couple on a date, each absorbed in the immediacy of the media possibilities, and ignoring the personal connections sitting right next to them. The arts have the ability to unite us, to help heal us, to lower barriers between people. This is increasingly critical work. The Shaman, and to my mind the artist, holds up our history, what has made us who we are, like a mirror for the community. And then we say, "This is who we are. This is what we're doing now. Are we happy with this? Does this honor who we are?" It may seem a high bar, but for me it is the entry level question that opens to the stage. People tend to think the arts are about self-expression, when I actually think they are about community expression, with the self as a critical part, but as selflessly involved as possible.
SMN: What has surprised you the most about your immersed studies and intimate performances of this music and its history?
SA: Musically, I believe in apprenticeship. When you love something or someone deeply, you will be changed. We are not static, but malleable and love is a catalyst for human beings. I firmly believe that you should allow yourself to be changed by the music, before you change it. Traditions naturally morph as they are passed from hand to hand and heart to heart. A song must fit in your mouth. But, learning that song by heart and immersing yourself in what we have received is critical. Depth and, fearing the words, emotional and traditional authenticity require submission to the tradition and the song. Before you change it, it should change you. This transformational property of music and arts is a worthy target. Acknowledging the power and possibility of that is far more important than how much money one is going to take home at the end of the night. The older I get, the less I measure my success by money, fame, or the size of an audience. There is a different currency, if you will. And we all should be paying attention to that and honoring it.
Want to know more?
To learn more about the music and travels of Scott Ainslie, visit www.cattailmusic.com. For more information on upcoming events at the Boone-Withers House, visit www.facebook.com/boonewithershouse.