Archived Arts & Entertainment
This must be the place: There's a reason you should care, seriously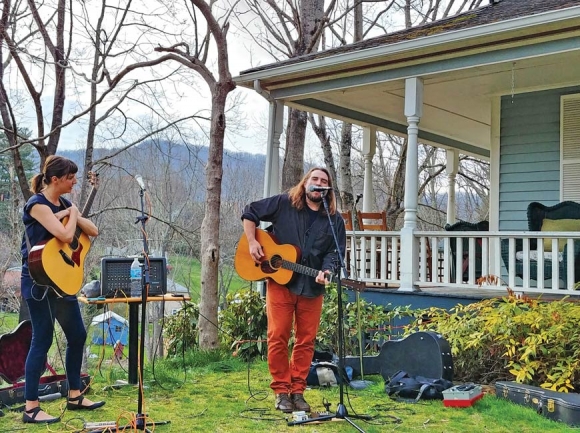 Ellen Cherry and Andrew Grimm at the Twin Maples Farmhouse. Garret K. Woodward photo
Sitting in a chair on a front lawn late Sunday afternoon, the sun had already disappeared behind the mountains, a crisp air settling into the impending night. Just about a block down the hill from Main Street in Waynesville, a handful of folks gathered in front of the Twin Maples Farmhouse for an impromptu live performance.
Passing through from Baltimore, Maryland, singer-songwriters Ellen Cherry and Andrew Grimm stood in front of the microphones telling their stories. Finishing up an extended tour that took them as far away from home as Oklahoma, the duo found themselves in town due to a good friend who could house them for the evening, perhaps even gather some other friends for a gig somewhere, anywhere. It's sunny out, might as well, eh?
At one point during the set, Cherry spoke about the importance of supporting independent musicians and artisans, how it's the craft of those individuals that helps people heal, illuminate hard-earned truths and, maybe, attain a sense of justice in a sometimes-unjust world.
Cherry briefly mentioned just how much it takes (financially, physically, emotionally) just to break even on a shoestring-budget tour, which to many is considered a success — just to make it back home not in debt. What also caught my attention was their new podcast/website, "Why Aren't You Famous?" With the tagline, "Two musicians try to understand fame. Are they going to live forever? Will people remember their names?" the series explores the idea of fame and why it's important that good music (good art, in general) thrive and survive.
What Cherry said really stuck with me, as did what I heard and felt the prior evening during the Scott Ainslie performance at the Boone-Withers House in Waynesville. A renowned musicologist, Ainslie kept mentioning between songs the importance of having an attentive audience (smart phones stashed away) to share the intimate experience of live music and storytelling. It's a rare thing these days, he said, and in some ways it's "a rebellious act in our modern world."
And there's a reason you should care about what they both said. Seriously.
I reflect deeply about the likes of Cherry and Ainslie, and also folks like Appalachian musicologist David Holt. And whoever stands in front of an audience and shares their music, knowledge and life experiences, trying to make a sincere connection with a stranger or group of strangers. Making that connection is one of the true forms of beauty we have in this wild and wondrous universe of ours.
These performers are presenting a history, of themselves and of our country, showing you what they saw and heard, and also how whatever happened in the past still applies to where we are today, how history and those who make and break it set the tone for whatever comes thereafter — hell or high water.
Our existence today is cluttered — at home, at work, at play. We try to squeeze so much into so little (time, space, etc.) that what we're left with is a blur of a life experience when push comes to shove. And you're seemingly only left with a string of Instagram photographs and Facebook posts to remember the good time you had after you had it, rather than immersing oneself in the moment of when it happened in real time.
Now, I'm as guilty as anyone in terms of social media indulgence. But, I try — honestly — to curb that as I've gotten older as a millennial in the digital age. That said, I'll be the first to point to the importance of putting the devices aside and putting your attention towards another human being.
But, the biggest takeaway from this past weekend was the simple notion of time and place. When you watch a performer with a simple acoustic guitar and a bit of history inside their voice and chords, you're able to picture the folks they sing about, the trials and tribulations of those that came before you and I, those who will undoubtedly walk this earth in the coming centuries long after we're gone, many of which making the same mistakes and same solutions to the problems that will forever remain the bane of human existence.
With regards to Ainslie, what you walk away with at one of his shows is a staggering notion of time being all one moment we're all lucky to be part of. With a twinkle in Ainslie's eye, the listener heads home with a refreshed sense of self, a new perspective on the capabilities of humanity, where evil does rear its head like clockwork, but good will prevail in the hearts of those who never question the power of common ground and mutual respect in uncertain times.
Not only should we support these kinds of house concerts and casual get-togethers, we should find the ways and means to do it ourselves. Decide on a place, get hold of some friends and family, and find the time (no, make the time) to rekindle those connections, especially in the presence of live music.
Towards the end of the Cherry/Grimm gathering, my good friend leaned over to me and whispered, "We need to do this again." Gazing around the peaceful property, a slight mountain breeze winding through the large maple trees overhead, I had but one response, "Yes, yes we do."
Life is beautiful, grasp for it, y'all.
Hot picks
1 Singer-songwriter Jim Lauderdale will perform during a benefit for the Lloyd Johnson Foundation at 8 p.m. Thursday, March 29, at the Isis Music Hall in West Asheville.
2 The Smoky Mountain Roller Girls will open the 2018 home season with bouts starting at 4 p.m. Saturday, March 24, at the Swain County Recreation Center in Bryson City.
3 Soul Infusion Tea House & Bistro (Sylva) will host Kevin Fuller (singer-songwriter) at 7 p.m. Saturday, March 24.
4 "The Liars Bench" will return at 7 p.m. Thursday, March 22, in the Mountain Heritage Center auditorium at Western Carolina University.
5 Balsam Falls Brewing (Sylva) will host Trippin' Hardie (Americana) at 8 p.m. Saturday, March 24.