Archived Opinion
Too often, we ignore the calls for help
Wednesday, March 14, 2018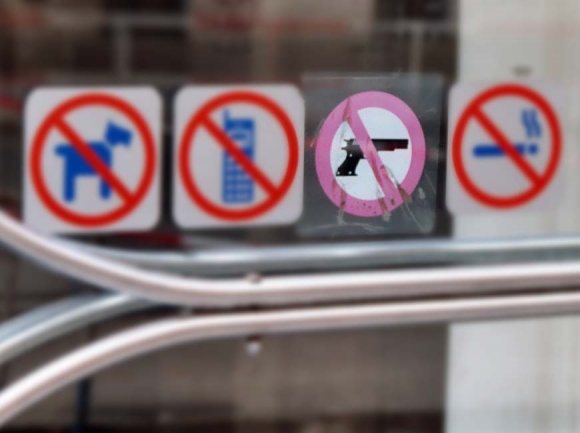 Doing nothing to enhance school safety is not an option. Thoughtful gun control measures would be helpful and are one tool to help get there, but there are other — perhaps more beneficial — avenues we as a society should pursue.
At a Haywood Chamber of Commerce breakfast meeting last week, Waynesville Police Lt. Tyler Trantham's topic was how to plan for live shooter situations in businesses, churches and schools. It was the second part of his presentation, the first having come on Feb. 7 — exactly one week before the school massacre in Parkland, Florida, on Valentine's Day.
His talk was sobering. Since the Parkland shooting, Waynesville police had been alerted several times about students whose behavior worried friends, teachers, or parents. Police responded and tried to get help for these kids. Although we'll never know what would have happened had these tips not been relayed to authorities, that intervention may have prevented another unthinkable act.
Think about that for a moment: the unfortunate, gut-wrenching truth is that what happened in Parkland or Columbine or at any other mass shooting could happen right here. Our cover story from two weeks ago noted that police across Western North Carolina have responded to several threats to schools since the Parkland shooting.
The Florida legislature got to work on gun control measures. They passed a bill that raised the age for rifle purchases to 21, enacted a three-day waiting period, and outlawed bump stocks (the mechanisms that turn semi-automatic rifles into machine guns).
Those measures won't pass in North Carolina or in Congress. Too bad, really.
So, what can we do? In my estimation, the best long-term answer is more psychologists and counselors and social workers in our public school system. Lt. Trantham said during his talk that kids today don't cope with problems very well. Statistics back him up.
In a recent story by our News Editor Jessi Stone on mental health services for youth in our region (www.smokymountainnews.com/news/item/21227), she cited a report by the Association for Psychological Science:
… the rate of depression and suicide among youth ages 13-18 increased between 2010-15. The research is based on two nationwide surveys and national statistics on suicide deaths … Between 2009-10 and 2015, 33 percent more adolescents exhibited high levels of depressive symptoms; 12 percent more reported at least one suicide-related outcome, and 31 percent more died by suicide. According to the study, adolescents who spent more time on social media and electronic devices were more likely to report mental health issues.
So, we know adolescents are more depressed than ever, and those who engage in a lot of social media use are worse off than their peers. And it is adolescents or those just a few years older that are committing these shootings.
And yet our schools are woefully under-staffed with counselors and psychologists. Stone's article revealed that regional mental health providers are trying to adequately perform their jobs as funding is getting drastically chopped. And, according to the state Parent Teachers Association, our public schools have one school counselor for every 375 students when the recommended ratio is one for every 250; one school psychologist for every 2,100 students when the recommended ratio is one for every 700; and we have one school social worker for every 1,719 students when the recommended ratio is one for every 250.
These professionals — if staffed at adequate levels — would almost certainly have been able to see problems in some of these kids years before they committed these terrible deeds.
And the truth is that many other children suffering from problems that lead them to lives of drug use, domestic violence, crime, and long-term mental health problems would be identified earlier and provided treatment, intervention, counseling or medication that might have changed their lives and made them productive members of our society.
I support gun control measures like those passed in Florida, laws that are smart and modest and should be easy to support.
More important for the long-term health of our country, though, is putting up the money to address the psychological and behavioral problems children are dealing with in this fast-changing world. Each of these adolescent shooters is crying out for help, and the truth is that in too many cases we are ignoring their calls.
(Scott McLeod can be reached at This email address is being protected from spambots. You need JavaScript enabled to view it.)