Archived Opinion
Maintaining a nostalgia for unique main streets
Wednesday, March 14, 2018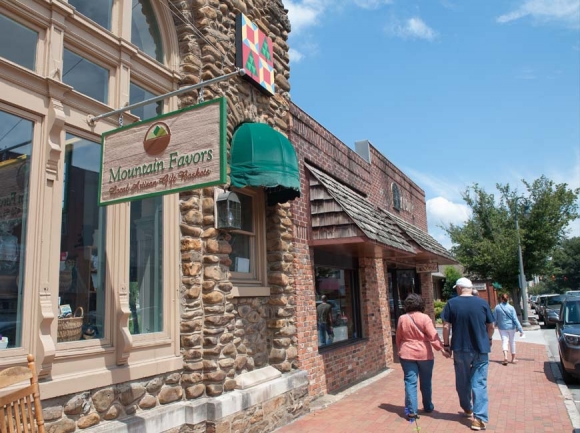 Recently, I spent time in the tri-cities of Rutherford County, N.C. Spindale, Forest City and Rutherfordton make up this trifecta of small towns nestled in the foothills.
Our first stop was Copper Penny restaurant in Forest City. While we were waiting on the rest of our group, I noticed the hardwood floors and tin ceiling and felt a familiar pang of nostalgia, a longing for something I never had and that's now impossible to experience.
Growing up, both my mom and dad talked about "going to town." They typically went on Saturdays, to see a film, shop at a department store or eat at a diner. They would even get gussied up, my grandparents wearing their nicest coats and hats and my mom wearing frilly socks and Mary Janes.
Back then, going to town was something special.
While at lunch on Saturday, I looked out the window at the passersby on the streets of Forest City. The parking spots cut diagonally, a seventy-nine-year-old pharmacy across the street and an antique town clock attached to the side of a building. I later learned the clock has been restored multiple times because it means so much to the hearts of Rutherford County.
Also across the street was a department store called Graham Cash. I don't think its façade has changed since its inception over 50 years ago. We decided to venture into this relic. It's a two-story space with high ceilings, built-in shelving and checkout registers on the upper and lower levels, although the one on the lower level looked to be shut down. The inventory was minimal, especially downstairs.
As my eyes scanned the place, I could easily imagine the store during its heyday, both floors bustling with shoppers, two registers an absolute necessity. I thought of department store scenes from "Miracle on 34th Street" and other classic movies. I thought of my mom holding my grandmother's hand as they shopped for Sunday dresses.
I love these thoughts.
But, as the story goes, box stores and malls stole the allure and demand from independent department stores. I'm impressed Graham Cash still exists at all.
My mother worked at Weaverville Primary School located in downtown Weaverville. After school, my friends and I would walk to the old drug store and spin on the stools after buying a snack. Growing up, we also shopped in downtown Asheville. For shoes, my mom would take my sister and me to Tops for Shoes on Lexington Avenue, and for our dance attire like leotards and ballet shoes, we went to a store called A Dancer's Place on Patton Avenue.
So, while I have some memories of "going to town," they pale in comparison to those of my parents and grandparents.
I'm 38 years old, and I feel like my generation was on the cusp of Main Street America. When I was little, interstates were being built at warp speed and many downtowns deteriorated, though it was a slow death we didn't realize immediately. First one business closing, then another, then another, until all of a sudden, an eerie ghost town of locked doors and boarded-up windows remained.
America began as a collection of Main Streets surrounded by farms and open acreage, connected by two-lane highways. Every downtown had its own vibe, personality and history.
I've always been a person who embraces the unique. When given the choice, I shop and dine small and local as opposed to visiting chain stores, outlets or malls. I can feel the decades of memories and experiences in the old buildings, and I love it.
Think about being downstairs in Mast General in Waynesville and hearing those floors creak above. That sound is the past saying hello and thank you for coming. Or eating a sandwich in Trailhead Bakery knowing a slew of locals will forever remember that space as Whitman's Bakery.
I feel like there's been a resurgence of "local love" over the past decade and it makes me happy. We'll never go back to a time when all shopping, dining and entertaining happens on Main Street, but many towns across America are working hard to revitalize their downtowns, wanting so badly to keep the heart beating.
One of my favorite things to do is frolic in a downtown area. Whether it's towns I know intimately like Waynesville or Asheville or somewhere new like Forest City, I love to explore, learn and honor what once was.
As a mom, I want to teach my children that the past, present and future are all tied together, an altruistic circle of then, now and what will be. I want my boys to grow up and be men that bypass a fast food joint for a bakery located in an old downtown bank or ignore a chain restaurant to eat at an independent place that serves local eggs and jam.
So, whether we're writing stories or living them, we've got to pump life into our small towns.
As author Robert Cormier said, "All the stories I'll ever need are right here on Main Street."
That's something we should all remember.
(Susanna Barbee is a writer and digital media specialist for Smoky Mountain News and Mountain South Media. This email address is being protected from spambots. You need JavaScript enabled to view it.)