Archived News
Passion, politics intertwine for Haywood tax collector candidates
Wednesday, March 14, 2018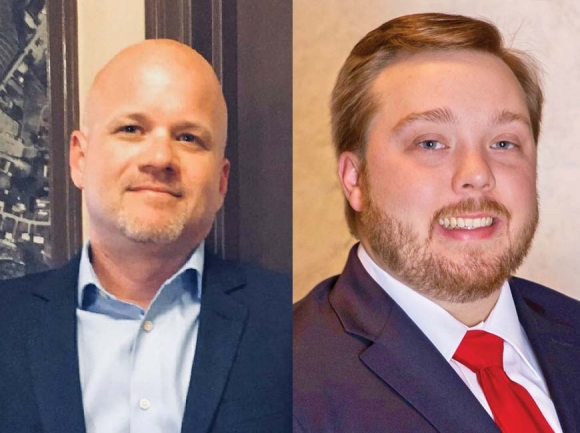 Haywood County Tax Collector Mike Matthews (left) will face a fellow Republican in the May 8 Primary Election. Andrew 'Tubby' Ferguson (right) says there's room for improvement in the county tax collector's office. Donated photos
Outside the Haywood County Justice Center in downtown Waynesville, Haywood County Tax Collector Mike Matthews stands with a slim manila folder in his hands while an attorney nearby reads off a boilerplate legal notice required when the county offers a foreclosed property at auction.
There were no takers that day, but Matthews thinks someone will eventually come forward and buy the $30,000 property for around $8,000, the cost of the legal work associated with the parcel that's been more than $600 behind in property taxes for some time now.
Foreclosure sales are an important part of Matthews' job, but not the most important; the speedy and efficient collection of property taxes, the county's single largest source of revenue, is vital to county operations.
Since his first election to the office in 2014, Matthews has faced intense scrutiny from Haywood County Commissioners and a vigorous debate over the very nature of his job — it's the only elected tax collector position in North Carolina's 100 counties — that resulted in headline-grabbing high drama last year.
As Matthews collects the rest of his belongings and heads toward his office in the Historic Haywood Courthouse, he starts to talk about his recent decision to run for re-election, something even Matthews had his doubts about following contentious public hearings that questioned both his work performance and his personal life.
"One of the things people say to me most is, 'why are you doing this? Why are you putting yourself through this again?'"
Later, in his office, Matthews revealed the reason he's decided to run for re-election as the state's only elected county tax collector.
"When I started, I felt like we could treat citizens and taxpayers a little better, with respect, compassion and appreciation, while leaving the county in a better position financially than we were," he said. "Since I've started, even with all the opposition that we've had, our numbers are better than they've ever been, and we've been able to do this while treating everybody with respect and treating everybody with compassion and working with people."
In February 2016, county commissioners led by then-chair Mark Swanger passed unanimously a resolution asking the North Carolina General Assembly to make Matthews' position an appointed, rather than elected one.
Support from Haywood's legislative delegation was lukewarm at best, and although it ultimately went nowhere, it must've made for some awkward workplace encounters thereafter — something Matthews said is now in the past.
"I think we've come a long way," he said of his relationship with commissioners. "I don't know that some of us will ever be friends, and that's fine with me and I'm sure it's fine with them as well, but it seems like we're able to work together now. You're always going to have somebody, regardless of what you do, it's never going to be good and it's never going to be right regardless of what it is, but I've had some of them reach out to me and actually acknowledge the fact that we're doing a good job. I mean, you can't hide it with the numbers."
The county's fiscal year begins each July 1, so FY 2017-18 is currently in its ninth month. As of Feb. 28, the unaudited year-to-date collections percentage of all ad valorem taxes assessed for this fiscal year was 93.96, indeed the highest since at least 2008 and nine-tenths of a percentage greater than at this time last year.
With almost four months left to reach a theoretical 100 percent collection rate, that projects to a very high year-end collections rate.
"Prior to me taking office, it's always been near 96 [percent]. In my three years we've been at 97," Matthews said. "We're projecting now to be in the mid-to-high 98, possibly 99 percent, and our delinquent balance has dropped dramatically. We've dropped $1 million off the delinquent balance that we carry every year."
Over that same period beginning in 2008, the total delinquent balance of property taxes owed to the county has dropped from slightly over $3 million to slightly under $2 million.
One bad year of collections doesn't just affect that year's collections; when ad valorem taxes are billed every year it is naturally expected that a certain percentage of people will fall into delinquency at some point. When those delinquencies carry over from year-to-year, they add to that pre-existing expectation for the new year, meaning that the total delinquent balance can climb rapidly, and as it ages become practically uncollectible.
"Since our current collection rates are quite a bit higher than what they have been, that means we're not rolling over that much money into delinquency," he said.
Matthews credits his performance to the philosophy he brought to office when he defeated longtime tax collector David Francis at the polls in 2014 by slightly more than 1 percent of the vote.
"We do a lot of forced collections. That's one of the biggest things we do on a daily basis. We do attachments, we get garnishments, we do foreclosures. We do it as a last resort but we still do that," he said. "Our goal is before that happens that we can reach out to you and at that point work something out. In some cases, it doesn't work out, but I guess that's just human nature."
One of the things he's tried not to do is displace anyone in the process — something he says he's been successful in; the county has also not incurred any additional properties as a result of foreclosure sales.
"When foreclosure proceedings are initiated, the opening bid comes from the tax office," he said. "I make the opening bid on it. If nobody is there to outbid me, then we [Haywood County] take in the property."
The county also thus takes in the liability, the upkeep, the cost of the legal work to initiate the proceedings, and as owner of the property, doesn't pay property taxes on its own property.
Republican challenger
Matthews, a Republican, will face a contested primary May 8 to keep his job.
"I've always had a lot of interest in politics and local government," said Andrew "Tubby" Ferguson. "My mom works for the county, and my great uncle Carlyle Ferguson was a county commissioner for a while. I know how important it is to me to serve."
Just 28 years old, Ferguson is an eighth-generation Haywood County resident with roots in the area dating back to 1807. He graduated from N.C. State with a bachelor's degree in business administration and currently works at the family business, Haywood Pharmacy.
Although his title there is assistant manager, Ferguson is quick to point out that he's not a pharmacist, and instead handles many of the business functions at the shop.
It's the conservative Republican's first time running for anything, except when he was elected to the board of the largest student booster club on N.C. State's campus.
"This office is unique in that it has a lot of business functions, which is a little bit different from a lot of other county jobs," he said. "This is a business administration function of public administration."
Ferguson thinks he brings the most knowledge, the best education, and the strongest work ethic of the three candidates currently seeking the position — Democrat Greg West will face the winner of the Matthews/Ferguson contest in November. But for now, he points to some specific reasons that should be him, and not Matthews.
"The public can judge what Mike Matthews' tenure has been as far as performance," Ferguson said. "I know Mike definitely has some accolades of his own, and kudos to him for those. We are collecting at a higher rate than ever before, but if you dive into the population data, we're not at the top. For me that leaves us room for improvement."
And that nickname?
"I've always been kind of a chubby fella," he laughed when asked about the moniker he earned in the fourth grade. "And there's a lot of people, even now, that probably couldn't tell you what my first name is. They know Tub, and they know Tub's a good guy. Plus, 'Tubby for tax collector' had too good of a ring not to use it."