Archived News
Relocation project leaves contractors unpaid
Wednesday, March 14, 2018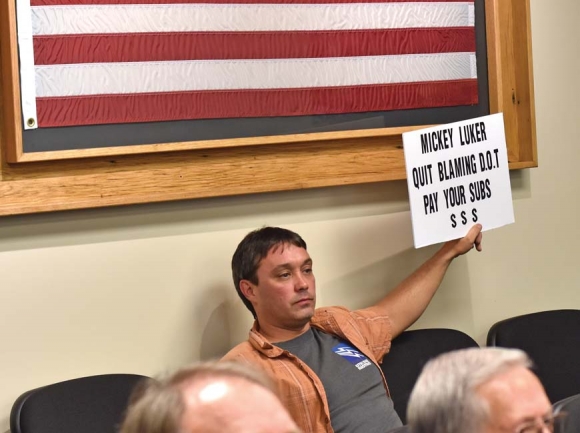 Blitz Estridge holds up a sign expressing his plight during a Feb. 19 Jackson County Commissioners meeting. Holly Kays photo
Months after work wrapped up to relocate Caney Fork General Store in Jackson County, multiple subcontractors who worked on the project remain unpaid, resulting in two claims filed against the business.
"I would imagine there are still liens to come, rightfully so," said business owner Mickey Luker. "I think there are five vendors that have not been completely made whole."
Subcontractors have not been getting paid as they should — that's not in dispute. But whose fault that is depends on who you ask.
Blitz Estridge, of Blitz Estridge Electric, places the blame squarely at Luker's feet, a position he made quite public when he attended the Feb. 19 Jackson County Commissioners meeting bearing a sign that said on three lines "Mickey Luker/Quit blaming DOT/Pay your subs," with a row of dollar signs underneath. Estridge held the sign high from the back of the room, well within view of Luker, who is a county commissioner.
"I think this was an intentional act by him (Luker)," said Estridge. "He just built a store that really he can't afford. It's upsetting for me as a business owner. This was a big job for us, and we're kind of struggling because of it."
According to a lien filed Jan. 8, Estridge's company worked on the project from July 31, 2017, through Oct. 10 of that year, doing a variety of electrical work for the four businesses — Bailey's Outdoor Supply, Gracie's Deli, Caney Fork General Store and a beauty salon — housed in Luker's store. He was due a total $45,369.27 for the work. Estridge said that to date he's received only about $3,200, paid roughly a month ago.
Estridge isn't the only one to have filed a claim against Luker. A suit filed Feb. 8 in Wayne County claims that Luker and Caney Fork General Store owe Tillman's Restaurant Equipment and Supplies $39,689.09. According to the lawsuit, Tillman's had done a total $94,989.09 of work, of which only $55,000 was paid. As of press time, no response to the suit had been filed.
Luker doesn't deny that these businesses have been wronged but says he's not the one who wronged them.
"It's very frustrating," he said. "It's government at its top speed."
Responsibility for payment
The relocation project stemmed from the N.C. Department of Transportation's work to widen N.C. 107 in the Caney Fork area. Work began on the 3.8-mile section February 2017 and is scheduled to wrap up April 2020. The DOT acquired the property housing Caney Fork General Store as right-of-way in connection with the project but agreed to relocate Luker's business under a program in which the state pays a variety of expenses including moving costs, direct property losses as a result of moving, cost of searching for a replacement location and cost to re-establish the business.
According to Sophia Campbell, public records manager for the DOT, the total amount paid for relocation was $533,856.13; Luker also received $757,800 for the property DOT acquired as right-of-way.
"This has been paid out as each move and/or re-establishment expense has been requested by the owner (Caney Fork General)," she wrote in an email, referring to relocation payments.
So far, everything but $7,745 has been paid out, according to Campbell. The DOT is currently holding two movement payment checks totaling $4,510 for Luker to pick up, and the remaining $3,235 is waiting for Luker's signature, she said.
According to Luker, however, that entire $533,000 did not pass through his hands. Luker said that the money he received had nothing to do with paying subcontractors — that responsibility lies with an Atlanta-based company called THC, he said.
"DOT's been great. It's been the third-party company (THC) that's representing the DOT that's been the complete failure," he said.
According to Luker, THC was irresponsible in the way it did its job, and the relocation money ran out before all the subcontractors had been paid. Luker added that he hasn't been treated completely fairly either, believing that the property DOT acquired for the road project is worth significantly more than $757,000. He said he plans to file a suit seeking more money for the property.
His attorney J.K. Coward said that he could not comment on the particulars of the case but said Luker hasn't done anything wrong.
"I don't think there's any real bad guys here," he said. "I think there's a real bad program that was administered real poorly."
Estridge is quite clear that his agreement to do electrical work for the relocation was with Luker, not with THC. Brian Green, the THC representative who was involved with the project, wasn't on the job directing workers what to do and where to go, Estridge said. That was Luker.
A public records request to the DOT asking who was responsible for paying subcontractors backed up Estridge's version of the story.
"The General Store/Mickey Luker would be responsible for paying subcontractors involved in the relocation," Campbell wrote in response to the request. "The Dept. of Transportation would pay a third party if the owner/relocatee signed a waiver to do so."
David Uchiyama, communications officer for DOT's western region, added that the third party option involves the DOT paying subcontractors directly — in neither case would THC be responsible for paying them.
Uchiyama said that THC was a consulting company the DOT hired to handle all aspects of relocation for the project, from moving signs to moving businesses to relocating residents. But THC did not handle subcontractor payments, he said.
When reached for comment, Green said that he couldn't speak on the matter, as DOT is THC's client, and DOT wished for all communications to go through its staff.
Progress toward a settlement
Luker said he didn't know why the DOT was taking that position regarding THC's rate but remained adamant that it hadn't been his responsibility to pay the subcontractors. However, he said, the way the legal process works they will all get paid in the end. He and Coward are working toward a final settlement, Luker said, and any outstanding debt will be paid when that process is complete.
"Whenever the settlement is done they will get paid," Luker said. "It is not as timely as they or us or anybody would have wished or hoped for, but between Blitz and I individually or Blitz and I as a company there's not a contract. There's not a memorandum of understanding. There's not anything that he and I have contractually together that says, 'You're going to do this amount of work for this.'"
According to Luker, that agreement was between Estridge and THC.
Estridge contests that statement. He said his agreement was with Luker but said he couldn't produce it as of press time, as he'd already given the document to his lawyer.
"This is just a common occurrence with him (Luker) doing stuff like this," Estridge said.
A records search at the Jackson County Courthouse turned up two previous actions filed against Luker and Caney Fork General Store. In 2013, a magistrate ordered Luker to pay $5,000 owed to Haywood Oil Company, Inc., and in 2017 Superior Court Judge Bradley Letts ordered him to pay $39,581.34 owed to The H.T. Hackney Company as the result of a suit filed in 2015.
According to Luker, however, that's not sufficient to prop up Estridge's claim that failure to pay contractors is a common occurrence.
"I would say out of six years in business, on liens like that, that's not a pattern," Luker said. "That's just normal business."
Then why, Estridge asked, hasn't he been paid?
"Mickey (Luker) is blaming Brian Green, and he's blaming the state, and he's just trying to get out of this without paying his subs," he said.
Luker, meanwhile, recalled the many hours he's spent in large group meetings with DOT officials, THC representatives and various attorneys, all trying to navigate the situation.
"It's confusing, and trust me we spent hours, days and months on this," he said. "It's very confusing. It's very stressful. Would I ever do it again? Hell no. There is no way. I was painted a beautiful, beautiful picture by them (DOT) about how they needed to do this and they wanted to at least have one convenience store on that section of road and made all these promises that have truly not been fulfilled."