Archived News
State, local boards of elections still in limbo
Wednesday, March 14, 2018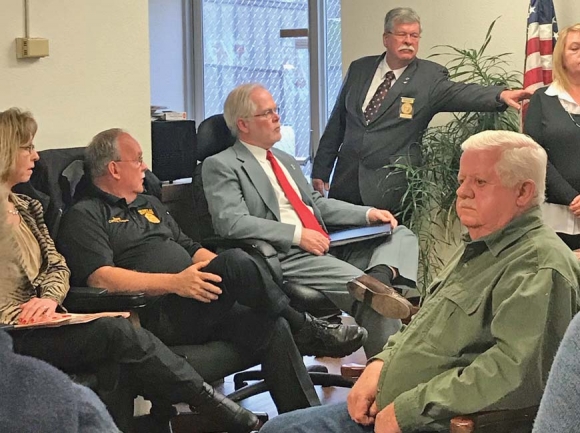 Swain County Sheriff Curtis Cochran and his attorney David Sawyer discuss Jerry Lowery's candidate challenge with the two members of the board of elections. Jessi Stone photo
Gov. Roy Cooper's legal battle challenging the Session Law 2017-6 — passed by a Republican-majority legislature — is having local ramifications for small communities like Swain County.
While the legal challenge has been working its way through the courts, the state board of elections hasn't been seated and state appointments to local boards of elections haven't been filled. For many counties, the empty seat hasn't stopped the local boards from conducting business, but 25 smaller counties that have three-member boards have been left with two members.
Under the law, two members doesn't constitute a quorum, which means small boards of elections like the one in Swain County can't conduct business or make any rulings. A judges' panel had issued a temporary order last year allowing those boards with only two members to continue to operate, but it was recently revoked.
What's being challenged?
The Session Law merged the former State Board of Elections, the former N.C. State Ethics Commission and the Lobbying Compliance Division of the N.C. Secretary of State's office under one quasi-judicial and regulatory agency by creating the N.C. Bipartisan State Board of Elections and Ethics Enforcement.
Before the new law was passed, the governor had the authority to make the appointments to the state board of elections. However, the new law requires the new joint board to be made up of four Republicans and four Democrats. Cooper would have to appoint the members from a list of six nominees submitted by both party chairs.
On Jan. 26, 2018, the N.C. Supreme Court held that provisions of that law regarding membership and appointment of the State Board of Elections & Ethics Enforcement, when taken in context with other provisions of the legislation, violated the separation of powers clause under the N.C. Constitution. The Supreme Court returned the case to the three-judge panel to issue an order consistent with its decision.
"The panel ordered that G.S. § 163A-2, which deals with membership and appointment of the state board, is void and therefore permanently enjoined. As such, there is currently no mechanism in state law to appoint members to the State Board, which has been vacant since June 2017," said N.C. BOE spokesperson Patrick Gannon.
On March 5, about the same time the Swain County Board of Elections was preparing to hear a candidate challenge against Sheriff Curtis Cochran, a three-judge panel of Wake County Superior Court judges entered a final order in Cooper v. Berger, the governor's challenge to new board of elections law. It revoked the temporary order, meaning the Swain board's actions at the March 5 meeting were nullified.
"But the three-judge panel's order did not void any other parts of the law. As such, all other provisions of Session Law 2017-6, including the changes to the structure and appointment of county boards of elections, remain in effect, and lobbying compliance is now merged with the elections and ethics divisions of the State Board," said Gannon.
But Cooper isn't giving up on the challenge yet — on March 6, his legal counsel asked the Supreme Court to review the lower court's order and strike down Session Law 2017-6 in its entirety.
Resolution could be coming
The N.C. General Assembly is considering House Bill 90, which could become law by March 16 if Cooper doesn't veto.
The legislation would create a nine-member state elections board that would include four members from each political party and one member who is not affiliated with either of those parties. Gannon said Cooper would select the ninth member from a list of two nominees selected by the other eight state board members and he would also have the authority to remove members at his discretion.
With a May 8 primary approaching, it's important to have a state board and local boards to handle election matters according to the law, but right now the two-member county boards have their hands tied.
"Despite the legal uncertainty, the state board office and county board offices continue to perform tasks necessary to administer elections, including the May 8 primary elections," Gannon said. "Until a state board is seated and able to appoint county board members, and unless other relief is granted by the courts, county boards with fewer than three members cannot meet as of March 5."
Based on Cooper's most recent motion, the courts could decide to issue another temporary order to allow the two-member boards to conduct business, but Gannon said it all depends on how quickly the Supreme Court can address Cooper's motion.
Impact on Swain's candidate challenge
Other than missing a state appointment, the Swain County Board of Elections wasn't being particularly impacted by the governor's legal battles until a resident recently filed a challenge against Sheriff Curtis Cochran.
Cochran, who has served as sheriff in Swain County since 2006, filed to run for another term in February, but Jerry Lowery claims he doesn't qualify to run because he was dishonorably discharged from his military service. Lowery's challenge asserts that a dishonorable discharge is equivalent to being convicted of a felony, and as stated in the law, Cochran will have the burden of proof.
Swain Board of Elections held a preliminary hearing March 5 where Cochran was asked to provide his military discharge paperwork. He said he didn't have it in his possession, but his attorney David Sawyer said the document had been requested from the federal government and will hopefully be expedited.
Following the three-judge panel decision stating that two-member boards can't conduct business, the Swain board of elections could not proceed with a hearing scheduled for March 12 to hear evidence on the candidate challenge. Normally, the challenger could ask the state board to hear the case but there's no state board at the moment either. The only recourse left is for Lowery to hire his own attorney to petition the Wake County Superior Court to hear the challenge.
"So far, Wake County Superior Court has been very helpful in hearing cases that cannot be heard by elections boards," Gannon said.
Lowery said he's waiting to see if the issue is resolved in the coming weeks so that a new Swain County Board of Elections can be appointed to hear his challenge. If not, he already has a lawyer and said he's prepared to take it to Wake County to force Cochran to produce his military documents.
"I'll take it as far as I can take it — he's either got to produce it or get out," he said.