Archived News
Despite threats to funding, ARC soldiers on
Wednesday, March 14, 2018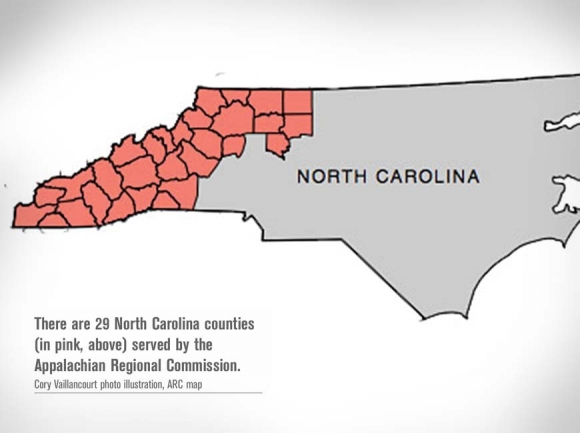 The $100,000 grant to Haywood Community College from the Appalachian Regional Commission wasn't the first made by the ARC in the area, but since the election of President Donald Trump in late 2016, there's been an ongoing fear that any grant from ARC could be the last grant from ARC.
For more than 50 years, the ARC — a federal-state partnership that funds economic development and infrastructure projects — has served parts of Alabama, Georgia, Kentucky, Maryland, Mississippi, New York, North Carolina, Ohio, Pennsylvania, South Carolina, Tennessee, Virginia and West Virginia.
That region is home to more than 25 million people in 420 counties, many of which are economically distressed, and many of which benefitted from the ARC's largest federal appropriation ever for fiscal year 2017.
But that appropriation was made under the Obama administration; in President Trump's first budget, presented last spring, Trump proposed gutting the expansive federal program, prompting fierce opposition from Senator Mitch McConnell, R-KY, and fellow Kentuckian, Congressman Hal Rogers; Kentucky is one of the largest yearly recipients of ARC grants.
This year, Trump has again proposed defunding the ARC; puzzlingly, he also announced he'll nominate a former McConnell staffer to serve as the ARC's next leader.
In the ARC's 2017 progress and accountability report, released Sept. 30, 2017, the group claims to have reduced the number of "high-poverty" counties in the region from 295 in 1960 to 87 in 2015.
That same report outlines the ARC's goals, one of which happens to be fostering entrepreneurship skills and local business incubation.
"Haywood Community College is cultivating a maker space environment through a new advanced manufacturing business incubator. Local residents, students, and entrepreneurs can receive high-quality training and access to light and advanced manufacturing equipment used by small and medium-sized employers. This access will help users to improve employability through skill development and allow for the testing of entrepreneurial designs using the available equipment," reads the report.
Last fall, executive director of the Sylva-based Southwestern Planning and Economic Development Commission Sarah Thompson told The Smoky Mountain News that ARC grants help rural communities that don't have the tax base to provide funding for things like the Stecoah Gymnasium Strategic Redevelopment Study and Swain County Hospital's digital mammography unit — both of which were paid for at least in part by the ARC, like HCC's Project AMI.
"That's when these federal programs come in to help keep those jobs in our region," Thompson said.
Data from the report says that in 2017, the ARC helped create or retain more than 21,000 jobs and created or strengthened 2,500 businesses.