Archived News
Parking decks planned for Western Carolina
Wednesday, March 14, 2018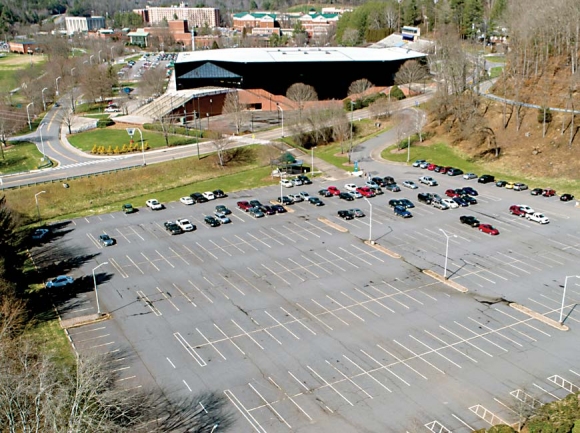 This parking lot, known as the North Baseball Lot, is WCU's preferred site to construct its first parking deck. WCU photo
Parking decks could come to Western Carolina University sooner rather than later following the Board of Trustees' unanimous vote to designate three existing parking lots as sites for future parking deck construction.
The university's master plan already designates the parking lot and Cordelia Camp Gymnasium for future parking deck construction, but a recent evaluation of other existing parking lots revealed that might not be the best or only option available, WCU's Vice Chancellor for Administration and Finance Mike Byers said during a March 1 Board of Trustees committee meeting. In addition, he said, the university could well need more than one parking deck in the future.
The three parking lots now joining the Camp Lot, officially Lots 4A and 4B, as future parking decks in the university master plan are Lot 8A, known as North Baseball Parking Lot; Lot 21, known as the former band practice field; and Lot 37, the four-tiered commuter lot across from Hunter Library.
The North Baseball lot will likely be the first one to be crowned with a parking deck, Byers told the trustees.
"This baseball site really jumped off the page at us," he said. "It was not a hard decision."
The site sits right at the entrance of campus, primarily serving commuters. Due to the frequency with which each population comes and goes, each commuter parking space typically serves four to five commuters, while each resident parking spot serves just one person, Byers said. The North Baseball site also sits at a lower grade, meaning that a multi-level parking deck wouldn't obstruct the view as much as it might if built elsewhere. The location would make it convenient to serve events at the Liston B. Ramsey Regional Activity Center.
Construction on that site would also be much cheaper, per space, than the other available options.
The site currently contains 400 parking spaces, with the parking deck adding 600 spaces for a total of 1,000. On a campus of 6,000 parking spaces, that would increase the inventory by 10 percent. While the Camp site would add 850 spaces, the cost would be much higher.
Preliminary estimates put the cost of building on the North Baseball site at $13.8 million — $13,800 per space — while the Camp site would cost $25.4 million, or $17,200 per space. North Baseball also wins compared to the band and four-tiered sites, which would clock in at an estimated $17,900 and $19,700 per space, respectively.
WCU had expected to pay about $26 million for a parking deck, Byers said, so pursuing the North Baseball option could allow it to consider building two parking decks serving two different parts of campus.
"We might start with North Baseball and very rapidly move to that second site," Byers said.
The second site would likely be the former band practice field, located along Memorial Drive across from the campus bookstore and Reid Gym. That facility would likely serve fewer commuters and more residents and university employees than would the North Baseball site. It would cost an estimated $12 million to build a 670-space deck there, adding 485 parking spots to the existing inventory.
"I could see many people desiring parking here because it's a very close walk to many destinations in the core of campus," Byers said.
The other potential parking deck sites are still viable options, he said. The Camp Lot still has its perks, and while the four-tiered lot is less ideal, it's in an area of campus that is in "desperate need of redevelopment."
"Infrastructure is sometimes something you don't think about until you don't have it, so this is great planning ahead," commented Trustee Tim Haskett.
While the additional parking would be a welcome change for everyone using the campus on a regular basis, the construction process could result in some growing pains. Byers said the plan would be to get construction done as quickly as possible to lessen the inconvenience.
The project would begin "the second after December commencement," Byers said, with contractors doubling down on construction efforts to "build like crazy" throughout the spring semester, finishing the deck in time for the new school year in August. During the springtime construction, Byers said, the university might consider leasing a parking lot off-campus to set up a park-and-ride situation.
WCU is aiming to start the project this December, but depending how long it takes to get the design work done and approve a contractor, it may have to wait until December 2019, said Bill Studenc, WCU's communications director. Because the university typically has a small drop in population from fall to spring, springtime would be the preferred semester to be down one parking lot.
The parking deck would still need to go through a series of approvals before truly getting the green light. Trustees must approve the facility's design, as well as the choice of contractor. Then the University of North Carolina Board of Governors would need to authorize the final debt issuance.
WCU would pay the debt service using revenue from parking fees.
"This would be a project that pays for itself," Byers said.