Archived Arts & Entertainment
This must be the place: 'Stuck inside of Mobile with the Memphis blues again'
Wednesday, March 07, 2018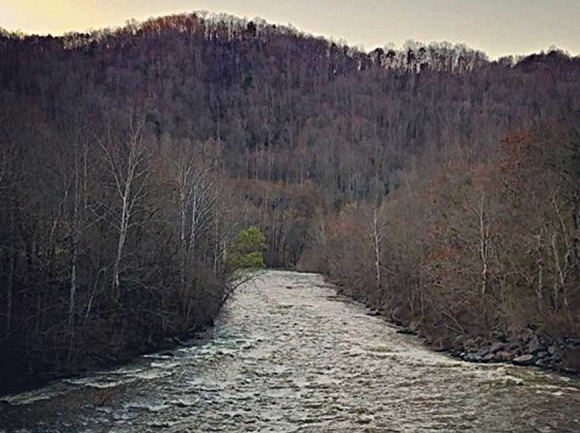 When you're young — full of confusion about the ways and means of a "stable adulthood," amid a hazy sense of what and who you are (or hope to become) — the idea of clarity is something you desperately want to find and obtain.
What "they" (elders, respected or a lack thereof) don't tell you is that clarity is a double-edged sword — you got the answers (the results and so on) to hard truths, but usually to internal questions you didn't know about or were to afraid/oblivious to ask.
There's something about this time of the year that kick starts my thought process. The weather is transitioning from the depths of a lonely, cold winter into the inevitable rebirth of the new year, at least in terms of the schedule/calendar that Mother Nature follows.
When the song "Talkin' to John About the Weather" (Eastbound Jesus) came over the stereo this week, the melody evoked such a deep sentiment of time and place within me. The Upstate New York group is the epitome of a North Country band, where the notion of a constant survival mode and pride in "getting by, hell or high water" permeates through the music.
The tune wafted through my apartment, like a crisp early spring breeze on a day when the only warmth is found while standing directly in the afternoon sunlight, "And ain't it hard / To find a sound that suits a northern town / When it's not snowing? / And ain't it hard for you to sing / About the whiskey that you drink / When it's not flowing? / And ain't it hard down in the dirt / When you're buried in the herd / And you're trying to find a word just to show it? / And ain't it hard to keep on rolling?"
Ah, that feeling when you know you're at a crossroads in your life, eh? It happens every so often to all of us. You try to not think about it or acknowledge it. But, it's always there, in the back of your head, seamlessly creeping into your thoughts when the drive home takes a little longer than usual, and yet you're in no hurry to get on with your "regularly scheduled program."
So, I did what anybody else would do in this situation — I took off. Come Friday afternoon, once "my ducks" were in order in our Waynesville newsroom, I snuck out, jumped into the truck, and bolted for the horizon (aka: my best friend's house in Knoxville).
In the last year, my "brother-from-another-mother" got married, bought a house, and is now settling into a great life with his incredible wife, also a dear friend. I got ordained and married the two of them, which I was reminded off amid the numerous happy wedding photos around their home, tucked away in the hills of suburbia just outside the bright lights of "The Marble City."
I hadn't seen them since around Thanksgiving. We caught up on "this, that, and the other." We went out for dinner and drinks, crossing paths with an array of familiar, beloved faces from my years of running around Knoxville. It was good to chat and interact with those folks, where I was constantly reminded of just how important it is to surround yourself with sincere people who radiate good vibrations, hopefully that complement your own.
A subconscious long-time tradition, my best buddy and I found ourselves face-to-face in a back-corner booth at a nearby Waffle House on Saturday morning. It was a meeting of the minds, myself laying down the cards of what was currently bothering me or, at least, keeping me up at night.
Living up to the job description of "best friend," he looked at the deck I was holding and — like clockwork — put together the puzzle while taking a bird's eye view of my existence. It never ceases to amaze me how you can seemingly solve all of the world's problems (or yours at least) over coffee and eggs enjoyed in gusto, in the presence of those who know you the best and love you the most.
Perhaps a cosmic coincidence, my CD of Bob Dylan's greatest hits found its way into my hands, ultimately my truck stereo, when I rolled out of Knoxville Monday morning. I let the album spin in its entirety, each melody somehow a plotted point of youth, adolescence, young adulthood and plain ole adulthood thereafter, as only Dylan himself could write and sing.
Rocketing down Interstate 40 West, back to Haywood County, back to my humble abode, the majestic Great Smoky Mountains appeared like a vision. And it was in that moment Dylan's immortal "Tangled up in Blue" echoed out the speakers, "Don't know how it all got started / I don't know what they're doin' with their lives / But me, I'm still on the road / Headin' for another joint / We always did feel the same / We just saw it from a different point / Of view / Tangled up in blue…"
Life is beautiful, grasp for it, y'all.
Hot picks
1 Rock/pop act Modern Strangers will perform during a special "St. Patrick's Day Celebration" at 8 p.m. Saturday, March 17, at Innovation Brewing in Sylva.
2 Water'n Hole Bar & Grill (Waynesville) will host John the Revelator (rock/blues) at 9:30 p.m. Saturday, March 10.
3 A celebration of the late, iconic singer, "Ricky Nelson Remembered" will hit the stage at 7:30 p.m. Friday, March 16, at the Smoky Mountain Center for the Performing Arts in Franklin.
4 Journalist Holly Kays will host a reading for her book Shadows of Flowers at 6:30 p.m. Thursday, March 15, at the Jackson County Public Library in Sylva.
5Currahee Brewing (Franklin) will host Redleg Huskey (Americana) at 7:30 p.m. Saturday, March 10.