Archived News
Participants take home renewed faith
Wednesday, March 07, 2018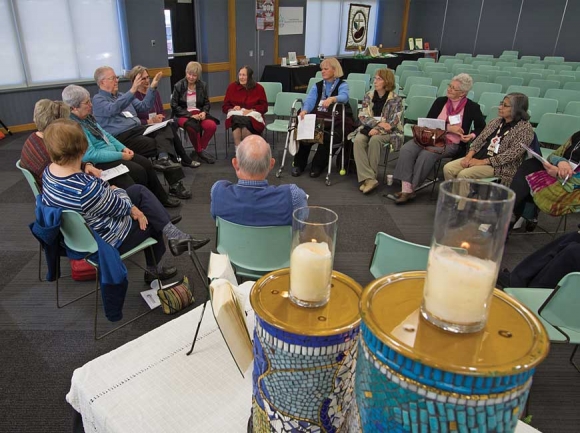 Conference attendees had time to discuss issues during break out sessions.
It's easy to grow weary in a world that is deeply divided and when efforts to reach out to the other side prove futile.
Elizabeth Andrews of Chapel Hill said hearing a man's personal story about emigrating to the U.S. from South Africa in the 1970s had a profound impact on her during the conference.
"He said when he flew out of his country he'd felt he could breathe again, that he could be free because he was so stifled by the apartheid there. But now he said he feels that same kind of stifled feeling here because we are no longer living in a free society or the kind of culture he came into when he moved here," she said. "He said we no longer believe in the message on the Statue of Liberty. That was such a sad commentary to hear. I think we all feel sad about where our country is right now."
However, the South African man also said being around like-minded people during the conference gave him a new sense of hope.
The Interfaith Peace Conference also sought to send believers back home with a renewed sense of purpose. In between each keynote speaker, attendees split into discussion groups to talk about what they took away from the speeches and how they could turn that talk into action within their own communities.
Charles Foskey, also visiting from the University United Methodist Church in Chapel Hill, said people in the discussion groups really wanted pointers on how to have productive and respectful conversations with people of different beliefs — religious, political and social.
"Our country is very divided — that's not a political statement, it's just a fact — and the purpose of this conference is to reach out by example," he said. "To find a tiny scrape of common ground and begin talking through it — don't challenge them that they're wrong and not to be superior or think you have the right answer but to listen to their side of things."
Andrews said the lack of communication isn't just between people of different faiths but can be within our own families. Families now shy away from discussing things like religion and politics because they fear it will turn into a fight.
"You love your family and they've tried to communicate some of their ideas but it causes such tension you've decided it's better not to discuss it because you don't want to destroy the whole family," she said. "But I know that in the past when I've changed my position on things it's because of my own observations of people around me not because of what someone told me."
In his closing address, the conference chairman George Thompson said people often leave these types of events by saying, "it's time to go back to the real world." But he discouraged attendees from looking at it that way.
"This is the real world," he said, and everyone needs to find a way to metastasize it into the rest of the world.
That was the inspiring message Andrews, Foskey and others took back home with them — to have those uncomfortable conversations in a respectful and open-minded manner while also leading by example with interfaith actions.
"As Rabbi Nancy (Fuchs Kreimer) told us, you can rehearse some things if you see a potential confrontation and you can go into it focusing on what is true — focus on facts and know that you and the other person may have fear, but that never works," Foskey said.
(Staff writer Cory Vaillancourt contributed to this story.)