Archived News
'Spirit of the Cherokee woman': Swayney honored for life of service to tribe and country
Wednesday, March 07, 2018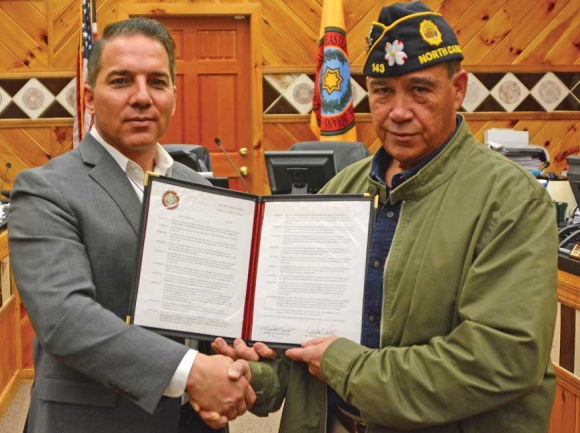 Kina Swayney's husband Doug (right in right photo) shakes hands with Principal Chief Richard Sneed while holding the newly approved resolution honoring her as a Cherokee Beloved Woman. Holly Kays photo
A courageous leader. An empathetic caretaker. A driven taskmaster. An intelligent, resilient and love-driven organizer. A person who had no trouble telling other people what they ought to be doing, and who conversely had no trouble pouring herself out to help other people do better.
The many strengths of the late Kina Swayney — U.S. Army Lt. Col., Cherokee tribal member and crusader to help those battling addictions — gushed out full-force in Tribal Council March 1 as family members, elected officials and community leaders joined together to bestow upon her the title of Beloved Woman.
"She was a warrior, she was an ambassador, she loved her community, she was tenacious in fighting for the rights of people who were oppressed or afflicted or just didn't have a voice as a result of addictive disorders," said Cherokee Indian Hospital Authority CEO Casey Cooper, presenting the Beloved Woman resolution on behalf of the Cherokee Indian Hospital Patient Family Advisory Council, of which Swayney had been a member.
Cooper said he'd known Swayney was special since reading an article The Cherokee One Feather ran about her upon her return home from the Army.
"I thought, I have to get to know this woman," he said. "She is absolutely amazing."
However, he laughed, "I didn't get a chance to know her until she submitted legislation directing me to do things."
"She didn't call and ask if you could do something. She'd call and tell you what she expected you to do and give a report back," agreed Vice Chief Alan "B" Ensley.
"Lt. Col. Swayney embodied the spirit of the Cherokee woman," said Principal Chief Richard Sneed. "She was strong, but she was not overbearing. She was courageous, but she was not harsh. She represents everything that we believe strong Cherokee women should be. She was a leader who led with love and compassion for her community. She was a warrior in her time of service to the nation. When she came back and saw the carnage that was occurring here because of substance abuse, she came back and was a warrior here."
Swayney was in the Army for 24 years before retiring in December 2010 at the rank of Lieutenant Colonel, serving deployments in Bosnia/Kosovo, Kuwait, Iraq, Afghanistan, Egypt and Kazakhstan and earning a long list of commendations and honors — the Army Achievement Medal, the Defense of Meritorious Service Medal, the Global War on Terrorism Expeditionary Medal, the Army Service Ribbon, two Overseas Service Medals, two Army Superior Unit Awards, four Army Commendation Medals, five Meritorious Service Medals and several Superior General Coins. She also received the Straight Arrow Award and was honored with outstanding service during two terms as Company Commander of the 765th Transportation Battalion.
She served as the commander of troops for the Supreme Headquarters Allied Powers Europe Battalion in Belgium representing the United States at NATO, and was the Deputy Chief of Staff of the Anny Forces Strategic Command and the Space and Missile Defense Command in 2008. Swayney was the only American Indian serving as head of the U.S. delegation to the U.S. Army while deployed to Kazakhstan in 2009.
When she came home, she didn't stop working for her people.
In 2015, Swayney created the Cherokee Civil Action Team, a grassroots community organization to promote ethical leadership in tribal government, strengthen local laws and policies to combat the drug crisis and advocate for American Indian rights. The group was instrumental in bringing a variety of policy changes and community events to fruition, especially related to addiction issues. Swayney also led a coalition of tribal members to support the Standing Rock Sioux in their protests against the Dakota Access Pipeline.
Meanwhile, Swayney was battling serious illness. She passed away on March 4, 2017, at the age of 56, leaving behind a husband and two children.
"She was a good person, and for those who missed out on the opportunity to know her, you missed a great person, but I'm pretty sure you see her love through the work that she done," said tribal member Lea Wolfe, battling tears as she talked about Swayney. "She fought hard, and if I had my way she'd still be here, but I can't be selfish. I know the Creator had plans for her."
"It never ceases to amaze me how I continue to grow as a person because of her, even when she's not here," added Kim Smith, Swayney's niece. She also told Tribal Council that she wants to see the tribe develop some initiative to ensure that the lives of these Beloved Woman are not forgotten and that their stories are told throughout the tribe and the country.
This was the second time Swayney's name had come up in Tribal Council connected with a Beloved Woman designation. In April 2017 a resolution from the American Legion Auxiliary Steve Youngdeer Post 143 and then-Councilmember Anita Lossiah sought the honor, but the family asked that Tribal Council hold the resolution until May to allow more time for them to grieve Swayney's passing. However, the matter didn't return to Tribal Council's agenda until now.
"I expected at some point in her life when she came back she would be here, or in those offices over there," said Councilmember Perry Shell, of Big Cove, pointing in the direction of the chief's offices. "I expected that, and I'm sorry that it never happened."
Needless to say, the vote to add Swayney to the growing but small list of Cherokee Beloved Women was unanimous, with all councilmembers and the audience as a whole rising in recognition of her example.
"She would have been humbled by all of this, and if any one thing can come from this, it's more commitment to the betterment of our tribe in all aspects, dealing with the issues that face us now and in the future," said Doug Swayney, Kina Swayney's husband of 39 years. "God bless us all. Thank you very much."