Archived News
Ken Howle named executive director of Lake Junaluska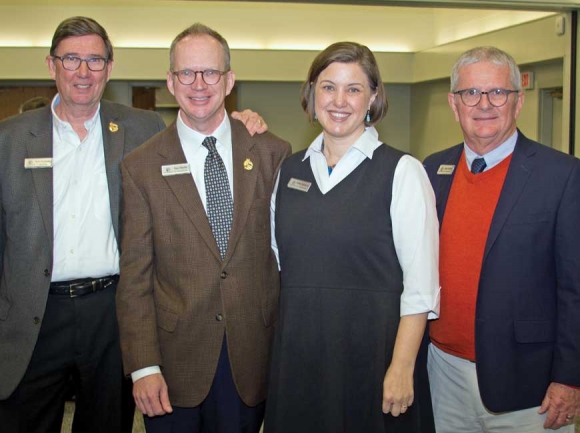 Lake Junaluska Executive Director Ken Howle (second from left) stands with members of the Lake's executive team (from left) Rob Huckaby, Mitzi Johnson and Jack Carlisle. Lake Junaluska photo
In keeping with the Lake Junaluska Conference and Retreat Center's transformative efforts to remain a thriving spiritual and economic hub in Haywood County for generations to come, officials there wasted no time in naming a successor to the recently retired Executive Director Jack Ewing.
"The search committee met in person and by phone several times since October. We posted the position nationwide and hired a consulting firm to help vet candidates," said Board Chairman Mike Warren in a statement provided by Lake Junaluska. "We received many excellent applications from people living in 12 different states. They presented interesting and varied experiences and backgrounds. After extensive discussion, we realized that we had the right person here amongst the staff."
Director of Advancement Ken Howle, who's been at the Lake for 14 years, has "the right experience, knowledge and vision" and a "passion for Lake Junaluska," according to Warren.
Warren said last November that the process to replace Ewing, who left after serving for seven years, would likely take six to nine months; instead, it took less than five.
"I come here already with a deep understanding of both the region and the hospitality industry," Howle said March 3. "I'm a hospitality industry professional, and I came through the attractions industry, originally through the Nantahala Outdoor Center."
Howle spent 13 years at the popular outfitter, serving as VP of sales, general manager, board chair, bike program manager and marketing and public relations manager after working his way up from a store clerk position while earning his bachelor's degree in business administration and marketing from Western Carolina University in Cullowhee.
"That's how I wound up here at Lake Junaluska," Howle said. "They were one of our biggest customers at the time, and I would come over every week and actually meet with groups here. I fell in love with the place."
When a marketing position opened up at the Lake in 2004, Howle, wife and young daughter in tow, headed east.
"The outcome of that could not be better," he said. "The public school system here in Haywood County is phenomenal, and I love being here."
Howle's background differs significantly from that of his predecessor; Ewing became executive director of Lake Junaluska after serving in high-level university administration positions.
But when Ewing took the job in 2011, he did so with the knowledge that the Southeastern Jurisdiction of the Methodist Church had already decided to slash funding the Lake relied upon.
Ewing got the ball rolling on a more financially sustainable operation that would still preserve its spiritual mission to serve as a place of Christian hospitality, a task that continues to this day and that Howle — with his hospitality background — appears well suited to address.
"We've gone through the process of changing apportionments, and we've lived into the new model," said Howle. "We're headed in the right direction now, we've just got to continue down the path that we're already on, to move faster with continuing to invest in infrastructure here, adding more value to the guest experiences that are available."
This year alone, Howle explained, the Lake will invest heavily in improvements, including to the historic Lambuth Inn, which will reopen in May after substantial renovations.
The swimming pool, tennis courts and bathrooms at the Weldon gym are also slated for renovation, and some sections of the walking trail will see enhancements as well. New piers overlooking the lake itself round out a spate of attractions that many residents of Haywood County utilize, for free, on a regular basis.
"People love Lake Junaluska," he said. "We are able to turn every gift that comes in right back to improve this place to the benefit of everybody."
Attracting visitors from outside the gates has never been a problem for Lake Junaluska, nor has getting them to stay overnight. If the Lake is to continue to prosper, however, offering experiences people are willing to pay for has to be a top priority.
"We currently have a lot of opportunity to grow our occupancy," he said. "We have a lot of people that come — 50,000 overnight guests year. We have the capacity to probably double that number if we wanted to, and we've got to continue to work through developing the right programs the right marketing approaches.
The economic impact of recent improvements at the Lake has already begun to manifest itself in numbers reported by the Haywood County Tourism Development Authority.
During the second half of 2017, room occupancy tax receipts from the Lake were well up from the previous year, and the new Balsam Range Art of Music Festival — held during what is normally the slowest month of year — hasn't even demonstrated its full potential yet.
Howle's been heavily involved in fostering a fertile climate for tourism both at the Lake as well as in the county itself through his service on the TDA's board.
"The TDA board is the background of our hospitality promotion," Howle said. "They manage Haywood County's brand, and we're a big part of that brand, so by being there at the table with other leaders it's exciting that Lake Junaluska can be a part of moving the whole county forward from a tourism and hospitality perspective."
He also serves on the Haywood County Chamber of Commerce's board, placing him squarely in the middle of three of the county's major economic drivers.
"We're in the center of Haywood County, and we want to be connected to and immersed in everything in this county," he said. "We're one of Haywood County's greatest assets and we can only be that through the partnerships we have with people in the county."