Archived Reading Room
Sucking the marrow out of a great word
Wednesday, February 28, 2018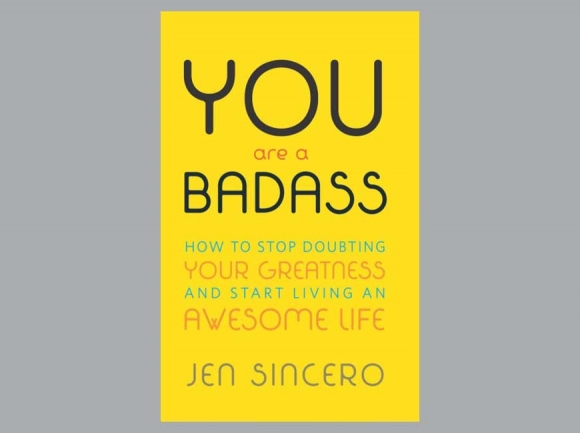 What's in a name?
In You Are A Badass: How To Stop Doubting Your Greatness And Start Living An Awesome Life (Running Press, 2013, 254 pages), Jen Sincero urges readers to leave behind mediocrity, change their desires into decisions, and earn more money in the bargain. According to the advertisement on the book's cover, You Are A Badass was a No. 1 New York Times Bestseller with over 1 million copies sold.
You Are A Badass is a compilation of personal anecdotes, quotations from self-help gurus and famous people, and a mish-mash of New Age philosophy accompanied by practical advice. In discussing God, for example, Sincero writes that the word is "too loaded." She prefers words like "The Vortex" or "The Mother Lode," and goes on to tell readers that they need to "develop an awareness of, and a relationship with, the Source Energy that's surrounding you and within you (which is all the same energy), and which will be your best pal ever if you give it a chance."
Along the way, Sincero serves up declarations like this one: "The things that bother us about other people bother us because they remind us of something we don't like about ourselves." Really? The employer who yanked the rug out from under me after making certain promises I fulfilled didn't bother me because of something I didn't like about myself. She bothered me because she lied to me. The man who abuses his wife doesn't bother me because of something I don't like about myself. He bothers me because she slaps his wife around.
How To Be A Badass does have certain strengths. Sincero engage us with lively, conversational prose, though at times we may feel as if some wired-up millennial has buttonholed us on a sidewalk to download their beliefs. And like most self-help books, How To Be A Badass does contain some helpful ideas. Sincero's more practical suggestions, such as "Remember that done is better than perfect" or "Decide You'd Rather Be Happy Than Right" are timely reminders of ways to bring productive change to our lives. In her chapter titled "The Almighty Decision," for instance, Sincero tells readers to "decide to become the person who makes quick, smart decisions and you will." (A good point, though unintentionally humorous, as the person essentially has to decide to decide.)
So, how does such a book get to be a bestseller?
I suspect it has to do with the title, with its use of badass, a mild obscenity more naughty than offensive and now a part of the general vocabulary of many folks.
In fact, I acquired How To Be A Badass precisely because of the title. Three years ago, a younger man described me to a relative as a "badass," based on my appearance that day and meaning the word as a compliment. I responded by writing an essay on that incident, declaiming my status as a badass.
But here's the thing: the book is inaccurately titled.
And here's why.
First, though the book is written for men and women, only a man gets to be an old-fashioned badass. Online dictionaries do include definitions of a "badass girl," but these are recent inventions that have slipped away from the original meaning of the word. Urbandictionary.com begins its definition of badass as "the epitome of the American male." When I think of badass public figures, the first people that pop to mind are men like Clint Eastwood in any movie he ever made or Robert Duvall in "Secondhand Lions."
Second, a traditional badass does not get in touch with his inner self, talk about Source Energy, or for that matter, read self-help books. Like Popeye The Sailor Man, a badass is what he is. In an online essay on smoking and cigarettes, Sarah Hoyt uses her friend John Ringo's signature line to make this contrast between now and 50 years ago: "We went to the moon on coffee, bourbon and Marlboros. We're not going to Mars on Evian and tofu." A badass is the guy with the bourbon and cigarettes.
Finally, a badass does not know he is a badass. He doesn't wake up every morning and say to the mirror, "Hello, badass." He doesn't walk into a party and try to look like a badass. A badass is generally an older man shaped by his experiences into a tough and sometimes intimidating character, but he doesn't think of himself that way. No self-help book in the world will make you a badass.
Years ago, I operated a bed-and-breakfast in Waynesville. One winter, a man and his wife rented one of our rooms while they were building a house near town, and we got to know each other well. Jim had served with the Marines in Korea, where he was wounded; he had worked as a policemen and detective in Chicago, where he was shot at several times; he had served as police chief in the Florida Keys. He rarely spoke of any of these things. He wore a handlebar moustache, adored my small children, and loved his wife. He also slept with a loaded pistol under his pillow and would have used that weapon in a heartbeat.
That is a badass.
English, thank heavens, is a language always evolving, always adapting, always creating words or borrowing them from foreign lands. Some of these words live only a short life (When's the last time you heard someone say "Groovy"), some are lost and gone (we no longer use "gumflated" for puffed up), and some acquire new meanings through their usage.
Apparently, this last has now happened to badass. We have extended the definition of a word that used to mean a tough or intimidating male to include people who seek "an awesome life."
Too bad, really. To universalize badass is to suck the marrow out of a perfectly grand word and leave only the bone.