Archived Arts & Entertainment
This must be the place: 'There's no such thing as truth. Everyone has their own truth.'
Wednesday, February 28, 2018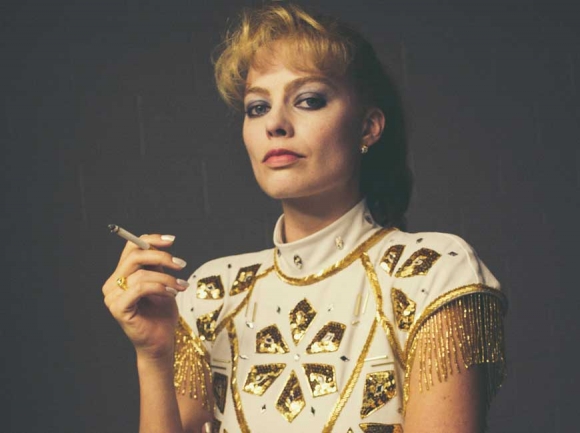 Margo Robbie as Tonya Harding. www.margot-robbie.com
Now, let's get this out of the way.
What happened to U.S. figure skater Nancy Kerrigan from within the social circle of her rival, Tonya Harding, was a tragic crime. Folks went to jail for assault and conspiracy, and lives were forever tarnished on both sides of the vicious attack on Kerrigan just before the 1994 Winter Olympics.
So, when I walked into the Fine Arts Theatre in downtown Asheville this past Sunday evening, I was apprehensive of what to expect upon seeing the film "I, Tonya," a cinematic rollercoaster into the backstory of Tonya Harding, her ruthless mother and (now ex) husband — a trio that forever changed the course of not only Olympic sports, but also American pop culture and mainstream media in the process, whether they realized it or not.
Starring Margot Robbie ("The Wolf of Wall Street," "Suicide Squad") as Harding, the film weaves a tumultuous, haphazard (yet insanely true) account of where the skater began, where she went, and where she ultimately ended up — no man's land.
Sure, the story goes through her rigorous — often brutal — training schedule (and expectations) under the heavy hand of her mother, her father abandoning her as a young child, and her fateful romance with Jeff Gillooly (high school sweetheart, husband, mastermind behind the Kerrigan attack).
But, what stands out is Harding herself, someone who literally came from nothing, stuck it out as an immensely poor girl in a rich person's sport, only to eventually capture the world's attention for one moment in time when she became the first woman to ever complete a triple axel.
Harding, if for a brief instant, achieved the American dream — a rags to riches tale, where it genuinely turned into a nightmare before the riches ever had a chance to surface after countless years of tireless training and competing.
The way Harding's story spiraled out of control and into the annals of infamous history is shocking, to say the least. The situation to scare and intimidate Kerrigan from competing (so Harding could secure her place "as the best") would be too crazy to believe if it weren't actually true. At times, you find yourself comparing the story trajectory to the Coen Brothers' fictional drama "Fargo," a cinematic masterpiece in how badly things can fall apart and ended up much, much worse than initially planned.
But, beyond the story itself, the underlying theme of the film was a cause for concern and deep thought. In the context of where we are today — in terms of mainstream media and celebrity culture, social stereotypes and storylines within a 24/7 news cycle — one could draw a direct connection to its modern origin being the Harding/Kerrigan incident.
Although the characters portrayed and quotes given are real, one scene particularly struck me. It was when "Hard Copy" reporter Bobby Cannavale admits to the camera that his show was pure trash TV and was "a pretty crappy show that legitimate news outlets looked down on, and then became."
That statement right there exposes how far we've come — or how far we've become lost — in our modern news consumption. How do you fill 24 hours of live TV news each and every day? Create a plot, pick out the "good guy" and the "bad guy," provoke those involved to react for the cameras, discuss endlessly amongst panelist and colleagues, and let the cards fall where they may, which usually feels preplanned when looking at coverage in hindsight.
Harding herself even points out how similar her and Kerrigan were, but the media picked Kerrigan as the "good girl." So, somebody had the be the counterbalance, the "bad girl," with Harding stating, "America. They want someone to love, but they want someone to hate, and the haters always say, 'Tonya, tell the truth!' There's no such thing as truth. I mean it's bullshit! Everyone has their own truth."
What's jarring is the scene where Harding (aka: Robbie) looks directly in the camera, into the eyes of the audience. A lifelong victim of physical and emotional abuse at the hands of those who (were supposed to) love her the most, only to be thrown into the national spotlight amid a catastrophic downfall, Harding said, "It was like being abused all over again. Only this time it was by you. All of you. You're all my attackers, too."
Do I — as a member of the general public — forgive Harding for what happened? No, not necessarily. But, I do have a different perspective on what happened, and what steps led to the Kerrigan attack. I do find myself more sympathetic to Harding, and where she remains today, a victim of mass media, pop culture and societal scrutiny during the infancy and unknown territory of instant information and digital technology.
If anything, Harding's story is a warning for those on similar paths, a route any one of us could find ourselves on under the right circumstances, or lack thereof — it really doesn't matter anymore.
I think the most important scene in the entire film — the key visual takeaway — is when, following his court conviction and the chaos of international coverage at his doorstep (in the midst of 1994), Gillooly peers through his living-room window blinds and sees the last of the TV news trucks exiting his front yard.
And while seeing the mainstream media leave Gillooly in the rearview mirror, the television in the background of his living room is blaring news coverage of O.J. Simpson. The image of a once-beloved athlete and actor now charged with the murder of his wife Nicole Brown Simpson and her lover Ron Goldman — a media sensation to captivate the hearts, minds and, ultimately, attention of a public eye hungry for more, for the "next big thing."
Hot picks
1 International Bluegrass Music Association (IBMA) "Guitar Player of the Year" winner Molly Tuttle will perform at 8:30 p.m. Thursday, March 1, at the Isis Music Hall in West Asheville.
2 Water'n Hole Bar & Grill (Waynesville) will host Grandpa's Cough Medicine (Americana) at 9:30 p.m. Friday, March 9.
3 There will be an open house for the Women of Waynesville (WOW) from 6 to 8 p.m. Thursday, March 1, at Room 1902 on South Main Street in Waynesville.
4 The Jackson County Public Library will host a free showing of the movie "Three Billboards Outside Ebbing Missouri" at 6 p.m. Tuesday, March 6, at the library in Sylva.
The "Haywood Ramblings" speaker series will return with the "History of Cataloochee Valley" at 4 p.m. Thursday, March 1, at the Town Hall Board Room in Waynesville.