Archived News
Student threats taken seriously after Parkland shooting
Wednesday, February 28, 2018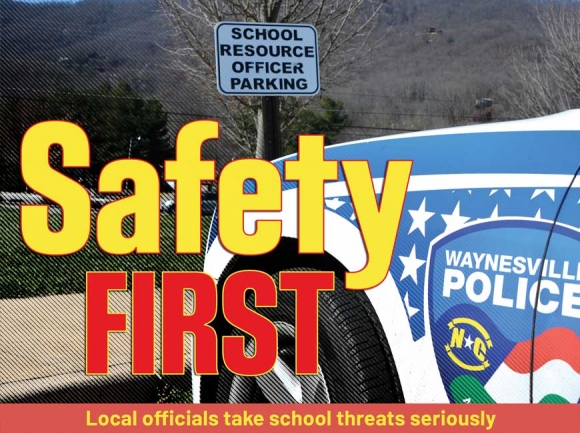 The latest mass shooting on Feb. 14 at Marjory Stoneman Douglas High School in Parkland, Florida, has spurred a number of potential threats across Western North Carolina.
SEE ALSO:
• Jackson County leaders plan to prevent Jackson County leaders plan to prevent school violence
• Swain High students walk out of class
School officials and law enforcement officers are investigating several students who've made comments about school shootings while others have dealt with social media threats. Not all of the student comments have been found to be a credible or eminent threat, but local law enforcement agencies have made it clear such statements will be taken seriously.
Macon County
Macon County Sheriff's Office is investigating two separate school incidents that occurred on Feb. 14 and Feb. 15.
On Feb. 14, a Macon County high school student made verbal threats as he was exiting his school bus after arriving home. The student made more than one statement that threatened the safety and well being of fellow students, according to a press release from Sheriff Robert Holland and Superintendent of Schools Dr. Chris Baldwin.
The bus driver immediately contacted school officials who then called in the school resource officer and sheriff's office to investigate. After detectives interviewed the student and witnesses and collected video from the school bus camera system, the 16-year-old student was charged with a misdemeanor for "Communicating Threats" and for felony "Making False Report of Mass Violence to a School."
The sheriff's investigation will continue with the assistance of the district attorney's office and the Macon County School System.
"The threats made yesterday were extremely serious in nature and all of our staff took the appropriate steps immediately following the statements," Baldwin said. "Threats of any kind against students and/or faculty will not be tolerated. These types of threats will be investigated thoroughly and prosecuted if appropriate."
Holland said the 16-year-old student was the only person involved in making the threat and has been arrested and bond set at $10,000. Following his release, the student will also be subject to disciplinary action by the school system.
At the beginning of the school day Feb. 15, a faculty member at Union Academy reported to the SRO that a teacher heard a student ask another student, "Do you want to be a school shooter?" The student was also reported to have made another statement, "Hey, you wanna go shoot up a school?"
The SRO immediately detained the student and requested the assistance of the sheriff's office to initiate an investigation. They conducted interviews with various witnesses and with the student who allegedly made the statements. Investigators then filed a juvenile petition charging the student with "False Report of Mass Violence on Educational Property." Following a review of that petition, a secure order was issued and approved by a District Court judge. The 14-year-old student remained in custody until he was transported out of the county to a state facility for juveniles pending his next court hearing.
The investigation is ongoing and the sheriff is limited in what information he can due to the student's age. He did confirm the two cases are entirely separate investigations and not related to one another.
"These two young students made very poor decisions and are facing serious consequences for their actions. This type of activity will not be tolerated in our schools," Holland said. "Both students involved in the incidences have not claimed bullying as the reason they made the threats and the two students during their interviews never mentioned being bullied in the past. During their interviews, both students stated that they were not serious in the threats made against students. Both students had a parent present in the room when interviewed by law enforcement."
Macon County Schools had additional support services and counselors on hand after the Parkland shooting and these incidents for students and faculty. Other schools have also experienced similar cases of students making potentially threatening comments.
Swain County
Swain County Schools were all under lockdown on Thursday, Feb. 22, as law enforcement investigated a threat to student safety.
Swain County Sheriff Curtis Cochran said local and area law enforcement responded to the high school around 7:10 a.m. after a social media threat was sent to the principal's cell phone.
School personnel immediately contacted the Swain County Sherriff's Office and Swain County High School was placed in lockdown status. The other schools were initially placed on perimeter lockdown but later it was recommended that those schools also go under lockdown while the threat was investigated.
"There were approximately 40 officers that were dispatched to the high school as well as the middle school and both elementary schools to make sure that students and staff were protected," Cochran said.
Because of the timing, some buses were in route to school and were held at other locations. Local law enforcement officers were placed on all school campuses to protect students and teachers, but ultimately no weapons were found on any campuses.
During the same time frame, Cochran said law enforcement arrested a man near the middle school who had a handgun and drugs in his possession, but they don't believe it had any connection to the social media threat or the lockdown.
Additional information from area law enforcement provided more insight into the nature of the post, and law enforcement was able to clear the threat situation. SBI and Swain County Sherriff's Office will continue to investigate the matter.
"I want everyone to know that we will always do everything in our power to make sure our schools are safe and our kids have a safe environment for their education," Cochran said. "This is not just a law enforcement issue, it takes the entire county being involved with this."
Once the situation was cleared by law enforcement, school administrators decided dismissing school for the remainder of the day would be in the best interest of the students' welfare.
While some parents expressed concern about the lack of communication from the school during the lockdown, Swain County Schools does not send out parent notices during an active lockdown when school staff and law enforcement are working to ensure student and staff safety and accessing an on-going situation. As soon as it is safely possible, parents are notified with information for the remainder of the day, including bus and parent pick-up details.
Haywood County
On Feb. 23, a Pisgah High School student alerted Haywood County School officials to a social media message that appeared to be a threat and warned students to stay home from school that day. As it turns out, it was a repost of a message in the Tampa Bay Times about a message on a school bathroom wall in Florida.
"This was about a report in a newspaper in Florida. It was in no way connected to Pisgah High School or any other Haywood County School," said Dr. Bill Nolte, interim superintendent. "We are very thankful that our students share information like this with us. We ask that students, staff and parents continue to talk with us during these stressful times. We also ask that people verify information before linking the information to our schools."
With the recent school shooting that left 17 students dead, and the mass shootings that have come before, Nolte said it's normal for the community to have concerns and questions about what the school is doing to protect their students.
"Political forces are sharing political responses and emotional people are sharing emotional responses," he said. "In Haywood County Schools, we try to focus on calm, reasonable and logical responses to credible threats and crisis planning."
Haywood schools have extensive emergency management plans that are updated annually and annual safety trainings are held for principals, assistant principals, system-level administrators, SROs and other emergency response partner agencies.
After the Sandy Hook Elementary School shooting in December 2012, all Haywood County Schools installed a video monitoring system at their main entries so all guests have to be buzzed in. Students also undergo crisis situation drills and SROs are located at each middle and high school in the county.
"Our law enforcement partners have access to campus floor plans and keys for facility entry in crisis situations," Nolte said. "We have video surveillance and the ability to remotely access cameras in crisis situations. When we are aware of specific creditable threats, we promptly intervene with law enforcement assistance."