Archived News
Swain High students walk out of class
Wednesday, February 28, 2018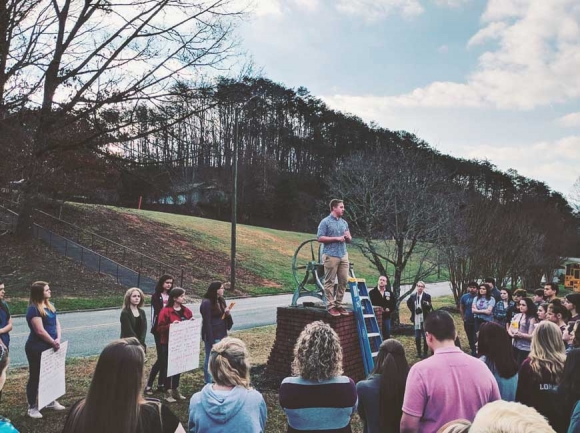 Swain County High School students participate in a walkout to show solidarity with the survivors of the mass school shooting in Florida and call on leaders to take action. Donated photo
Following a social media threat that led to a countywide school lockdown and an early dismissal on Thursday, Feb. 22, many students at Swain County High School staged a walkout on Friday, Feb. 23, to advocate for change.
Maggie Jackson of Swain County posted on Facebook about her experience during the lockdown as she sat in the bathroom at Bright Adventures Pre-K with 16 other people for the more than two hours.
"It was a little scary and all the kids were confused but the staff was efficient, acted quickly and were very calm. They all knew what the protocol was," she said. "I see many people getting upset because their kids are locked in rooms and they are scared, but these educators are willingly attempting to protect our children the best way they know how. In trying times like these let's be thankful that there are selfless people like teachers and educators who have to put aside their own fears to make sure our children are safe."
Students and faculty were so shaken up by the event, school administrators made the decision to dismiss school after law enforcement determined all the schools were safe from the threat of a weapon on campus, which was later deemed a hoax.
It's no wonder the high school students decided to take a stand against violence in schools by organizing a presentation Friday morning about safety before walking out of class in solidarity with the Parkland students.
Swain High Principal Mark Sale said the walkout wasn't meant to be political, but was done because the students are concerned for the safety of their friends and teachers and schools across the nation. He said he was proud of the students for calling on local, state and national leaders to take some kind of action to prevent more school shootings.
"This morning our students organized for change. Because all they want are safe schools, they stepped away from divisive party lines and began the conversation in solidarity," Swain High teacher Annette Clapsaddle posted on her Facebook page. "Yesterday, I had students checking on me during the lockdown. This morning, they came in offering hugs and gratitude. I love these kids, they are fierce, and I never want them to be fearful of coming to school again."
Interim Superintendent of Haywood County Schools Bill Nolte said he and other school officials are aware of a national call for student-led walkouts in the wake of the Parkland, Florida, shooting and that Haywood students would have the administration's support if they wish to organize such a protest.
"If our students want to speak in a unified fashion about school shootings, we will help them plan and schedule a safe and reasonable way to do so," he said.