Archived News
War of words: public records requests troublesome for Haywood County
Wednesday, February 28, 2018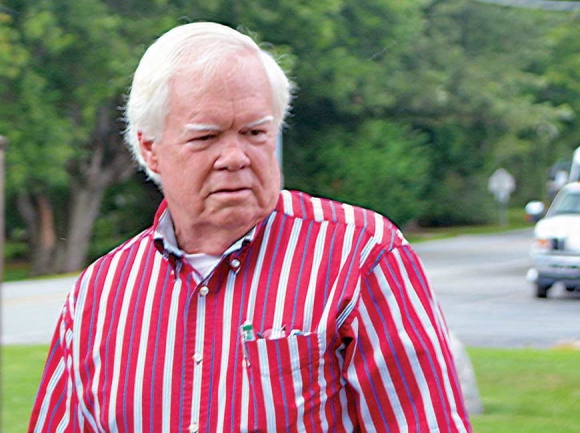 Monroe Miller.
Despite being called "a shameful person to deal with" and "obsessed" in highly unusual comments directed at him by a county official last week, Waynesville resident Monroe Miller shows no signs of halting his crusade to dig up some dirt on what he supposes are irregularities surrounding a Haywood County earthmoving project.
Miller's made several more public records requests since he spoke at a Haywood County Board of Commissioners meeting Feb. 19, where he asked commissioners for intervention in what he calls obstruction from Interim County Manager Joel Mashburn in fulfilling those requests.
County officials say they've bent over backward for Miller.
Whether or not there's anything nefarious about the project, the war of words between Miller and the county does raise important questions about public records requests and the legal obligation of local governments to fulfill them, in a state where statutes are broad but interpretations are narrow.
Where's the line?
While the frequency of the emails — nearly 70 — sent by Miller to various county officials, county employees and journalists since early January has made the complex series of requests difficult to follow, the tone of the emails apparently has generated some ill will as well.
Later in that Feb. 19 meeting, county Program Administrator David Francis laid in to Miller, who was still seated in the gallery.
"He likes to poke fun at people, to belittle them from behind the computer whenever he can, because he's a bigger man behind the computer than he is any other place," Francis told commissioners during the meeting.
Francis also seemed to take personal offense at Miller's insinuations that he'd been somehow involved with wrongdoing in connection with the project that will move tons of dirt from the new Publix grocery store site on Russ Avenue to a parcel of county-owned land on Jonathan Creek that the county wants to see developed.
Mashburn said during the meeting that Miller had been provided with everything he's asked for, even though he incorrectly refers to the project as the "James Weaver 'Kirk' Kirkpatrick III Super Duper Sports Complex" and sometimes asks for things that the county says don't exist.
But public access to government records is a cornerstone of free societies that practice self-determination, according to UNC School of Government professor and public records expert Frayda Bluestein.
"We have taxpayers who pay the salaries of the people who work in government, and they elect their officials in the democratic process, and I think the philosophy is that the people who pay the bills and choose the people have the right to know what's happening in their decision making," Bluestein said. "It's just part of our democratic process."
North Carolina, Bluestein said, has a robust yet flexible public records law that operates under the presumption that everything is public unless specifically prohibited. Other states, and the federal government, presume that nothing is public except for things specifically designated as public.
"There are certain ones that we have to retain, but everything that is involved in the transaction of public business — whether it's an important thing or it demonstrates some sort of policy and has some effect — every email, every text message, everything that's created, fundamentally, because the statutory definition is so broad, is fair game."
Anyone can request public records in North Carolina, for any reason; there's no requirement that one be a resident of the city, the state, the county or even the country to do so.
Such a broadly written statute also makes no limits on voluminous requests that stretch far beyond the usual small requests most governments see regularly.
"The statute doesn't really create any [limits], and we've seen huge volumes of records being requested," Bluestein said.
Some might call Miller's requests voluminous, but that would be a subjective judgment that has no basis or definition in statute. In practicality, the 30 or so items he's requested pale in comparison to much more massive requests that could theoretically be tendered without limit.
There's also no specific time frame in which a public body has to respond.
"The statute allows them to provide it as promptly as possible, which takes into account that it takes a long time to provide records under a really large request, and it doesn't take very long to get a small one, so it's not really reasonable to have a specific time frame. I would say it's a flexible standard," Bluestein said.
Haywood County has a policy, adopted in September 2007 and currently under review by County Attorney Chip Killian, that promises to acknowledge requests within three days and comply in a timely manner, based on the size of the records being requested.
When records are finally produced, they can be inspected for free in the location where they're kept. Other than that, records can be converted into different formats for a nominal fee.
"The statute allows government agencies, public agencies, to charge for actual costs, which means costs that they would otherwise not have incurred," Bluestein said. "It really is basically the cost of copies if somebody wants paper copies. There's not clear authority [to charge] for the time it takes employees to find the records, review the records, and determine what can be released. There is a special service fee for very, very voluminous requests that require lots of technical staff time."
Haywood County's policy indeed acknowledges this, but in his nearly five decades of service, Killian said he couldn't remember anyone ever being charged.
The county has repeatedly said it has produced everything Miller's requested.
"The staff contends that they have, and it appears to me that they have," Killian said.
The county appears to be dealing with Miller's requests as best it can, and according to emails between Miller and the county seems to have delivered on almost all of them — at no cost to Miller, who receives them electronically.
Some of Miller's complaints, however, fall in a much murkier area of the law. During the Feb. 19 meeting, Killian said some of Miller's requests for information were also accompanied by requests for explanation, something the governments aren't required by statute to provide.
"We will continue to provide you with documents, just as we would provide anyone here, anyone in the county with documents," Commission Chairman Kirk Kirkpatrick told Miller Feb. 19. "That's all we're going to do, what the law requires us to do."
Miller's other gripe is a technical one; the county's own policy describes the head of a department or agency as "a custodian of public records," and Miller has derided Mashburn in emails as "Gatekeeper Mashburn" for coordinating the requests.
The policy, however, says that requests must go through the county's public information officer, a position that hasn't of late been occupied in county government; it's unclear if someone has been so designated, but it's also hard to argue that in what is essentially a large corporation, such requests shouldn't at some point be reviewed by Mashburn, who is ultimately its CEO.
Should Miller wish to push these public records issues, his only recourse is to lawyer up, according to Bluestein.
"I would recommend that people try to work it out without having to go to court," she said. "It's not the best way to resolve it, but that's the only actual legal recourse. There's a mediation provision that is required but the parties can waive it, but it's also possible to just try to appeal to the jurisdiction."