Archived News
Haywood sheriff all about customer service
Wednesday, February 28, 2018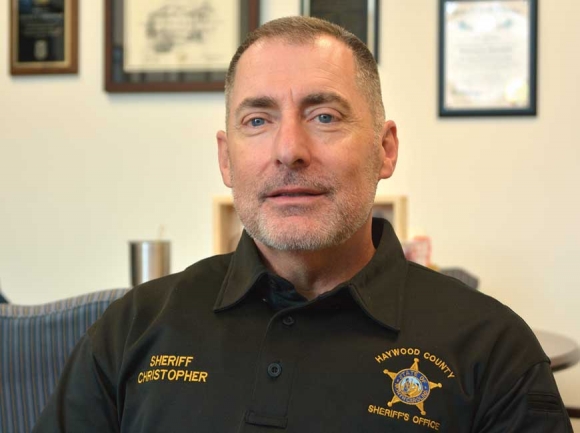 Haywood County Sheriff Greg Christopher will seek another four-year term. Cory Vaillancourt photo
Growing up in Haywood County, Sheriff Greg Christopher certainly learned the value of hard work at his family's farm and roadside produce stand, located just off U.S. 276 between Waynesville and Bethel. But that's not all he learned there.
"I grew up in the customer service role of taking care of people, because that was how we made our living — having people come back to buy more from us," Christopher said. "I learned about the value of customer service from a very young age."
After graduating from Tuscola High School in 1979, Christopher joined the Army National Guard, serving as a military policeman for nearly 22 years, during which his unit was activated for, among other things, the first Gulf War in Saudi Arabia and Iraq.
In 1986, he left the farm and went to work for the State Highway patrol, rising through the ranks from sergeant to lieutenant in Troop G, which covers the westernmost portions of North Carolina. After 28 years, he retired.
"My last day of work with the Highway patrol was on a Thursday. I was appointed sheriff that Saturday, March 2, 2013, and was sworn in March 4," he said.
Christopher replaced the retiring Sheriff Tom Alexander, and then was elected to a full term of his own on Nov. 4, 2014, after facing no opposition on the ballot.
He's up for re-election this year, and this time has a full slate of accomplishments he'll bring to voters as evidence of his performance over the past four years.
"The main thing that I'm proudest of is the fact that we have established a really good relationship with the rest of the police departments and local law enforcement within the jurisdiction of Haywood County," he said. "When we establish these relationships with the chiefs and with the officers, it really makes for a better working environment for all of us."
Since Christopher's been sheriff, drug arrests are up almost 160 percent in the county, something he attributes to the county's Unified Narcotics Investigation Team, or UNIT, being able to work in conjunction with Haywood's other law enforcement agencies.
"Those kind of relationships are what really allowed the UNIT to take off, because we put employees and officers from different agencies into the same room working in a collaborative effort to arrest people who are out here selling drugs," he said. "It's been very good for our county."
The job of the sheriff, however, also includes the obligation to manage a nearly $10 million business that employs about 120 people — from administration, to detention officers, to court personnel, to staff and patrol deputies along with detectives and emergency operations center employees.
"I'm very stingy with the money, because I do realize it's taxpayer money. At any time, a taxpayer can come in and ask me questions about why we did this, or why we did that, and I want to be able to explain what we did and why we did what we did," said Christopher. "I want to make sure we're real frugal with dollars. I pay taxes as well as everybody else, and I never want my tax dollars to be squandered."
One huge victory for Christopher and his office was the construction of a state-of-the-art emergency communications center housed within the detention center on Brown Avenue in Waynesville.
The $2.7 million facility was grant-funded at no cost to county taxpayers and puts the county on solid footing for the foreseeable future.
"One of the things we looked for was a way to make this to where 20 years from now, it's still going to be a facility that is going to be able to handle the needs of our county. We didn't want to look just at two or three years down the road. We don't need all of these stations right now, but we will 20 years from now, whoever the sheriff is," he said. "And whoever is operating county government, we have saved taxpayers $2.7 million by first of all receiving this grant, but secondly we hope that 20 years from now they won't be going back to get more money because hopefully this will be something that sustains itself for years to come."
Christopher's prudent financial management has also resulted in the nearly unheard of instance of a county department actually giving money back to the county.
"Something that we have really worked hard on is generating revenue over in our detention center," he said. "This year we just gave the county back nearly $300,000 of revenue that was generated through our commissary, through our inmate phone service, and some other things that we've generated within that detention center."
Christopher said it costs about $77 a day to house an inmate in the detention center, all paid by taxpayers. Other initiatives like the Pathways Center, which Christopher has championed, have reduced recidivism and set many on a path of self-sufficiency, at a cost of about $36 a night — funded solely by churches and private individual donations.
"We also generate quite a bit of income with the sales of pistol purchase permits, and with concealed carry permits," he said. "This past year we sold 2,182 pistol purchase permits at $5 a piece, and then we have our concealed carry permits for which we charge $90, so we had a total of $108,000 in revenue just from the front office."
But that customer service background is never far from Christopher's mind; although he could, he doesn't charge citizens for fingerprinting services, which may be required for a variety of jobs or security clearances.
"We feel that if you're a citizen of our county, you're a citizen paying taxes here, why should I charge another $20 for fingerprints?"
Accomplishments aside, Christopher has big plans for the next four years, should voters chose to re-elect him; as of press time on Tuesday, Feb. 27, no other candidates had filed to oppose Christopher in the upcoming election, although the candidate filing period didn't end until noon Feb. 28.
"We have some new programs that we are getting ready to roll out that will be part of our community watch program where we actually have people who want to come in and volunteer their time," he said, explaining that after training, these volunteers will patrol — without guns but with appropriately marked cars — in some of the county's more out-of-the-way localities.
That, along with a recent COPS grant that will put four more deputies on the streets and the addition of two more canines, could help local law enforcement agencies combat a national problem — the opioid epidemic.
"We also want to continue to work really hard educating our public through our public information officer about the dangers of drugs," said Christopher.
To that end, a summer youth camp for children aged 8 to 12 is planned and a community advisory council is also in the works, based on the county's fire districts.
"I'm going to be asking different community members to come in and serve a two-year term with us, and help us with some of the information gathering and information sharing within each of our communities," he said. "We've seen this work in other counties, and sharing with some of these young men and young women at an early age may actually help that child as they continue to grow."
That community involvement — customer service, in a sense — is what has made Christopher a popular community figure during his tenure as sheriff; he can often be found at community forums and events.
"One of my sayings that I've incorporated when I'm going out into the communities is that 'I need to know my community before I have to know my community.' It's the crux of law enforcement. I want to put a human — a man or a woman — in this uniform, other than just being a sheriff's deputy with a badge and a gun. Somebody that cares about their community. Somebody that cares about their county. Somebody that really cares about the victim."
A lot of times, Christopher said, when deputies show up to a call, it's the only time that citizen will ever have contact with law enforcement on any level.
"People have a level of expectation from us and I have learned through the years that customer service is not only selling someone a head of cabbage, but it's also doing my job out here. They're looking for good service, regardless. And nowadays with the level of expectation that is on law enforcement in general, it is very, very important that we do a good job with customer service," he said. "It's how I approach this job, and that's why I want to continue in this position."