Archived Outdoors
Opening the gates: Lake Logan opens up to public recreation
Wednesday, February 21, 2018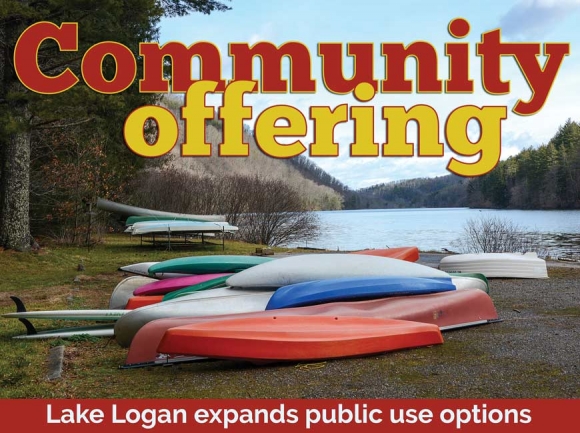 Lake Logan is a familiar fixture of any cruise along Haywood County's stretch of N.C. 215, an 80-acre expanse of water that creates a wide-angle view of sudden contrast to the forested tunnel forming most of the road's winding path toward the Blue Ridge Parkway.
But for years, it's been a well-known fact that the inviting-looking lake is off-limits to locals looking to spend a day swimming, fishing or boating.
That's not true anymore.
"I wanted to dispel that myth, but also do it in a way that allows us to preserve the retreat atmosphere, because we do have retreat groups here who are looking for solitude and privacy and that kind of thing," said Lauri SoJourner, executive director of the Lake Logan Conference Center since June 2017. "But we want to be a resource for the folks who live in Haywood County."
SoJourner, previously the director of the Gravatt Camp and Conference Center in Aiken, South Carolina — like Lake Logan, it's an Episcopal retreat center — said she and her husband have long had a love for the mountains of Western North Carolina, with a long-term plan to retire there one day. Then the job at Lake Logan opened up, and SoJourner, 44, saw a chance to execute their plan two decades early.
"It's amazing," she said. "We just love the place."
The couple lives on the property, enjoying easy access to the lake and the trails, as well as fresh eggs from the chickens they keep. And now SoJourner is working to expand access to that beauty for folks who may never attend a retreat or conference there.
More than a lake
In September, Lake Logan began offering day passes and season passes to anyone who might want to come explore the property — boat in the lake, fish the waters, hike the woods. Now getting the feet of her first full year on the job good and wet, SoJourner is looking to get the word out about Lake Logan's renewed accessibility. It seems to be working.
"We've gotten a lot of questions, and people are definitely interested," she said.
So far, about five families have purchased a season pass, with plenty more taking advantage of the day pass option.
While visitors and pass holders are required to call first to ensure that the property is available on the day requested — Lake Logan hosts a variety of retreats and events, some of which require guests to have exclusive use of the property — the pass still opens up an array of recreation options on the 300-acre property.
Lake Logan offers a limited number of passes for anglers — "We want it to be good fishing," SoJourner explained — as well as swimming and boating. However, boaters are required to use Lake Logan's boats rather than bringing their own in. That's because the lake is also the retreat center's water source, so it's important that managers be sure that nobody brings a boat that could leak gas or oil.
"We tried that (allowing outside boats), and it was just too much of an issue to say, 'You can bring that boat, but you can't bring that boat,'" said Della Swanger, guest services manager at Lake Logan. "We just needed a bottom line rule."
The sparkling lake spreading out from N.C. 215 is no secret, but the Lake Logan property is more than just a lake. The mostly gravel roads winding through the retreat center are peppered with historic cabins sitting peacefully between solitary lakeshore and sweeping forest, and a spur jutting uphill from the cabin-lined road on the lake's south side ends where the Gazebo Trail begins.
The trail, which is about 2.5 miles round trip, follows an old logging road uphill to pass through a variety of ecosystems before its terminus at one of the most beautiful views on the property, overlooking Lake Logan, the West Fork Pigeon River and the Balsam Mountains. The Cold Mountain Game Lands, managed by the N.C. Wildlife Resources Commission, abut the trail.
On the drive back down to the main road, visitors will circle through a well-maintained cemetery holding graves dating from the late 1800s to the present day. And, in future years, they may also have the option of hitting up a second trail on the property. Trail construction ranks high on SoJourner's list of priorities, but she doesn't have any specific plans as of yet.
"The old logging roads are there already, so it's just a matter of marking and finding the time to do that," she said.
Welcoming the community
While Lake Logan is certainly housed on one of Haywood County's most beautiful places, its primary mission isn't recreation — Lake Logan is an Episcopal retreat center whose stated mission is "to serve Christ by welcoming all generations to experience restoration and reconciliation with God, one another and all creation."
In SoJourner's view, inviting the public in to hike, boat and fish the property is completely consistent with that mission.
"It fits with our mission, because we are welcoming all people. That's Lake Logan's mission, and it's the Episcopal church's mission as well," SoJourner said. "Obviously giving them opportunities to interact with creation, interact with the land, and our thought is a lot of families are going to take advantage of this, so it's getting them to interact with each other as well. We hope people will see God in that."
SoJourner is working to open Lake Logan in other ways, as well. She's put together a full program schedule for 2018, with offerings designed to appeal to the community at large. Lake Logan is planning a beer tour weekend March 9 to 11 in partnership with Leap Frog Tours, Waterfall Week July 15 to 19 with guided hikes to hidden waterfalls, artists in residence Oct. 2 to 4 and the second annual Cold Mountain Music Festival June 8 to 9.
"Some of these are experimental, so we'll see what is the best fit for here and for this community," SoJourner said.
She's also hoping to increase partnerships with schools and environmental education organizations. A group from Brevard was out earlier this month to get some hands-on science experience, and a group of students from Haywood Community College is currently using the property as a laboratory to create a wildlife management plan.
"I'd love to do more partnerships like that, with both colleges and high schools, middle schools and elementary schools," she said.
Overall, SoJourner wants to see Lake Logan become a welcoming and well-known fixture in the community — and to that end, she's its ambassador.
"I want to really be seen as part of the Haywood County community," she said. "We are different than Lake Junaluska in that we are going to be a little more private than that, but I'd like for people to think of us as a resource, and a place in this community that they can use."
Partnerships sought
Lauri SoJourner, executive director of Lake Logan, is open to ideas and creative suggestions on further strengthening Lake Logan's relationship with the Haywood County community — as well as on some more concrete matters, such as expanding the property's trail system. She is available at 828.475.5919 or This email address is being protected from spambots. You need JavaScript enabled to view it..
Get a pass
Lake Logan is now offering day and annual membership passes for families and individuals.
Swim/boat/picnic/hike: $5 per person day pass with $10 boat fee; $75 annual membership; $125 family membership
Fish/swim/boat/picnic/hike: $35 full-day shore/river fishing or $45 full-day boat fishing, with half-day rates available; $150 annual membership; $250 family membership
Lifeguards may be reserved in advance for $20 per hour.
Fishing passes are limited in order to ensure quality fishing for all anglers. Use is dependent on Lake Logan's camp and retreat schedule — visitors, including membership holders, must call ahead to ensure the property is available on the day requested. No outside boats allowed. Dogs are welcome but owners must maintain control of pets — several friendly dogs, cats and chickens live on the property.
More information available at www.lakelogan.org/day-pass. 828.646.0095 or This email address is being protected from spambots. You need JavaScript enabled to view it..
Leave a comment
2

comments
Able to kayak and swimming?
Retired couple from HVL area.
Thanks!

Saturday, 05/29/2021

What is the cost for local pass to fish at Lake Logan ? I'm a local resident age 76 would like to fish Lake Logan. I understand rules for taking care of such a Beautiful Place. Could I make a donation to fish there? Thanks, Bill Bullard.

Wednesday, 05/05/2021