Archived Mountain Voices
Colorful reminders of long-ago homesteads
Wednesday, February 21, 2018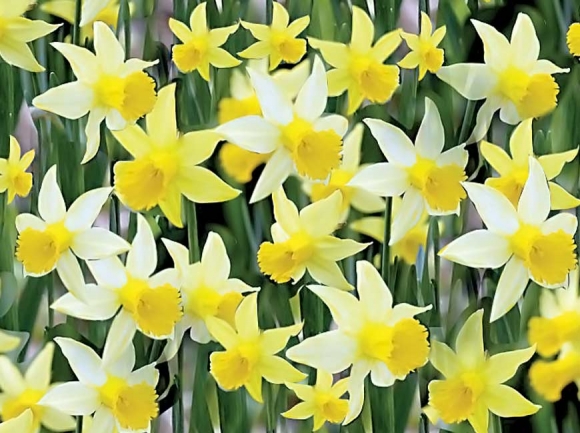 A chimney standing all alone where a fire burned a house down long ago … a crumbling stone wall overgrown with tangles of vines … a flattened area on a slope above a creek or abandoned roadbed … all are likely locations for a dwelling or outbuilding of some sort.
Among the most reliable indicators for abandoned places were early spring-flowering plants that were propagated by the earliest settlers and their descendents: Vinca major (large-leaved) and Vinca minor (small-leaved), also called periwinkle, were planted in yards, gardens, and cemeteries as groundcover.
Forsythia — still called "yaller-bells" by some old-timers — has prospered both with and without human care. Different species and varieties have interbred to such an extent through the years that it's virtually impossible, for me at least, to tell one from the other with certainty. This, however, doesn't particularly bother me as I can thoroughly enjoy a stand of forsythia without knowing its taxonomic status.
Mountain folks were — and still are — fond of daffodils. There is, after all, almost nothing more attractive in early spring than a stand of daffodils waving in a gentle breeze. But as with forsythia, distinguishing species and subspecies is tricky. It seems that every plant book has a different "template" for distinguishing between daffodils and closely related species like narcissus, jonquil, or buttercup.
To my way of thinking, all of them can be correctly called daffodils. Those with dark, rounded leaves I designate as jonquils. Those with flattened leaves I think of as narcissi (the plural of narcissus). But if it's a great big butter-yellow daffodil-like plant with flattened leaves, I also think of that as a buttercup. If these categories don't suit you, feel free to devise your own.
The genus Narcissus — to which all of the above belong — is a member of the Amaryllis family. The word narcissus is derived from the Greek word "narke," meaning numbness or stupor. Some attribute the naming of the flower to its narcotic fragrance while others contend that it is associated with the poisonous nature of the leaves and bulbs, a defense against grazing animals and underground rodents.
Those with children herbage-devouring pets need to be reminded of just how potent these poisons can be. According to the volume Common Poisonous Plants and Mushrooms of North America (Timber Press, 1991) by Nancy J. Turner and Adam F. Szczawinski, "The entire plant, particularly the bulbs, contain toxic alkaloids … and a glycoside. These cause dizziness, abdominal pain, nausea, vomiting, and sometimes diarrhea. Trembling, convulsions, and death may occur if large quantities are consumed, but usually recovery occurs within a few hours."
Most Narcissus species are natives of southern France, Spain, northern Africa and the surrounding Mediterranean areas. But various species of Narcissus have been cultivated for hundreds, even thousands, of years, so that they reached the northern European mainland and the British Isles early on.
The Scotch-Irish and other nationalities that peopled the southern mountains of eastern North America brought these lovely flowers with them as reminders of their homelands and their relatives left so far behind. Along with periwinkle, forsythia, and numerous other plants, daffodils now serve as mute reminders of home sites occupied not so long ago but now abandoned.
(George Ellison is a naturalist and writer. He can be reached at This email address is being protected from spambots. You need JavaScript enabled to view it..)